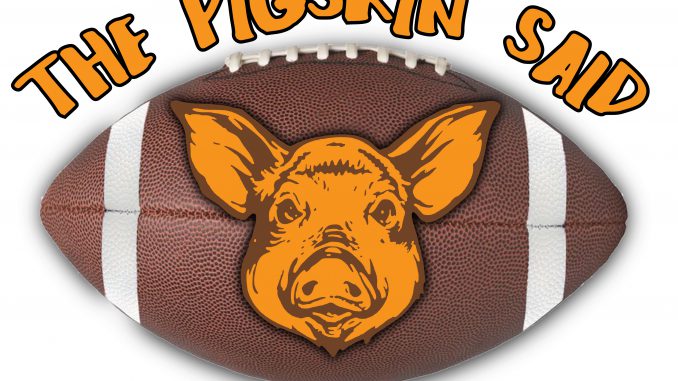 The Pigskin Said
By Shawn Martin
ExcelHSports Columnist
Pretty much everyone expected Center Grove, Cathedral, Carmel, Brownsburg,  and others to be among the best teams out there this season. But what about some teams that have had some struggles the past few – or more – seasons,  that have put together really solid starts this year.
Here are a dozen "surprise" teams – although I doubt their success thus far this season is a surprise to them.
Can these teams keep that momentum going to finish the regular season and do damage in the tournament? Time will tell.
6A Chesterton – started season 4-0. Now 4-1 after a week five 10-7 loss to 5A Valparaiso. The previous eight seasons the Trojans were 38-45.
5A – Bloomington South  – undefeated this season, but since the 2016 season they have went 26-21.
5A – Kokomo  – the Wildkats played in the Semi-State in 2015. Since then they have been 26-24 under three different coaches. They are 4-1 now.
4A – Logansport – the Berries haven't posted a winning season since the 2010 season, yet stand 4-0 so far this campaign and are in control of their own destiny in the North Central Conference.
3A – Tippecanoe Valley  – the Vikings are a perfect 5-0 to start this campaign, their best start since the 2007 season.
3A – Owen Valley  – in the five previos seasons, the Patriots went 12-39. They are 5-0 and nobody has come closer than 10 points to them this season.
3A – Mt. Vernon (Posey) is a program that has had only nine winning seasons since 1994. The Wildcats are 5-0 this year.
2A – Southmont. The Mounties have had two winning seasons in the previous ten but are 5-0 this year and have won every game by at least two touchdowns. They have a big matchup Friday night at 4-1 Danville.
2A – Speedway. I saw the Plugs last week in their game at Monrovia. Speedway hasn't been within two wins of a winning season since 2013. That streak likely ends this year as they are 4-1 after losing on the final play last Friday night.
2A – the previously mentioned Monrovia Bulldogs went 2-18 the two previous seasons. They are 4-1 right now.
1A – Springs Valley  – the Blackhawks were 29-60 since the 2011 season, but have put together one of their best starts in program history  this year and are 4-1.
1A – Carroll. The Cougars have had a subpar 12-17 record the last three seasons. The former State Championship program is 4-1 this year.