Balanced Boilers Down Gophers at Mackey
Drum Beat by Shawn Martin, Excel H Sports
Photos by: Randy Beckett, Excel H Sports
Being balanced is good in many ways, and in how we should live our lives.
It works well for a basketball team as well.
Wednesday night in Mackey Arena, Coach Katie Geralds team put on a display of balance as all eight of her players that played scored at least seven points in maybe their most complete outing of the season.
The Boilers (13-7, 4-5) had two with seven points, two with nine points, two with ten points, one with twelve, and one with 16. Purdue also outrebounded the Minnesota Golden Gophers (not a strength of the Boilers) and also took care of the ball (nine Purdue turnovers, six while the Gophers were still at arm's length) while stealing the ball from Minnesota nine times and forcing six more turnovers against the young Golden Gophers of coach Lindsey Whalen, enroute to an impressive 80-66 win.
Purdue jumped out to 18-9 lead in the first quarter only to see Minnesota (9-12, 2-7) score ten straight in just over the first two minutes of the second stanza to take a 19-18 lead.
The Boilermakers responded with their own 10-0 run and were in control the rest of the game.
Transfer Jeanne Terry (Illinois) recorded her second triple-double of the season (only Purdue player in history with more than one in a career) with 10 points, 11 rebounds, and 12 assists. Terry did all of that with no turnovers as the primary ball handler.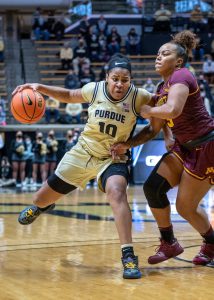 Jeanae Terry
Photo by: Randy Beckett, Excel H Sports
Purdue led 30-26 at halftime then came out with purpose and commitment to start the second half. They began the third quarter with a 15-6 run to lead 45-33 and led 57-44 with one quarter to go. The Boilers led by as many as 17 late in the game.
Madison Layden and Cassidy Hardin each shot well throughout the game connecting on 8 of 12 three-point attempts and were the two leading scorers with 16 and 12 respectively. Freshman Jayla Smith came off the bench and had ten.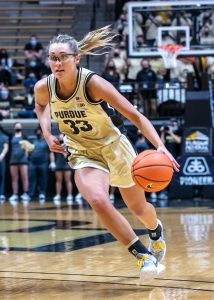 Madison Layden
Photo by: Randy Beckett, Excel H Sports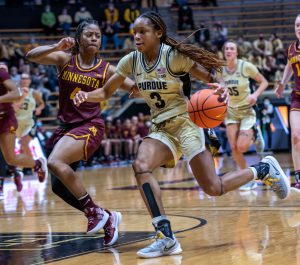 Jayla Smith
Photo by: Randy Beckett, Excel H Sports
"All my teams at Marian, we never had somebody averaged more than 16, 17 points a game." Geralds said. "Everybody would be around 12, 11, maybe one player would have scored more – when the ball moves like that and we get the ball popping, it makes us a hard scout. We've got a lot of girls that can score the ball."
Purdue outrebounded Minnesota 43-38 and allowed only one offensive board the entire second half.
"We were a thrown into a whirlwind to start the season" Geralds said. "We challenge them every day to change the culture, winning every play, competing every play."
Boilermaker Rickie Woltman continued giving great effort with nine points, eight rebounds in her twenty-two minutes.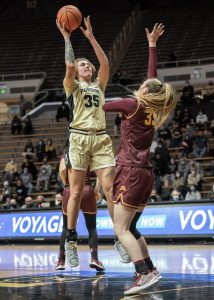 Rickie Woltman
Photo by: Randy Beckett, Excel H Sports
Deja Winters led the Golden Gophers with 17, Jasmine Powell added 13, and Sara Scalia had 10.
Purdue travels to Nebraska Sunday afternoon.