Number One!, Number One!, Number One!
by: Shawn Martin/Excel H Sports
The Drum Beat
Purdue Basketball
Shawn Martin
Excel H Sports
NUMBER ONE!
NUMBER ONE!
NUMBER ONE!
That is what the raucous sell-out Mackey Arena crowd serenaded Keady Court Friday night as the final seconds of Purdue's 77-70 Big Ten opening win over Iowa went final.  Purdue is set to ascend to the top over all ranking in Men's College Basketball when the new polls come out Monday. This weeks' #1 ranked team – Duke – lost to Ohio State earlier this week. It is a national ranking no previous Boilermaker Men's Basketball team has ever held.
While the end result was gleefully celebrated by the 14,804 in attendance, the game itself was far from a thing of beauty.
Purdue and Iowa entered this game as the top two scoring teams in the nation this young season. The Hawkeyes usually blister the nets for 94 points a game and the Boilermakers just a tick behind at 92.4. Both teams struggled mightily on the offensive end to start the game. The two teams combined to miss their first six shot attempts before senior wing Sasha Stefanovic made a driving layup with 18:12 remaining in the first half. It really didn't get much better for a while either – Mason Gillis hit two free throws with a little more than 12 minutes left to put the Boilers up 13-9.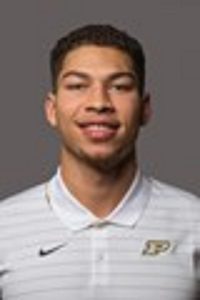 Mason Gillis/Purdue University
Iowa was playing without their leading scorer Keegan Murray who averages 24.6 points a game. Murray was out with an ankle injury. He is also Iowa's leading rebounder. The Hawkeyes third leading scorer Jordan Bohannon, was an uncharacteristic non-factor in the game, recording just 4 points and one rebound in 22 minutes, well below his normal contributions.
Purdue had moments where they looked the part of the top ranked team in the nation. Those moments though were followed with sloppy play and little regard for the value of not turning the basketball over.
The first run for Purdue was over a 3:10 span that saw the Boilers go up 20-11 on two more made Gillis free throws to cap a 9-2 spurt. Purdue would eventually lead by 17 with 1:44 left in the first half, led 39-26 at the break. Purdue had nine turnovers in the opening twenty minutes and shot a cool 41.7% from the field.  Both of those categories prevented Purdue from building on their lead and putting the Hawkeyes away for good.
The second half began much as the first had also done, with both teams basically treading water and trading baskets.  Purdue led by nine with just over 12 minutes left in the game then Gillis nailed a three to put Purdue up 55-43.  After the Under 12 media timeout Jaden Ivey ignited the crowd into a frenzy with a highlight reel flying dunk followed by 7-4 Zach Edey stuffing a layup attempt by an Iowa player at the other end. Purdue led 57-43 with 11 minutes to play. Ivey was fouled and hit two free throws, Edey got a dunk inside, then Ivey followed with another spectacular aerial show to raise the decibel level to deafening and force an Iowa timeout with 9:54 left and the Boilers with their largest lead of the night 63-44.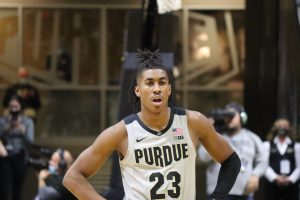 Photo by: Rex Crabtree/Excel H Sports
The Hawkeyes chipped away at the lead with some help from more wayward passes from the Old Gold and Black clad players. Iowa may have exposed a weakness in this Boilermaker team as they picked up Purdue full court with both a Man and a Diamond press. It stymied Purdue's guards and allowed Iowa to get right back in the game. Soon that 19-point lead was 10 after Iowa guard Joe Toussaint hit a three to make it 60-50. The Hawkeyes weren't done. They scored eight more unanswered points, and trailed just 70-68 with 3:08 remaining. In six and a half minutes Purdue was outscored 24-7.
Purdue had 17 turnovers for the game. They did out rebound the smaller Hawks 42-30 – Trevion Williams had 18 boards. Williams had 13 points and three assists also. Ivey led Purdue with 19 points, and Gillis was Purdue's other double figure scorer with 12.  Iowa also had three double figure scorers – Patrick McCaffery had 15, Tony Perkins (Lawrence North) added 14, and Kris Murray finished with 12.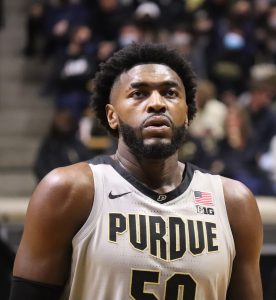 Photo by: Rex Crabtree/Excel H Sports
Purdue (8-0) travels to play Rutgers on the 9th. Iowa (7-1) hosts Illinois on the 6th.
Credit Source for information below: Purdue University Athletics
No. 2-ranked Purdue improved to 8-0 with a 77-70 decision over Iowa in front of 14,804 fans at Mackey Arena on Friday night. The sellout was Purdue's 30 straight sellout.
Purdue is now 8-0 for just the fifth time since the 1939-40 season (1992-93, 1993-94, 2009-10, 2015-16, 2021-22).
Purdue improved to 93-77 all-time against Iowa and has won 11 of its last 12 home games against Iowa. The Boilermakers have won five of their last six games against Iowa.
The win was Purdue's 11th straight victory at Mackey Arena.
Purdue has won 11 of its last 13 Big Ten Conference openers and is 12-5 under Painter in league openers.
Purdue shot under 50.0 percent from the field for the first time this season. However, the Boilermakers still shot 42.1 percent from 3-point range.
Purdue has now won 24 straight games when shooting a higher field goal percentage than its opponent.
Purdue's 77 points were a season low, but it held Iowa to a season-low 70 points.
Purdue's centers combined for just 18 points and 25 rebounds on just 6-of-16 shooting from the field.
Purdue's 37 free throw attempts equaled its most since shooting 43 against Missouri on Nov. 25, 2014.
Trevion Williams recorded his 24th career double-double with 13 points, 18 rebounds and three assists in just 24 minutes. His 17 defensive rebounds set a school record.
Mason Gillis came off the bench to tie a career high with 12 points in just 18 minutes. He went 2-of-3 from the field, 2-of-2 from 3-point range and 6-of-6 from the free throw line.
Credit Source for information below: University of Iowa Athletics
Iowa was without the nation's second-leading scorer, Keegan Murray (24.6 ppg), tonight. The sophomore forward suffered a right ankle injury in the final minutes of Monday night's win at Virginia.
Indianapolis native Tony Perkins scored 12 of his 14 points in the first half. The sophomore guard has reached double figures in scoring four of the last six contests.
Patrick McCaffery netted 12 of his team-high 15 points in the second half. The redshirt sophomore has scored in double figures in all but one game played this season.
Sophomore Josh Ogundele played a season-high 16 minutes, posting career-bests in scoring (7) and rebounding (5).
Kris Murray started his first collegiate game in place of his brother, Keegan. Kris finished the contest with 12 points.
The Hawkeyes had a game-best 11-0 scoring run in the second half. Iowa has had scoring runs of 10-0 or more a combined 11 times in eight games.