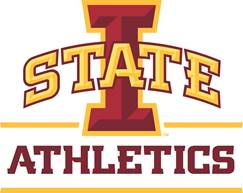 Cyclones Make 17 Triples In 85-67 Win Over Drake
Credit Source: Iowa State University
AMES, Iowa – The Iowa State women's basketball team (6-3, 2-0 Big 12) scorched the nets for 17 made 3-pointers en route to an 85-67 victory over Drake (2-5, 0-0 Missouri Valley) on Tuesday night at Hilton Coliseum. Iowa State's 17 3-pointers were one shy of tying the all-time program record.
Freshman Emily Ryan paced the Cyclones with 20 points, making 4-of-7 from the 3-point line, to go with 10 assists on the night. Ashley Joens (17), Maggie Espenmiller-McGraw (14), Aubrey Joens (13) and Kristin Scott (13) joined Ryan in double figures.
How It Happened
The Cyclones set a blistering pace offensively out of the gates, making their first four shots from the field and jumping out to a quick 7-0 lead less than two minutes into the contest. Iowa State then went on an 11-0 run midway through the opening quarter, triggered by a trio of 3-point makes in 94 seconds of game time. Kristin Scott knocked down the first from deep, followed by back-to-back jumpers by Aubrey Joens, as Iowa State took a 20-8 lead with 3:00 minutes to play in the first. The Cyclones would lead 30-19 after 10 minutes of play.
Drake cut the Iowa State advantage to 28-33 early in the second half before Iowa State reeled off another 11-0 run to regain control. Ashley Joens scored six of the 11, including her first triple of the night to cap the run and put the Cyclones in front 44-28 with 4:33 to play in the first half. Maggie Espenmiller-McGraw, making her second appearance of the season, scored eight of ISU's final 10 points of the half to help build a commanding 54-34 lead at the break.
Iowa State shot 61.3 percent from the field in the first half, including 11-of-16 (68.8 percent) on 3-point attempts. Kristin Scott (13 points), Ashley Joens (12) and Espenmiller-McGraw (11) were all in double figures by halftime.
Ryan took over in the third quarter, scoring 13 points in the period on 5-of-5 shooting, making three treys. Iowa State buried six from beyond the arc and outscored Drake 26-8 in the quarter. The Bulldogs were 3-of-15 from the field and Iowa State's defense forced five turnovers to build a 80-42 advantage with just 10 minutes to play.
The Cyclones scored just five points in the final quarter, but were able to cruise to an 85-67 victory.
Players of Note
Emily Ryan was phenomenal, putting up a 20-point, 10-assist double-double to lead the Cyclones past Drake. Ryan's 10 assists were a season-high for the freshman guard, and she added four rebounds and two steals.
Ashley Joens continued her outstanding junior campaign with 17 points while shooting 7-of-14 from the field. Joens pulled down five rebounds and had two assists, one block and one steal.
Up Next
Iowa State resumes Big 12 play on Sunday, Jan. 3 vs. Texas in Austin. The game is slated to start at 2 p.m. and will be broadcast on ESPN2.
Editor Note: Greenfield, Indiana's Madison Wise recorded five rebounds, one assist and a block in a little over 19 minutes of floor time.