Hoosier Rally Late/ 1st B1G Win in Two Years
by: Steven Stremming
photos by: Eric Thieszen/Thieszen Creations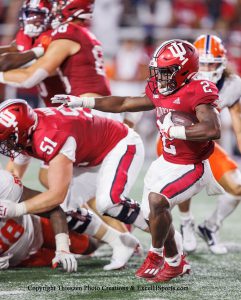 photo by: Eric Thieszen/Thieszen Creations
The Indiana Hoosiers football program needed to come out and compete in their first game of the 2022 season.
Their initial opponent was the University of Illinois, who happened to open their season last week with a victory.
Tom Allen's Hoosiers went winless in the B1G Ten last season so to say the least, he wanted effort.
While it wasn't pretty to the spectator, what he got was effort.
While the Hoosier running game staggered along throughout the game, the final moments of the fourth quarter, which we will get to later was the key.
The Fighting Illini played strong defense up front limiting the Hoosiers running game behind Sophomores, Keith Randolph, Jr. and an outstanding effort from Jer'Zhan Newton (Five total tackles and a sack) from Clearwater Central Catholic High School in Florida.
Another strong effort came from Senior, Jartavius Martin, Leigh Acres, Florida. (Five solo tackles in his six-game total and a tackle for loss).
The Illini defensive backfield had their hands full of Hoosier receivers, Tarique Barnes, Tahveon Nicholson, Sydney Brown and Devon Witherspoon combined for 24 total tackles.
The Hoosiers receiving corps though, more than matched the opponent as Grad Student, D J Matthews, Jr., Jacksonville, Florida (Florida State, seven catches for 109 yards) stretched the field constantly, that included a touchdown pass from Missouri transfer, and Hoosier quarterback Connor Bazelak for 48 yards that pushed the Hoosiers to a 10 to seven lead.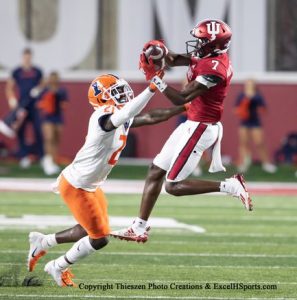 photo by: Eric Thieszen/Thieszen Creations
Another thorn for the Illini was Cam Camper (Lancaster, Texas/Trinity College, 11 receptions for 156 yards with the longest being a forty-yard strike from Bazelak.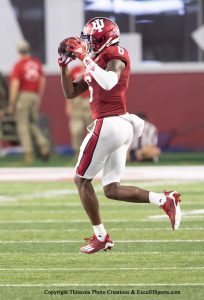 photo by: Eric Thieszen/Thieszen Creations
The Illini's Isaiah Williams (Sophomore, Saint Louis, Missouri/Trinity Catholic) continued his career with another solid effort as Williams hauled in nine passes for 112 yards and a score.
Another Fightin' Illini who shone brightly was Junior, Chase Brown (London, Ontario) who carried the ball 36 times for 199 yards rushing. Brown's longest scant was for 36 yards.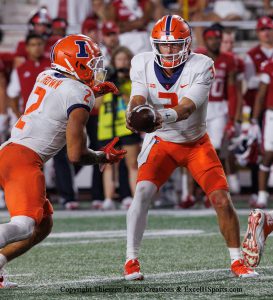 photo by: Eric Thieszen/Thieszen Creations
This game though belonged to the defenses and the kickers through the majority of the game, as Hoosiers and Illini would force field goal opportunities for each team.
Indiana's exceptional kicker, Charles Campbell, redshirt Senior (Jackson, Tennessee/University School of Jackson) was perfect in all of his attempts, as he connected in his three attempts, including his extra point with less than 20 seconds to go in the game, to push the Hoosiers 23 to 20.
Junior, Caleb Griffin hit from 47 yards in the fourth quarter to push the Illini margin to 20 to 16 before the Hoosiers final game winning score.
After the Illini score, Indiana was faced with driving the field and scoring a touchdown if they were to collect the win Saturday night in Bloomington.
Connor Bazelak stepped up to the challenge and willed the team down the field to set up the game winning score, I told you we would be back to this, a one-yard rushing score by Auburn transfer, Shaun Shivers (Fort Lauderdale, Florida, 15 carries for 28 yards).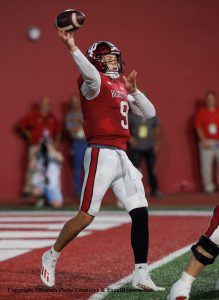 photo by: Eric Thieszen/Thieszen Creations
Bazelak was 28 out of 52 attempts and a pick for 330 yards.
Bazelak was as advertised and gave the Hoosiers the quarterback, they haven't had since Peyton Ramsey.
Illini quarterback, Syracuse transfer, Tommy DeVito (Cedar Grove, New Jersey, Don Bosco Prep) was a 21 out of 35 attempts with a pick for 232 yards.
photo by: Eric Thieszen/Thieszen Creations
Cam Jones (12 total tackles, six solos, one sack and a tackle for loss) shone brightly for the Hoosiers with help coming from Noah Pierre (seven total tackles) and Aaron Casey (seven total tackles), Josh Sanguinetti, Jaylin Williams, Dasan Mccullogh, Devon Matthews, Bradley Jennings, Jr. and Alfred Bryant accounted for six tackles a piece.
Tiawan Mullen and Pierre both forced fumbles.
The Hoosiers play host to Idaho while the Illini host Virginia.
Press Box Score provided by the University of Illinois Athletics
mailbox:///C:/Users/steve/AppData/Roaming/Thunderbird/Profiles/y6wh21ob.default/Mail/mail.ori.net/Inbox?number=201&part=1.2&filename=Indiana%2023%2C%20Illinois%2020.PDF&type=application/pdf