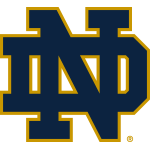 Irish Offensive Line Tabbed for Joe Moore Midseason Honor Roll
Credit Source: University of Notre Dame Athletics
NOTRE DAME, Indiana — Notre Dame Football's offensive line unit has earned a selection to the 2020 Joe Moore Award Midseason Honor Roll, a distinction that annually honors the "toughest, most physical offensive line in the country."
This marks the second-consecutive season in which the Irish have been named to the midseason honor roll. Notre Dame won the award in 2017.
Notre Dame's starting offensive line boasts 147-career starts between the five veterans (Liam Eichenberg, Aaron Banks, Jarrett Patterson, Tommy Kraemer and Robert Hainsey), the fifth-most starts among a starting offensive line nationally, and third-most in the FBS. For their performances, four of Notre Dame's five starting lineman have been named ACC Offensive Lineman of the Week this season.
Behind its stellar offensive line, Notre Dame is one of three Power 5 teams to post three performances of 36:15 or more possession time this season. No other FBS teams have produced more than three games this season with at least 36:15 in possession time (Wisconsin, Louisville, Charlotte, Coastal Carolina and Liberty have also marked three such performances). The Irish held control of the ball for 40:59 minutes of possession time at Pitt, the second-most by an ACC team in a single game this season. Notre Dame has won the time of possession battle in seven of eight games.
The Irish lead the ACC in fewest sacks allowed (13) and are also tied for second in the ACC in rushing offense (233.5 yards per game) with a 208-yard rushing performance vs. Clemson and 274 yards at Boston College.
The award's voting committee is composed of college football experts, especially those who played or coached the offensive line position, including all of the current offensive line coaches at the Division I/FBS level, as well as former players, coaches and colleagues of Coach Moore and select media.
The only major college football award that honors a group in lieu on an individual, the award is named for Joe Moore, a famed offensive line coach who spent nine seasons in that role for Notre Dame, coaching student-athletes such as Aaron Taylor, founder of the Joe Moore Award, Andy Heck, now offensive line coach for the Kansas City Chiefs, and Tim Ruddy, Pro Bowl center for the Miami Dolphins in the Dan Marino era.