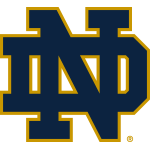 Credit Source: University of Notre Dame Athletics
Book Selected As O'Brien Award Semifinalist
NOTRE DAME, Indiana — Notre Dame graduate student quarterback Ian Book has been named a semifinalist for the 2020 Davey O'Brien National Quarterback Award. Book is one of 17 FBS quarterbacks to be tabbed as a semifinalist, and the Notre Dame team captain marks his second time being selected as a semifinalist for the award (also in 2018).
Book has led the Irish to a perfect 10-0 record in 2020, becoming the all-time winningest quarterback in Notre Dame history. He boasts a 30-3 (.909) record as a starter, and Book is one of just two FBS quarterbacks with a win rate above .900. He has completed 181 passes for 2,382 yards and 15 touchdowns, with just two interceptions, in 2020, and has rushed for 465 yards and eight touchdowns on the season.
Book, a rare two-time team captain, capped the longest streak of passing attempts without an interception in program history at 266 (beginning mid-Game One vs. Duke and ending mid-Game 10 vs. Syracuse), which was the longest-active streak in the FBS. With eight rushing TDs in 2020, he ranks third among all Power 5 quarterbacks in season rushing touchdowns.
The graduate student has garnered a number of national accolades this season. He has been named to the Davey O'Brien Great 8 list four times and was recently selected to the Top 10 for the Johnny Unitas Golden Arm Award. Book also earned ACC Quarterback of the Week following the Pitt game and Manning Award Star of the week following the Boston College game. Additionally, he was also selected as a candidate for the Senior CLASS Award.
Three finalists will be selected based on a national committee and a fan vote, which is now open and will close on Dec. 20. Fans may vote on Instagram, Twitter and Facebook on the Davey O'Brien official accounts. Book ranked in the Top Five in fan voting for the semifinalist round on Twitter and Instagram. National selection committee voting will take place from Dec. 16-20.
The three finalists will be named on Tuesday, Dec. 22. The winner is to be announced live on Thursday, Jan. 7, 2021, on the 30th annual The Home Depot College Football Awards, which will be held virtually from 7-8:30 p.m. (ET) on ESPN.
Hamilton, Owusu-Koramoah Named Bednarik Award Semifinalists
NOTRE DAME, Indiana — Notre Dame senior linebacker Jeremiah Owusu-Koramoah and sophomore defensive back Kyle Hamilton have been selected as semifinalists for the 26th Chuck Bednarik Award for the Outstanding Defensive Player of the Year.
Owusu-Koramoah and Hamilton are two of 18 national semifinalists. Notre Dame is one of just two programs with multiple players represented in the semifinalist group. They are part of the ACC's top ranked scoring defense, allowing just 17.1 points per game, and the second-ranked total defense in the conference (314.5 yards/game). Notre Dame's rushing defense, second in the ACC, ranks seventh in the nation (99.7 yards/game).
The Irish boast the second-ranked third-down defense in the nation, allowing just a .264 conversion rate.
Jeremiah Owusu-Koramoah
Jeremiah Owusu-Koramoah, a preseason All-ACC First Team selection, has totaled 49 tackles this season, which leads Notre Dame's defense, also leading the team with 9.0 tackles-for-loss. He has been responsible for forcing multiple turnovers, including an interception, two fumble recoveries (one returned for a touchdown) and three forced fumbles this season. He has added three pass breakups.
His first-career interception came at Pitt, setting up a Notre Dame touchdown drive. In the win over then-No. 1 Clemson, Owusu-Koramoah posted nine tackles (seven solo), 0.5 sack, 2.0 TFL, one forced fumble and the fumble recovery touchdown, which was the first score of his career. Three plays later, he forced a Clemson fumble, which was also recovered by the Irish.
Owusu-Koramoah ranks tied for seventh among all FBS players with two fumble recoveries this season. He ranks fifth among all ACC players in forced fumbles (0.3 per game) and his 9.0 TFL tie for 16th-most in the ACC
A Butkus Award semifinalist, he was named Nagurski Trophy and Bednarik Award Player of the Week, as well as ACC Linebacker of the Week, all for his performance against Clemson. At Pitt, he was named to the Pro Football Focus Team of the Week. He has been tabbed for watch lists for the Nagurski Trophy, Bednarik Award and Lott IMPACT Trophy, in addition to the Butkus Award.
Kyle Hamilton
Sophomore Kyle Hamilton ranks second on the Irish defense with 46 total tackles in just nine games, averaging 5.1 tackles per game. Through 2020, he has collected four pass breakups, two quarterback hits and 3.5 tackles-for-loss.
A preseason All-America second team selection (USA TODAY), Hamilton has started all nine games in which he has seen action this season. In the win over then-No. 1 Clemson, Hamilton posted eight solo tackles and a TFL. Hamilton's TFL came in the second quarter vs. Clemson when he brought down Travis Etienne. The Clemson drive later ended in a field goal. He was called into run defense duties vs. Clemson, and according to Pro Football Focus, posted a 79.2 run-defense grade.
In the win at Georgia Tech, Hamilton led the defense with six tackles, adding 2.0 TFL (-8 yards) and one PBU. One of Hamilton's tackles from behind the line of scrimmage came on a Georgia Tech fourth-down attempt, as he stopped the Yellowjackets  for a loss of six yards to give the Irish possession.
Against Louisville Hamilton made his presence felt from the start posting a diving pass breakup on third-and-11 on the Cardinals' opening drive to force a punt. In the fourth quarter, Hamilton posted tackles on consecutive plays to force a punt, ending what would be Louisville's final drive of the game and secure the win for Notre Dame.
Hamilton was outstanding in the season-opener as he accounted for four tackles and a PBU on the opening drive for Duke. On the day, he marked seven tackles, including five solo tackles, before leaving the game with an injury.
Owusu-Koramoah, Hamilton and the Irish return to the field Saturday, Dec. 19 for the ACC Championship game, the first conference championship game in Notre Dame's one-year history of playing as a conference team.
Williams, McKinley, Lewis Named ACC Players of the Week
Credit Source: Notre Dame University Athletics
NOTRE DAME, Indiana — Three Notre Dame football student-athletes have earned ACC weekly honors for their performances in the 45-21 win vs. Syracuse.
Redshirt freshman Kyren Williams notched his fifth weekly honor of the season, named co-ACC Running Back of the Week, marking a weekly honor in half of his performances this season. Senior wide receiver Javon McKinley garnered his first-career ACC honor, winning conference Receiver of the Week, and true freshman Clarence Lewis was named ACC Defensive Back of the Week, his first-career conference award. Overall, Irish players have collected 16 ACC weekly honors this season. No ACC team has more weekly awards this season than Notre Dame's 16.
All three players contributed to a 45-21 win to close the regular season, extending the longest win streak in the FBS to 16 games, and marking 24-consecutive wins at Notre Dame Stadium, which is the second-longest home win streak among all FBS teams.
Kyren Williams
Williams compiled 20 rushes for 110 yards, adding three receptions for 33 yards, vs. Syracuse. With his 110 yards, Williams eclipsed the 1,000-yard rushing mark for the season. He now totals 1,011 in 2020. The last time an Irish player reached 1,000 rushing yards in a single season was Josh Adams in 2017.
Williams leads all FBS freshmen in rushing touchdowns (12), total touchdowns (13), and total rushing yards (1,011). Among all FBS players, he is eighth in rushing TDs, ninth in total TDs and fifth in rushing yards. In the ACC, Williams ranks third in rushing yards per game (101.1), fourth in scoring – TDs (7.8 points/game) and fourth in all-purpose yards per game (127.9).
Williams' 110 rushing yards were the third-most in the ACC on the weekend, and he tied for third among all ACC players in all-purpose yards (143).
Javon McKinley
At home vs. Syracuse, McKinley hauled in seven receptions for 111 yards and three touchdowns. His three touchdown receptions were the most among all ACC players on the weekend. Just one other Power 5 player totaled three touchdown receptions on the weekend, and his 111 yards were the second-most in the ACC on the weekend.
McKinley's three touchdown receptions marked a career-high and his first three touchdowns of the season. In his second-career multi-touchdown game (previously vs. New Mexico), McKinley scored two of his three TDs in the first half, marking the first time he has scored multiple touchdowns in a single half.
He is the second Irish player to post a three receiving TD game this season, joining Ben Skowronek (vs. Pitt). No other Notre Dame player has ever recorded more receiving touchdowns in a single game vs. a Power 5 opponent than McKinley's and Skowronek's three.
Clarence Lewis
The true freshman Lewis noted 12 tackles (10 solo), one forced fumble and one pass breakup in his fourth-career start. His 12 tackles led the Irish, and were the most by an Irish player in a single game since Julian Love's 12 vs. USC in 2018.
No ACC defensive back had more tackles on the weekend than Lewis' 12, and of the two DBs who noted 12 tackles, Lewis marked the most solo tackles with 10. He was also the only player in the ACC with 12 or more tackles to note a pass breakup, not to mention a forced fumble.  His pass breakup came on third down to force a Syracuse punt.
Notre Dame limited Syracuse to just 15 first downs on the day, the second-fewest converted by an ACC offense this weekend.