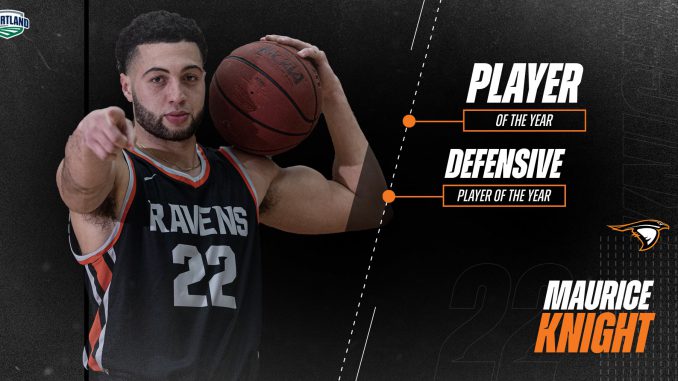 Knight Sweeps HCAC Player-of-the-Year Accolades
Credit Source: Anderson University Athletics
Anderson University men's basketball senior Maurice Knight has been tabbed the Heartland Collegiate Athletic Conference (HCAC) Player of the Year and the HCAC Defensive Player of the Year, which was announced by the conference on Wednesday.
Knight garnered first-team all-conference honors for the Ravens while Francis Uzorh received all-HCAC Honorable Mention.
Knight repeated as HCAC Defensive Player of the Year after earning the accolade during the 2019-20 season as a junior. During his career, Knight has collected all-conference recognition three times, earning first-team all-conference as a junior and senior as well as receiving second-team all-HCAC honors as a sophomore. Knight has been named HCAC Athlete of the Week eight times in his career, which ranks second by a men's basketball player in conference history. He has also been tabbed as HCAC Athlete of the Week five times, which is tied for the most single-season selections by a men's basketball player in conference history. The 6-foot-4 senior wing from Frankton has been named to the D3hoops.com Team of the Week twice in his career and once this season.
Knight has scored 20.0 points per game, which ranks second in the conference. Among HCAC leaders, Knight also ranks third in blocking (1.04) and fifth in rebounding (7.8). Knight has put together 2.4 assists per game and 1.2 steals per game.
"Maurice is an extremely well-deserving recipient of these awards," Coach Owen Handy said. "He is equally capable of dominating a game skillfully and physically. We asked a lot from him this year – to guard the other team's best player regardless of position, and to be the centerpiece of everything we did at the offensive end."
Uzorh leads the conference and ranks 32nd in the nation with 1.92 blocks per game. The 6-foot-6 senior forward from Lagos, Nigeria averages 7.5 points and has converted 84-of-148 (56.8 percent) shots from the field. Uzorh has pulled 7.5 rebounds per game, which ranks sixth in the conference. He also holds Anderson's single-season blocking record in the D-III Era with 50.
"Francis has proven to be one of the best help-defenders I have coached and was able to have a huge impact on games starting with his defense and rebounding, and continuing to his spacing and finishing around the basket."
https://athletics.anderson.edu/sports/mbkb/2021-22/releases/20220223gszl8r