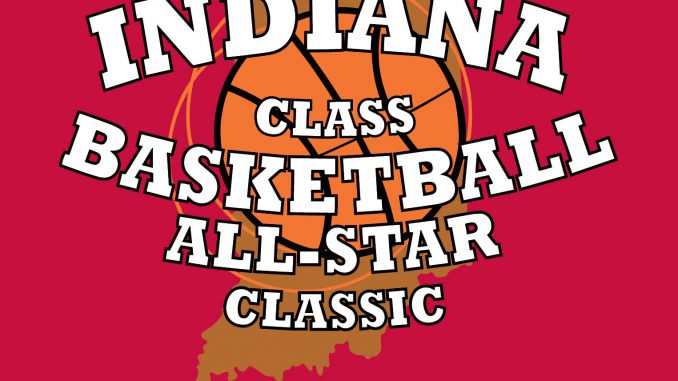 "Every year, we are blessed to bring the Indiana Class Basketball All Star Classic back to the beautiful campus of Anderson University.
This will be the 14th year of the event to be played and the ninth in the O C Lewis gymnasium in the Kardatzke Wellness Center.
As always, I thank Marcie Taylor, John Pistole and the Anderson University administration and staff for allowing us to have the All-Star event.
Every year, we tweak the event, and this year is no exception.
Indiana basketball produces the best in D2, D3 and NAIA every year, plus a strong contingent of mid-major talent and we have some of that talent in the greater Wabash Valley
area!
So, our Senior games are a picture of that talent as we invite them to the games. It is a great microcosm of our state!
Every year many student/athletes have family vacations, or invites to college campuses to visit so that is taken into account.
Again,I am blessed that our staff, exceptional sponsors and myself, can bring these student/athletes to AU FREE!
Indiana Sports Network will once again provide TV coverage FREE and www.broadcastsport.net will handle internet game coverage FREE
Steven Stremming
GRADUATING SENIOR BOYS GAME (2022)  10 a.m. June 17th, 2022

TEAM A: Name/School/Height/ppg/College Destination
Eric Price, Gary 21st, 6'10, 7.2 ppg, Trinity Christian
Sean Page, Anderson, 6-8, 9 ppg, Central State University
Elijah Mattingly, Central Christian, 6-6, 20.9 ppg, Anderson
Kedric Anderson, Anderson, 6-5, 7.2 ppg, Morton College
Jordan Turner, Indianapolis Cardinal Ritter, 6-3, 19.2 ppg, Undecided
Ty Wills, Anderson, 6-3, 15 ppg, I U Kokomo
Trevion Johnson, Daleville, 6-3, 16.8 ppg, Undecided
Hayden Maiben, Maconaquah,  6-2, 20.8 ppg, Wabash
Kenneth Troutman, Ben Davis, 6-1,  3.5 ppg, Anderson
Antonio Lisenbee, Indianapolis Arsenal Tech, 6'7, 9.2, Undecided

Head Coach: Mark McFarland
TEAM B: Name/School/Height/ppg/College Destination
Matthew Spears, Indianapolis  Arsenal Technical,  6-9,  7 ppg, LeMoyne-Owen College
Adonis House, Liberty Christian, 6-8,  15.4 ppg, Wabash
Steele Brasfield, New Palestine, 6-5,  19.6 ppg, Indiana Tech
Luke Carroll, Hamilton Heights, 6-5,  17.3 ppg, Lakeland
Christian Nunn, Indianapolis Crispus Attucks, 6-4,   17.6 ppg, Northwood
Harrison Schwinn, Frankton, 6-4, 17 ppg, Ivy Tech (Kokomo)
Jacob Davenport, Frankton, 6-1, 12.1 ppg, Ball State (Student)
Griffin Craig, Lapel, 6-0, 5.8 ppg, Undecided
Tobey Billups, Connersville, 5-11,  7.5 ppg, I U East
Zack Jeffers, Liberty Christian, 6-1, 12.5 ppg, Covenant College (Georgia)
Head Coach: Jamares McCloud
FUTURE BOYS GAME: (SOPHOMORES AND FRESHMAN COMBINED)  1 p.m.  June 17th, 2022

TEAM A: Name/School/Height/ppg
Jack Benter, Brownstown Central, 6-5, 26.1 ppg
Jalen Haralson, Fishers, 6-6, 16 ppg
Phillip Randolph, International, 6-1, 19.9 ppg
Javon Lewis, Fort Wayne Anthony Wayne, 5-10, 17.3 ppg
Braylen Mullens, Greenfield Central, 6-4, 11.2 ppg
Mason Lewis, North Central, 5-9, 6.4 ppg
Caleb Wright, Sheridan, 6-1, 6.7 ppg
Jaymen Townsend, Marion, 6-5, 14.6 ppg
Taden Metzger, Fishers, 6-2, 15.3 ppg
DeAndre Lott-Hancock, Indianapolis Crispus Attucks, 6-4,
Damien King, Anderson, 6-4
Micah Davis, Franklin Community, 6'1, 14.8 ppg
Head Coach: Christopher Hawkins, Indianapolis Crispus Attucks
TEAM B: Name/School/Height/ppg
Flory Bidunga, Kokomo, 6-10, 17.5 ppg (out, learned late last night)
K J Windham, Ben Davis, 6-3 ppg
Isaac Andrews, Wapahani, 6-1 ppg
Sabian Cain, University, 6-2 ppg
Chase Konieczny, South Bend St. Joseph,  6-4, 15.3 ppg
Dominique Murphy, East Chicago Central, 6-4, 14.8 ppg
Shane Sims, Evansville William Henry Harrison, 6-3, 13.6 ppg
Reis Butcher, Brebeuf Jesuit, 6-5
Zion Bellamy, Kokomo, 5-8, 6.7 ppg
Braden Walters, Linton Stockton, 6-5, 7.8 ppg
Brode Judge, Lapel, 6-4, 10 ppg
Bode Judge, Lapel  6'4, 9.8 ppg
Head Coach: Jamares McCloud

CURRENT JUNIOR GAMES (2023)  3:30 p.m.  June 17th, 2022

TEAM A: Name/School/Height/ppg
Myles Colvin, Heritage Christian, 6-6, 18.4 ppg
Cooper Farrell, Culver Academy, 6-6,  20.9 ppg
Owen Duff, Carroll Flora, 6-2,  16.3 ppg
Aiden Franks, Wapahani, 6-2,  18.3 ppg
Dylan Moles, Greenfield Central, 6-1, 19.2 ppg
Gavin Welch, New Castle, 6-5, 13.0 ppg
Cedric Anderson, Liberty Christian, 6-2, 9.2 ppg
Casey Kaelin, Our Lady of Providence, 6-3, 20.5 ppg
A J Dunn, Yorktown, 6-1, 13.2 ppg
Joshua Dowlen, Jay County, 6'1, 7 ppg, 5 rpg, 3.5 apg

Head Coach: Gary Andrews, Fort Wayne North Side

TEAM B: Name/School/Height/ppg
Zane Doughty, Ben Davis, 6-9, 11.3 ppg
Sheridan Sharp, Ben Davis, 6-2, 9 ppg
Aston Williamson, Gary 21st, 6-4, 19.1 ppg
Quentin Floyd, Gary 21st, 6-4, 15.5 ppg
Demetrious Moss, Gary 21st, 6-5, 14.8 ppg
Kamari Slaughter, Portage, 6-4, 15.5 ppg
Tyler Wyles, Cambridge City Lincoln, 6-4, 19.0 ppg
Colin Gardner, Frankton, 6-4, 9.9 ppg
Ollie Sandman, Shelbyville, 6-2, 20.5 ppg
Dusty
Pearson, Jay County,  6'6, 8 ppg, 8 rpg

Kobe Watson, Liberty Christian
Head Coach: Don Carlisle, Ben Davis
TEAM C: Name/School/Height/ppg   6 P.M.  June 17th, 2022

Joey Hart, Linton Stockton, 6-5, 20.4 ppg
David Merriweather, Metropolitan, 6-10, 16 ppg
Omarian Washington, Fort Wayne Southside, 6-3, 17.3 ppg
Jordan Green, Fort Wayne North Side, 6-4, 13.0 ppg
Jacob Spaulding, Eastern Hancock, 5-11,  13.9 ppg
Silas Spaulding, Eastern Hancock, 6-0, 10.4 ppg
Austin Willoughby, Whiteland, 6-4, 11.3 ppg
Drew Cook, Northview, 6-0, 20.2 ppg
Marcus Northern, South Bend Washington, 16.8 ppg

Wyatt Thornburgh, Blue River Valley, 16.5 ppg

Head Coach: Joey Hart, Linton Stockton
TEAM D: Name/School/Height/ppg
Joey Brown, North Central, 6-6, 13.2 ppg
Jermaine Coleman, Park Tudor, 6-6, 17 ppg
Ladarius Wallace, Rock Creek, 5-8, 10.9 ppg
Jaleb Treat, Rock Creek, 6-7, 10.2 ppg
Mariel Diper, Rock Creek, 6-11, 10.5 ppg
Kamari Jones, Lawrence Central, 6-4, 15.3 ppg
DaJonh Craig, Lawrence Central, 6-2, 14.7 ppg
Ahmere Carson,, Anderson, 6-2, 19.9 ppg
Matthew Arthur, New Washington, 5-11, 20.8 ppg
Maury Lewis, Indianapolis Math and Science, 6-2, 18.7 ppg
Nate Matelic, Speedway, 6'5, 14.6 ppg

Jaquan Ingram, Anderson, 6'2, 12.8 ppg
Head Coach: Chris Brown, Rock Creek
GRADUATING SENIOR GIRLS GAME (2022)  10 a.m. June 18th, 2022

TEAM A: Name/School/Height/ppg/College Destination
Senior Team 1
Cagney Utterback, Frankton, 7 ppg, Anderson
Lilly Maple, Maconaquah, 24.1 ppg, I U Kokomo
Koryn Greiwe, Columbus East, 13 ppg, Indiana Wesleyan
Victoria Smiley, Lawrence Central, 13.8 ppg, King University
Ellie Wilkerson, Plainfield, 16 ppg, Davis and Elkins
Jaelynne Murray, Pike Township, 12 ppg, Alabama A & M
Samara Douglas, North Central, 10.3 ppg
Lauren Gillon, South Bend Washington, Undecided

Ariel Helm, Lawrence North, 11ppg/Duquesne
McKenzie Carroll, North Central, Benedictine University
Head Coach: LaTrice Crawford, Purdue Polytechnic
Senior Team 2
Teresa Maggio, McCutcheon, 23.5 ppg, IUPUI
Madi Reese, Liberty Christian, 17.3 ppg, Manchester
Marissa Shelton, South Bend Adams, 16 ppg, Undecided
Lauren Bates, Frankton, 14.1 ppg, Franklin
Chloe McClain, Kokomo, 15 ppg, Indiana Tech
Olivia Faust, Triton Central, 16.6 ppg, Marian
Jada Patton, Penn, 11.3 ppg, Indianapolis
Camiell Perry, Speedway, 11.8 ppg, Undecided
Julia Mantyla, Northridge, 14.5, St. Francis

Jada Stansberry, Alexandria, 17.2 ppg, Anderson
Head Coach: Haley Cook Peckinpaugh, Kokomo
FUTURE GIRLS GAME: (SOPHOMORES AND FRESHMAN COMBINED)  1 p.m. June 18th, 2022

Futures Team 1
JORDYN POOLE, Fort Wayne R F Snider, 13 ppg
CHLOE SPREEN, Bedford North Lawrence, 16.2 ppg
ELLERY MINCH, Mt Vernon Fortville, 17.5 ppg
LEAH WEST, Greensburg, 12.9 ppg
MEREDITH TIPPNER, Noblesville, 9.5 ppg
OLIVIA NICKERSON, Twin Lakes, 18.3 ppg
MONIQUE MITCHELL, South Bend Washington 5.6 ppg
KAYCIE WARFEL, Pendleton Heights, 15.7 ppg
KAIDEN JAMES, New Washington, 13.3 ppg
AIJIA ELLIOTT, Kokomo, 11 ppg
EMMA SPERRY, Frankton, 10.3 ppg
Head Coach: 
Futures Team 2
REAGAN WILSON, Noblesville, 10 ppg
ALLI HARNESS, Carroll Flora, 22.2 ppg
JULIANN WOODARD, Jennings County, 16 ppg
JAYLAH LAMPLEY, Lawrence Central, 16 ppg
DESTINY CRAIG, Fort Wayne R F Snider, 15.8 ppg
CHANEY BROWN, Greenfield Central, 15.5 ppg
CAMRYN RUNNER Hamilton Heights, 17 ppg
ADRIANNE TOLEN, West Lafayette, 18.2 ppg
KYLIE WELLS, Merrillville, 12.9 ppg
EMMA HART, New Castle, 11 ppg
JACKLYN HOSIER, Alexandria,, 13.7 ppg
Head Coach: Molly Bates, New Castle
CURRENT JUNIOR GAMES (2023)  3:30 p.m. June 18th, 2022

Junior Team 1
Nevaeh Foster, Mishawaka Marian, 20 ppg
Annaka Nelson, Fort Wayne Concordia Lutheran, 10.2 ppg
Rashunda Jones, South Bend Washington, 11.6 ppg
Josie Trabel, East Central, 17.7 ppg
Taylor Delp, Plymouth, 15.1 ppg
Ashlynn Brooke, Pioneer, 25.9 ppg
Bailey Kelham, Garrett, 16.7 ppg
Bailey Tabeling, Trinity Lutheran, 19.8 ppg
Lilly Toppen, Kankakee Valley, 9.8 ppg
Justice Billingsley, Fort Wayne South Side, 17 ppg
Allison Capuch, Kouts, 17.8 ppg
Head Coach: Jeff Brooke, Pioneer
Junior Team 2
Makaya Porter, Mishawaka Marian, 19 ppg
Karsyn Norman, Bedford North Lawrence, 15 ppg
Jackie Crews, Paoli, 14 ppg
Asia Donald, Hobart, 23.5 ppg
Amber Tretter, Forest Park, 17.2 ppg
Saniya Jackson, Fort Wayne Northrop, 15.4 ppg
Nevaeh Jackson, Fort Wayne Northrop, 13.4 ppg
Tori Allen, Andrean, 15.9 ppg
Eva Fisher, Northridge, 12.5 ppg
Abby Rouse, Delta, 10.3 ppg

Head Coach: Katie S Jackson, Fort Wayne Northrop
Junior Team 3  6 p.m.  June 18th, 2022
Ashlynn Shade, Noblesville, 20.9 ppg
Cristen Carter, Ben Davis, 11.4 ppg
McKenna Layden, Northwestern, 22.1 ppg (Will attend but will not play)
Monica Williams, Lawrence North, 9.5 ppg
Olivia Smith, Fishers, 9.4 ppg
Asiah Baxter, Warren Central, 15.1 ppg
Whitney Warfel, Pendleton Heights, 13.7 ppg
Sydney Horton, Roncalli, 10.7 ppg
Leah May, Leo, 12.1 ppg
Ajacia Griffith, Purdue Poly, 11 ppg
Lela Scott, Southport, 10 ppg
Head Coach: Adam Morelock, Southport
Junior Team 4
Laila Hull, Zionsville, 20.3 ppg
Hailey Smith, Fishers, 10.4 ppg
Taylor Guess, Ben Davis, 10.6 ppg
Abby Fleetwood, Indian Creek, 22 ppg
Lauren Barker, Columbus North, 12.8 ppg
Kelsey Dubois, University, 12.8 ppg
Isabella Wooten, Danville, 13.8 ppg
Lizzie Graham, Triton Central, 12.1 ppg
CeCe Mitchell, Southport, 11 ppg
Giovannie Belton, Pike Township, 14.9 ppg
Lailah Hadley, Purdue Poly, 11 ppg
Head Coach: Stan Benge, Ben Davis