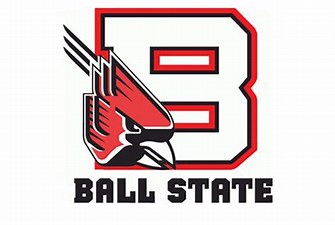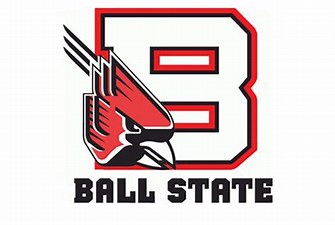 Credit Source: Ball State University Athletics
Thrilling Opener Goes Down to Final Minute as Ball State Falls at Miami
OXFORD, Ohio — The 2020 edition of the Red Bird Rivalry went into the final seconds as Ball State and Miami traded big plays in a nationally-televised season opener. Miami had the last highlight, scoring the go-ahead touchdown with 10 seconds left to edge BSU 38-31 at Yager Stadium Wednesday night.
With the game tied at 31, Ball State forced a stop and started a potential game-winning drive at its own 27-yard line with 42 seconds left in regulation. But Miami's Ryan McWood deflected a Drew Plitt pass and hauled it in, returning the ball to the 5-yard line. Moments later, Miami found the end zone to seal the game in the final seconds.
"We've worked a lot of scenarios like that in practice where it's a tight game and you have to go down and deliver, and we didn't (tonight)," head coach Mike Neu said. "That's what's difficult to swallow. We didn't get it done. I told the team afterwards, we have to own it. We can't let that determine the rest of our season."
The final sequence in the game came after a thrilling comeback by Ball State. The Cardinals trailed 31-21 when they got an 18-yard touchdown run by Caleb Huntley with 7:06 left to make it 31-28. BSU's defense stood strong and the Cardinals regained possession with 4:04 left in the game. Plitt moved the Cardinals down the field, setting up a clutch 47-yard field goal from Jack Knight that tied the game at 31 with 1:08 to go.
Plitt, in his second year as the full-time starter after orchestrating the MAC's top offense last year, threw for 309 yards and a touchdown and even launched a 43-yard pooch punt in the third quarter that pinned Miami at its own 2-yard line. Miami's defense, the best unit in the MAC last year, sacked Plitt six times.
Huntley and Justin Hall each scored two touchdowns for the Cardinals, who were playing for the first time in 340 days. Huntley ripped off a 45-yard score in Ball State's first possession after halftime and had the 18-yarder in the fourth quarter. Ball State led 14-10 at halftime thanks to a pair of scores by Hall, who ran 11 yards for a touchdown early in the game and scored on a 66-yard catch-and-run from Plitt in the second quarter.
Huntley finished with 130 yards rushing, his 11th career 100-yard game and eighth in the past nine, while Hall racked up 141 yards from scrimmage (124 receiving) on six touches. On defense, Brandon Martin led the team with 11 tackles, while Jaylin Thomas and Jimmy Daw each had 10 stops. Graduate transfer linebacker Anthony Ekpe collected three tackles for loss, including two sacks, in his BSU debut.
"Miami defensively has done a really good job the past several years; they have a lot of movement up front on the defensive line, so sometimes the yards are tough to come by," Neu said. "I thought Caleb was very efficient. He's a special player, a special runner. As the game goes on, he just keeps getting stronger."
Miami got a spark from backup quarterback AJ Mayer, who replaced injured starter Brett Gabbert in the second quarter. Mayer went 16-for-24 for 212 yards and three touchdowns. Jack Coldiron and Zach Kahn each scored two touchdowns for Miami, the reigning conference champion.
Ball State out-gained Miami on the ground (169-134) and through the air (309-288) while also converting nine of its 15  third-down chances. Each team converted 26 first downs. The Cardinals just came up one play short.
Ball State will play at home at Scheumann Stadium each of the next two Wednesdays. Eastern Michigan visits Muncie Wednesday, Nov. 11 and Northern Illinois comes to town the following Wednesday. Tickets will not be sold to the public. Next week's Eastern Michigan game will be televised on CBS Sports Network with a 7 p.m. kickoff.
"We have to make sure we keep our chin up when we leave Oxford tonight, get on the bus and get back to work," Neu said. "We have Eastern Michigan coming to Scheumann Stadium next Wednesday night. Every week's going to be a dog fight. We have to learn from our mistakes and get back at it."
Visit https://www.dropbox.com/s/crm4ymktfhg6sro/110420_BSU.mp4?dl=0
To keep up with the latest Ball State football news, follow the Cards at @BallStateFB on Twitter and Instagram.
Ball State (0-1) vs. Miami (1-0)
Date: Nov 04, 2020 • Site: Oxford, Ohio • Stadium: Yager Stadium
Attendance:
Score by Quarters 1 2 3 4 Total
Ball State 7 7 7 10 31
Miami 0 10 14 14 38
Qtr Time Scoring Play V-H
1st 07:01 BALL – HALL, Justin 11 yd run (KNIGHT, Jack kick), 8-90 3:05 7 – 0
2nd 11:03 MIAMI – Zach Kahn 2 yd run (Henry Beckett kick), 12-86 5:23 7 – 7
09:11 BALL – HALL, Justin 66 yd pass from PLITT, Drew (KNIGHT, Jack kick), 6-84 1:52 14 – 7
00:43 MIAMI – Henry Beckett 37 yd field goal, 8-61 1:57 14 – 10
3rd 12:26 BALL – HUNTLEY, Caleb 45 yd run (KNIGHT, Jack kick), 9-80 2:34 21 – 10
07:20 MIAMI – Jack Coldiron 6 yd pass from AJ Mayer (Henry Beckett kick), 12-79 5:01 21 – 17
01:35 MIAMI – Jack Coldiron 14 yd pass from AJ Mayer (Henry Beckett kick), 5-98 2:09 21 – 24
4th 09:48 MIAMI – Jalen Walker 12 yd pass from AJ Mayer (Henry Beckett kick), 10-52 5:07 21 – 31
07:06 BALL – HUNTLEY, Caleb 18 yd run (KNIGHT, Jack kick), 7-59 2:32 28 – 31
01:08 BALL – KNIGHT, Jack 47 yd field goal, 10-56 2:56 31 – 31
00:10 MIAMI – Zach Kahn 2 yd run (Henry Beckett kick), 3-6 0:20 31 – 38
Kickoff time: 7:02 pm • End of Game: 10:44 pm • Total elapsed time: 3:42
Officials: Referee: J. Valentine; Umpire: Tim Gover; Linesman: Michael Sharp;
Line judge: Dorsey Skinner; Back judge: Paul Stout; Field judge: George Plesac;
Side judge: Nicole Randolph; Center judge: Jason Gant;
Temperature: 58 deg • Wind: 4 MPH SW • Weather: Clear