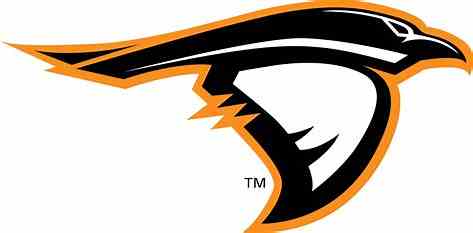 Ravens Deliver Defensive Stand, Complete Sweep of Beavers
Credit Source: Anderson University Athletics
A day earlier, the Anderson University men's basketball team (7-3) went to overtime with Bluffton University (10-3) and captured an 85-76 victory. Anderson shut down Bluffton on the final possession, claiming a 75-71 win as well as a sweep of Bluffton for the weekend.
On Friday, Bluffton's Jameel Cosby delivered a game-tying layup with two seconds remaining to force overtime. Facing the same situation on Saturday, Cosby took the drive to the basket in an attempt to tie the game, but Gavin Dowling contested the shot enough and Jordan Gadis gathered the rebound. Austin Lyons drained two free throws to seal the victory.
HOW IT HAPPENED
Cosby hit a 3-pointer to open Bluffton to a 3-0 lead with 19 minutes, 2 seconds left in the first half. The Beavers would remain ahead until 20 seconds before halftime.
Trailing 29-23, Anderson went on an 8-0 run. Alex Hunt and Lyons drained two 3-pointers. The Ravens took a 31-29 lead with 20 seconds left in the half.
Ronnie James provided a basket for Bluffton to tie the game at 31-all before halftime.
The Ravens created a six-point cushion with back-to-back 3-pointers from Williams. Anderson led 41-35 with 17:28 to go.
James converted a 3-pointer to trim Bluffton's deficit to 54-53 with 10:23 to go.
After both teams traded layups, Anderson put together a 7-0 run to take a 63-55 lead with 7:27 to go.
Bluffton chipped away and tied the game at 67-all with 4:12 remaining. The rally was capped by consecutive 3-pointers from Ethan Stearns and Cosby.
Williams and A.J. Kenney traded baskets for a 69-69 tie. Francis Uzorh drained a pair of free throws to put the Ravens ahead 71-69.
Following a turnover from Bluffton, Dowling created separation with a layup as Anderson led 73-69 with 1:41 to go.
Cosby made a layup to cut the lead to 73-71. After a missed basket from Anderson, the Beavers had the opportunity to send the game into overtime, but the Ravens came through on the defensive stand.
INSIDE THE BOX SCORE
Williams poured in 28 points for the Ravens. The senior from Anderson also provided five rebounds.
Lyons contributed 16 points for Anderson.
Fred Shropshire knocked down both of the 3-pointers he took.
Anderson drained 9-of-20 (45 percent) shots from 3-point range while Bluffton made 5-of-13 (38.5 percent) attempts from the perimeter.
The Ravens outscored the Beavers 12-3 on second-chance points.
COACH OWEN HANDY'S COMMENTS
This was a real seesaw affair. I didn't think we started off with great focus and I didn't think we competed particularly hard in the first half, but we somehow managed to find out a way into a tie at halftime.
Then we came out of halftime and really competed hard. It was not a pretty game on either side, but it was really hotly contested. Both teams made some really big shots down the stretch, including a huge three from [Bluffton's] Jameel Cosby to tie it up. We managed to make one more play than they did, and that was the difference.
In addition to another fantastic game from Ronny Williams, Fred Shropshire and Austin Lyons both made some very timely shots, and Francis Uzorh reeled in a couple of huge defensive rebounds down the stretch.
UP NEXT
Anderson goes head-to-head with Hanover College (5-4) on Thursday at 7:30 p.m. in Hanover.
https://athletics.anderson.edu/sports/mbkb/2020-21/releases/20210213zpga05