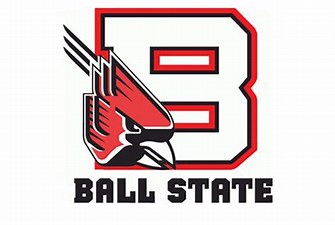 Cardinals Take Care Of Business vs. Central
Credit Source: Ball State University Athletics
Download Game Photos: https://bit.ly/3pWynYx
Download Pressers: https://ballstate.box.com/s/to4ip8d07sph74grvqrkf1y09l93kspb
MUNCIE — The Ball State men's basketball team looks like it is clicking at the right time.
The Cardinals rode another hot shooting performance to a 97-91 victory Saturday over Central Michigan at Worthen Arena, locking up a spot in the eight-team MAC Tournament with two regular season games left.
Ishmael El-Amin, who reached 1,000 career points the last time out, celebrated with the highest scoring game of his career. The senior guard racked up 33 points to lead all scorers, while Indianapolis native Jarron Coleman added 24.
Coleman and Brachen Hazen both had six assists, while Kani Acree and Luke Bumbalough had five each for a BSU team (9-11, 7-8 MAC) that racked up 23 assists on 33 made baskets.
It was enough to hold off a strong offensive performance by a game Central Michigan team (6-15, 2-12 MAC) and its three-headed monster of Ralph Bissainthe with 27 points and Meikkel Murray and Caleb Huffman with 24 each.
TURNING POINT: Central Michigan cut a 10-point Ball State lead to two at 71-69 with 6:10 to play, but Coleman answered to stave off the Chippewas. Coleman knocked down 3-pointers on two of the next three BSU possessions and later added a pair of free throws and another 3 as part of a 13-4 run that stretched the lead back to double figures. Central Michigan was then forced to foul down the stretch to try to get back in it.
STRAIGHT FROM THE COACH: "I thought our guys played really hard, and I thought Central Michigan played really hard," James Whitford said. "They really competed from start to finish and played well, and they made shots. I thought it was two teams really battling. But we really shared the ball and played well on offense.
"We weren't always our best self on defense today. Central certainly had a lot to do with that. But with that being said, we were a together team all the way through. We made mistakes out there, but you could really see our guys kind of staying together and staying connected and trying to solve problems."
COLEMAN'S BIG WEEK: Coleman's Saturday performance came three days after he scored a career-high 26 points in Ball State's 90-71 victory over a Kent State team near the top of the league. The reigning MAC Freshman of the Year has rounded into form, now 10 games into his season after missing the first 10 to injury. For the two games this week, he averaged 25 points and six assists while shooting 67 percent from the floor (16-for-24) and 65 percent from 3-point range (11-for-17).
UP NEXT: Ball State will host Eastern Michigan for a 7 p.m. tipoff on Senior Night at Worthen Arena. An oddity because of COVID postponements and cancelations, Tuesday's game will be the seventh straight at home for the Cardinals. BSU will then close the regular season Friday at Toledo.