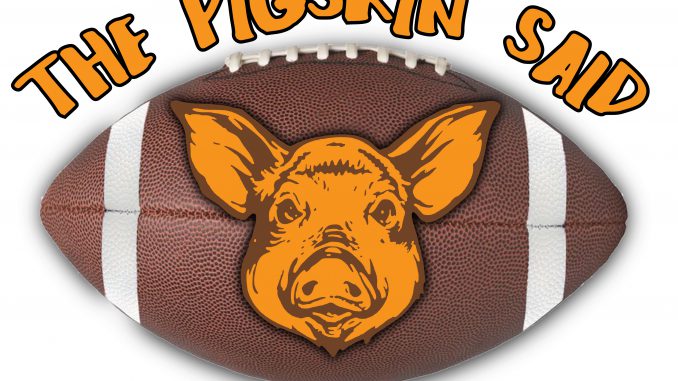 October 7, 2021
We are now ready to play the week 8 games which leaves us with one more week before the six-week state tournament begins. The six football classes will all hold their state championship games in Lucas Oil Stadium on Thanksgiving weekend.
Football has had classifications for far longer than the other IHSAA sports – and understandably so. Those classes – and the process to determine them – have ebbed and flowed almost from the beginning.
I have more of a basketball background. Actually, I am a graduate of Rossville High School, a school that has yet to lose their first football game.  Ever!  My closest experience to playing high school football was when I coached basketball at Lafayette Central Catholic from 1995 to 2005. For a few years I was the "sub" on the chain gang at home football games.  The last two years I was there I was on the crew every game. Honestly, it was one of the most fun things I've ever done. It was organized chaos – I have no clue how everyone knows who is supposed to be in or out on each play. I did gain a lot of respect for the football coaches, players, officials,, and trainers and how they managed to synchronize everything and make things work almost seamlessly. Well, most of the time!
The IHSAA began Classifying schools by enrollment in most of their other sports during the 1997-98 school year. We were fortunate enough at Lafayette Central Catholic to mesh considerable talent at that time, and a forward thinking coaching staff, into a lot of success early in Class Basketball. We played in four Class A State Championship games during the first six years of Class Basketball – winning three.
Early on, we were way ahead of the curve. Head Coach Chad Dunwoody's Aunt is Hall of Fame Coach Jan Conner, who had coached both Benton Central and Martinsville Girls Basketball teams to multiple state finals appearances during the old Single Class system, so we had some good insights into how to prepare a team to play deep into the state tournament.  Like I said, we were ahead of the curve for most small schools because almost none of the coaching staffs had ever been past the Regional level in the tournament – sans Loogootee and Jack Butcher. It turned out to be a decided advantage for us right off the bat, then multiplied even more as we continued to go very deep in the tournament nearly every year.
By 2001 several other 1A teams began to "catch up" by doing many of the things we had done – namely, playing as tough a schedule as we could put together and focusing on defense and rebounding.
After our 2003 State Title, no other school had won more than one Class A State Title until Barr Reeve won their second last April. (Ironically, Barr Reeve Coach Josh Thompson was the best player on the Bloomfield team we beat in 1998 in the RCA Dome.)  What happened was EVERYONE got better. A high tide raises all ships.
Several big school coaches in tough situations took jobs at smaller schools – many, where they graduated from. Many kids also stayed at the smaller schools rather than move to the big school down the road a bit, like had been done a thousand times before.
What happened was schools and coaches adjusted to the new system. That has happened in really every sport.
In June of 2012, the IHSAA passed a new By Law creating the Tournament Success Factor. A team in an affected team sport would accumulate points over a specified time period, and if those points met a certain level, it would result in that team moving up an enrollment class. Current Brownstown Central Coach Reed May and then Brebeuf Jesuit Coach Ryan Gallogly headed an Indiana Football Coaches Association committee to study and propose a Tournament Success Factor for IHSAA Football – and that would serve as a baseline model for the other sports.
Their proposal called for a four-year cycle – the thinking being, that the programs that were inherently successful year in and year out, would be that most years and would collect enough points during the cycle for the process to accomplish what was intended. A four-year cycle also wouldn't likely penalize a school that had a particularly strong class of athletes in a sport, but then would return to their "normal" talent level after a year or two that that class was in their prime.
However, when the IHSAA passed the new By Law provision, it came with a two-year cycle – not four. That significantly changed the dynamic of how much it can affect a particular program. For some – unfairly.
The movement up and down creates confusion for the fans, especially at schools that find themselves near the enrollment breaks every cycle. I think the IHSAA should have adopted the football coaches proposal back in 2012 (do you know how hard that was for this basketball coach to write).
As I mentioned above, a high tide raises all ships. Just as those small 1A basketball teams progressed and made it tougher and tougher to "dominate" in a state tournament, teams in all sports have adjusted to the Tournament Success Factor. When it is all said and done, it was necessary in a lot of ways – although its implementation left (leaves) a lot to be desired.
Football begins their State Tournament quests in a couple of weeks. Soccer is in tournament right now. Volleyball is close to starting too. Good luck to all the high school athletes, coaches, and teams as they complete their seasons. High school sports are wonderful to participate in – whether you get to hold a trophy up or not, the memories and relationships are tremendous and will be remembered much more than who won at the end.