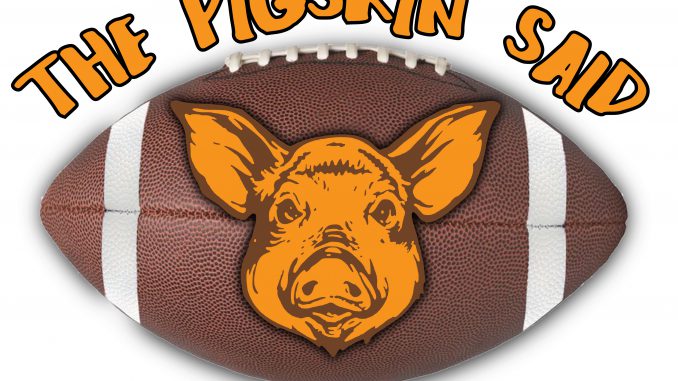 "AND THE PIGSKIN SAID"
By Shawn Martin
ExcelHSports.com
Columnist
   Well football fan friends, the Gridiron season has officially kicked off for the 2021 season! Indiana high schools completed week one of their seasons last weekend, college football blasts off this weekend with a B1G matchup between Nebraska and Illinois, and the NFL is in the middle of their preseason game schedules and all 32 fan bases have hopes of a great season ahead.
ARE YOU READY FOR SOME FOOTBALL?
Last week began the regular season for high school football here in the Hoosier state. A couple of games fell victim to Covid-19, and unfortunately, we will probably be dealing with that all season long. We made it through last season in pretty good fashion, so the probability is that we will again this Fall – albeit, with I'm sure a few hiccups here and there.
Last Friday night I attended the Columbus East at Whiteland football game. East is one of the preeminent programs in all of Indiana high school football. However, like Father Time is undefeated in professional sports, graduation does catch up with about everyone eventually. The Olympians lost 32 players from last year's squad to the Cap and Gown this Summer, and that along with a new head coach, the growing pains of new roles will take a bit to fester out. New head coach Eddie Vogel has been a long time Assistant at Columbus East under Hall of Famer and now retired former Head Coach Bob Gaddis. Just like the backup quarterback replacing the starter, changing that headset on the sideline is a HUGE difference.
It was a pretty competitive game throughout with the Warriors winning 28-7. They created a turnover inside the 10 as the Olympians looked like they were going to tie the score right before halftime. Whiteland actually marched right down the field and scored as the first have finished. They also scored a closing TD to end the game.
Whiteland showed they are 5A team to keep an eye on coming through the South during the tournament later this year.  They have a very stout defense, a very powerful ground game, and have the ability to be timely and dangerous through the air too. The South in 5A could be a fantastic tournament within a tournament with Whiteland, Decatur Central, New Palestine, and Bloomington South set to try and challenge Cathedral for the opportunity to play on the Lucas Oil Stadium field turf Thanksgiving weekend. The Olympians will be dangerous by then too as everyone has by then adjusted to their new normal.
You can see the ExcelHSports.com all-inclusive football poll – 1-30 with no regard to Class – on this page. There is also an article giving the week 2 schedule of each of the top 30  teams in Indiana.
If you are able, get out Friday night and see a high school football game!
Until next time…