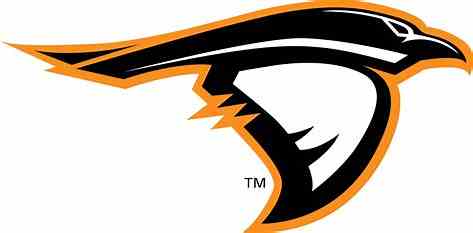 Hawkins Repeats as HCAC Defensive Player of the Year
Credit Source: Anderson University Athletics
Anderson University women's basketball senior Hannah Hawkins (Fairmount, Ind./Madison-Grant) was tabbed as the Heartland Collegiate Athletic Conference (HCAC) Defensive Player of the Year for the second year in a row, which was announced by the conference on Friday.
Junior Lexi Dellinger (Berne, Ind./South Adams) garnered first-team all-HCAC honors. She earned second-team all-conference recognition as a sophomore and was named to the HCAC All-Freshman Team in her career.
In addition to being selected as the HCAC Defensive Player of the Year, Hawkins earned second-team all-conference honors. During her career, Hawkins received all-HCAC Honorable Mention as a junior and was selected to the HCAC All-Freshman Team in her first year.
In a year where the Ravens played an abbreviated conference-only schedule, Anderson compiled a 7-7 overall record and advanced to the HCAC Semifinals for the first time since 2009.
"The 2020-21 basketball season was definitely unique and challenging, but our young women made the most of our opportunities to play," Coach Lindsay Shade said. "We had many team and individual highlights along the way which led to two of our players being named to the All-HCAC Team. We are thrilled to have Lexi Dellinger and Hannah Hawkins represented on the All-Conference teams and for Hannah to be named the Defensive Player of the Year for the second year in a row."
Dellinger put together 18.2 points per game, which led the Ravens, ranked third in the HCAC and ranked 40th in the nation. Among HCAC leaders, Dellinger ranked first in field-goal percentage (.457), second in 3-point field-goal percentage (.350), second in free-throw percentage (.839), seventh in assists per game (2.6) and T-3 in 3-pointers made per game (2.0). Dellinger has converted 90-of-157 shots from the field, 28-of-80 attempts from 3-point range and 47-of-56 shots from the free-throw line. The Berne native ranks 49th in the nation in free-throw percentage.
"I cannot say enough about how well and consistent Lexi played all season. We played without 2020 First-Team All-Conference selection Payton Moore during the regular season, which meant teams were able to focus much of their defensive attention on Lexi. She seemed unphased and almost always found ways to score or create opportunities for her teammates. Lexi has always been a prolific shooter and it's not a coincidence because she puts so much extra time in the gym, to the point that we have to try to limit her. I think Lexi's versatility and creativity in scoring are most impressive. Because she is such a good shooter, teams often tried to stay attached to her to prevent open looks from beyond the arc, making her put the ball on the floor. As a result, her shot attempts and field-goal percentage from 3-point range were down, but her scoring was up and her overall field-goal percentage was best in the league. This is a remarkable accomplishment for a guard. She has worked really hard on her game and become more than just a shooter. Lexi has become a prolific scoring guard and very deserving of her First-Team All-HCAC selection."
Hawkins contributed 7.3 points per game. The Fairmount native produced 2.93 blocks per game, which led the conference and ranked 13th in the nation. Hawkins racked up 9.5 rebounds per game, which ranked second in the HCAC. She also turned in 1.2 steals per game.
Hawkins holds the Anderson school records for career blocks (177) and blocks in a game (9). She blocked 59 shots during her junior season, which is the second most in school history and the most during the Anderson Division III era for a single season. In program history, a player has blocked at least six shots in a single game eight times and Hawkins accounts for four of those eight performances.
"We are ecstatic for Hannah Hawkins to wrap up her career as a Second-Team All-Conference selection and to be named the Defensive Player of the Year, for the second year in a row. As a group, we have put a lot of emphasis on becoming a defensive-minded program. Hannah has embraced that and been our unquestioned leader at the defensive end. She finished the season ranked first in blocked shots and second in rebounding. Hannah is physically tough and not afraid to rebound through contact, but she also impacts the game in ways that don't always show up on a stat sheet. Much of what we did defensively revolved around Hannah controlling the paint. She is smart, she's able to recognize what the offensive is doing, and to effectively communicate to her teammates. Her impact in the paint forced opposing coaches to alter their offensive strategies, in an attempt to pull her away from the rim. Hannah has grown tremendously in her four years and we are going to miss her immensely, both on and off the court."
https://athletics.anderson.edu/sports/wbkb/2020-21/releases/20210312ocip2m