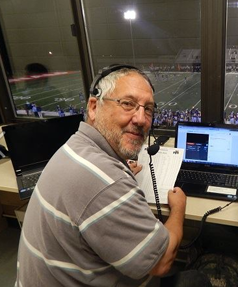 To: IFCA Coaches/Student/Athletes/Fans:
A friend reminded me today of something I already knew but probably
needed hear it again; "sometimes, the hardest thing to do is to listen to someone else give you,
your best advice."
As most of you know, I have suffered and battled my Parkinson's for
over 16 years now and have kept it pretty much in check, but last Monday I suffered a major gran mal seizure.
After convening with my doctor his advice was to retire from
publishing my Goal Post Football Yearbook immediately.
After publishing the Goal Post Football Yearbook for 35 years in
print to start and online in later years, it has been my pleasure to
give a platform for our student/athletes and their coaches to have their
information disseminated in colleges around the entire country and in
the Midwest.
To the many coaches and players who I have been fortunate to tell
their story, thank you for entrusting in me your programs and your
stories throughout the many years!
So after 35 years of being on-time each and every issue it is time
to say  goodbye to this labour of love at age 64.
Now, I will not be entirely going away as myself and friends will be
beginning a webcast of high school football games in Central Indiana, the
Indiana Class Basketball All-Star Classic, the Legends of Indiana Basketball
Golf Clasic and will continue to be on hand at the IFCA North/South game as well as
broadcasting the IHSAA Indiana High School Football State Championships!
Again to the many coaches and players thank you I wish you
continued success in all of your endeavors!!
God bless you!
Steven Stremming
Excel High School Sports
www.excelhsports.com