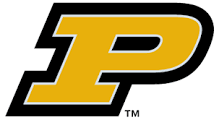 story written by: Steven Stremming
Sometimes games are decided by points in paint, 2nd chance points, bench points or turnovers to assist ratios but Sunday's game at Mackey Arena could have been determined by one small missed shot that turned into a whirlwind of three's for the Boilermakers.
D'Mitrik Trice, a Badger freshman from Huber Heights, Ohio hesitated for one small, fleeting moment from throwing a pass to a streaking Vitto Brown to jam the ball through the net and instead floated underneath the Badger basket and clunked a shot on the bottom of the iron that Purdue turned into nine straight points by the Carmel, Indiana sophomore Ryan Cline (Cline ended the game with those nine points) to turn a four point game into a 13 point lead.
One by the way, the Boilers would never surrender.
Give credit also to the Boilermaker defense which held the #11 ranked Wisconsin Badgers to just 39% field goal accuracy during the game while they (Purdue) rang home 52% percent of their shots.
Caleb Swanigan, who was seven of ten from the floor, a perfect two for two from behind the arc and at the free throw line, 13 rebounds, two blocks and two assists and Isaac Haas, who was four of six from the floor, five of six from the line and five rebounds led the way for the winning Boilermakers.  Give Swanigan 18 points and 13 boards while Haas collected13 points for Purdue.
Wisconsin was led by Milan, Illinois redshirt sophomore Ethan Happ's 19 points, four assists and six steals. The Boilers held All-America Nigel Hayes to 10 points and stellar guard Bronson Koenig to nine points.
Huge Boilermaker contributions came from Dakota Mahias, eight points, seven assists and P J Thompson, nine points and four assists.
Purdue walks out of Mackey with 14-3 over-all mark and 3-1 in the Big Ten and headed to Iowa while Wisconsin drops to 13-3 over-all and 2-1 in the Big Ten with a date at Ohio State this week.