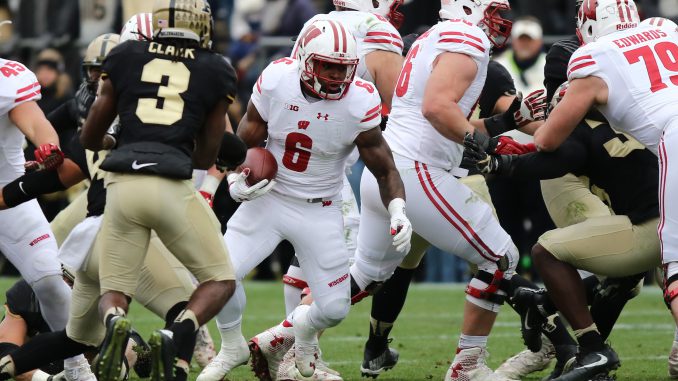 (photo by Rick McIntyre, Excel High School Sports/McIntyre Imaging
(story by Steven Stremming)
On a bleak, wind driven cold day at Ross Aide Stadium, Purdue's seniors closed out their careers at home with a loss to the highly ranked Wisconsin Badgers.
Purdue got off to a strong start with the Badgers as they marched down the field to score the tilts first score with a 28 yard field goal from J D Dellinger, a freshman from North Carolina.
And this where the two programs separated for the balance of the game.
Wisconsin, whether it be Barry Alvarez, Brett Bielema  and now Paul Chyrst, the Badgers have a program that is not only a top team in the Big Ten but also nationally.
Unfortunately, for the Boilermaker, it is a team filled with freshman, sophomores and some quality juniors but has felt the sting off defeat more often than not.
Interim Head Coach Gerad Parker has the team engaged and ready to play but a program will win out nearly every time, as was seen in West Lafayette Saturday.
Corey Clement, the senior gained 112 yards for the day and became the 17th Badger to surpass 1,000 yards for a season.
The future running game of the Badgers was also seen yesterday as Birmingham, Alabama freshman Bradrick Shaw rushed for nearly 70 yards on eight carries.
The play of the game, which my photographer and photo/journalist agreed on was J J Watt's younger brother T J swatted the ball down into his arms and scored from nearly 20 yards out.
Highlighted players for Purdue were sophomore quarterback David Blough, who threw for 206 yards but has been bitten by the interception bug the past two weeks, threw three more Saturday.
Senior DeAngelo Yancy, a senior from Georgia closed out his career in fine fashion with six receptions for 155 yards and two scores.
Where does Purdue go now? First to Bloomington to face the Hoosiers who are searching for their sixth win and back to back bowl appearances next Saturday in the Old Oaken Bucket game.
Then to secure a new Head Coach who will be able to steer the Boilermakers to competiveness in the Big Ten.
Game Notes:
 Wisconsin won its 11th-straight meeting with
Purdue, extending the longest win streak by
either team in the history of the series.
 UW won for a seventh-consecutive time at
Ross-Ade Stadium, extending a road win streak
over the Boilermakers that dates back to 1999.
 Wisconsin has won 14 of its last 16 road
games in Big Ten play, dating back to 2013.
Overall, the Badgers are 10-1 in their last 11
games away from Camp Randall Stadium.
 UW has won 10 straight regular-season games
in the state of Indiana, dating back to 2002:
6-0 at Purdue and 4-0 at Indiana.
 The Badgers own a 14-3 mark against the Big
Ten West Division since the league moved to
its current divisional setup in 2014.
 Since the start of the 2006 season, Wisconsin is
33-7 (.825) in the month of November.
 UW has won 9 of its first 11 games for the
third time in the last four seasons (also 2013,
2014).
 At 9-2, Wisconsin will look for its 10th win of
the season next Saturday vs. Minnesota. The
Badgers have posted double-digit win totals in
five of the past seven seasons.
 Overall, Wisconsin is 16-3 in its last 19 games,
dating back to last season.
 Wisconsin scored 40-plus points in back-toback
games vs. Big Ten opponents since recording
a 45-7 win over Penn State on Nov. 26 and
a 42-39 win over Michigan State in the Big Ten
Championship Game on Dec. 3, 2011.
 Purdue took a 3-0 lead on a 28-yard field goal
by J.D. Dellinger in the first quarter, the first
time Wisconsin had trailed in a game since Ohio
State took a 30-23 lead over the Badgers in
overtime on Oct. 15.
 T.J. Watt's 17-yard interception return for a
touchdown was the Badgers' first pick-six since
Marcus Cromartie had a 29-yard INT return
for a score vs. Nebraska in the 2012 Big Ten
Championship Game on Dec. 1, 2012.
 With three interceptions vs. Purdue, Wisconsin
now has 17 INTs on the season, its most since
recording 22 picks in 2002.