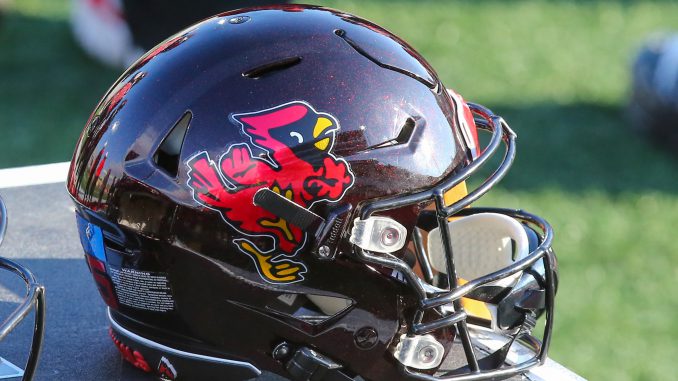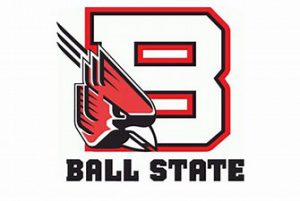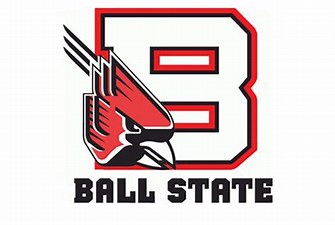 MAC Champions!!!
Ball State takes down nationally-ranked Buffalo for first league title since 1996
Credit Source: Ball State University Athletics
DETROIT – Resilience. Toughness. Togetherness. Every superlative and description available for a championship team, Ball State earned it. The Cardinals are conference champions.
The team rallied around the mantra "Detroit or Bust." The Cardinals made that a reality. And when they got there, they delivered a primetime performance against a nationally-ranked team featuring the nation's top-ranked offense, outgunning MAC East champion Buffalo 38-28 Friday night at Ford Field.
"The credit goes to our young men," head coach Mike Neu said. "I told the guys before we left the hotel that this might be the only chance they get to play in a game like this. We earned ourselves a MAC Championship. I might not ever leave Ford Field tonight."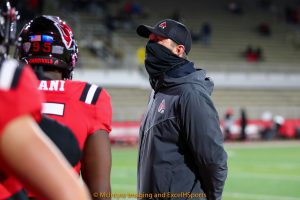 Photo by: Rick McIntyre/Excel H Sports/McIntyre Imaging
The Cardinals (6-1) exploded for 28 points in the second quarter, building a lead good enough to last. Trailing 14-7 after the first quarter, Drew Plitt scored on 4th & goal from the 1 to tie the game and the Cardinals took off from there. Buffalo (5-1) matched and went up 21-14, but the Cardinals ripped off 21 straight points over a span of 5:07 to build a 35-21 lead.
Plitt tossed a 10-yard scoring pass to Justin Hall to tie the game at 21, and after a stop on defense, Ball State took the lead. Plitt found a wide open Jalen McGaughy for a 56-yard score and Ball State would never trail again. One of the biggest plays came minutes later on a strip sack by Jimmy Daw. The ball ended up in the hands of Christian Albright, who ran 34 yards on the fumble return. That gave Ball State a 35-21 lead at halftime.
Leading by double digits, the game slowed in the second half. Ball State was able to stymie Buffalo and almost completely halt the Bulls' vaunted rushing attack. The Cardinals held a 166-134 advantage on the ground over Buffalo, a team that came into the game averaging 344 rushing yards per game.
"Our defense does not get enough credit. They rose to the challenge," Neu said. "They were leading the country in rushing and scoring. It was talked about over and over. In our building, we preached how you can't beat getting 11 hats to the football. I love our defense. I would take them over anybody in the country. I'm proud of the job Tyler Stockton and the defensive staff has done. Our guys responded to the challenge."
Drew Plitt was named Offensive Player of the Game after throwing for 263 yards and three touchdowns and rushing for another score. Daw (defensive) and Nathan Snyder (special teams) were the other players of the game. In addition to the impactful strip sack, Daw had three tackles for loss and blocked a field goal in the second quarter when the game appeared to be a shootout on both sides. Snyder punted six times for an average of 45.2 yards, including a 54-yarder.
"I'm speechless," Plitt said. "Back in 2016, we said we would be the ones to change the program. There were some tough times. We stuck through it and here we are now – champions."
Tye Evans rushed for 94 yards on 18 carries and Hall added 55 yards on the ground. Tyler led the Cardinals with 91 yards on six receptions and the first-quarter touchdown. Dating back to last season, Tyler has nine touchdowns in his last eight games. Buffalo's Antonio Nunn caught 13 passes for 182 yards.
Ball State should learn its bowl destination this weekend. Ticket availability will vary depending on the bowl assignment.
Press Conference Footage:
https://www.dropbox.com/sh/t25swkpabggaipd/AADbbEQrxLLV98NGuQwFJQTya?dl=0
FULL GAME
BALL ST.
RUSHING No. Gain Loss Net TD Lg Avg
Tye Evans 18 96 2 94 0 30 5.2
Justin Hall 6 55 0 55 0 21 9.2
WillJones 13 35 2 33 0 5 2.5
Drew Plitt 10 11 27 -16 1 5 -1.6
Totals: 47 197 31 166 1 30 3.5
BUFFALO
RUSHING No. Gain Loss Net TD Lg Avg
Kevin Marks 9 94 1 93 1 67 10.3
Jaret Patterson 18 51 4 47 1 8 2.6
Kyle Vantrease 2 1 7 -6 1 1 -3.0
Totals: 29 146 12 134 3 67 4.6
BALL STATE
PASSING C-A-I Yds TD Long Sack
Drew Plitt 20-32-1 263 3 56 4
Totals: 20-32-1 263 3 56 4
Buffalo
PASSING C-A-I Yds TD Long Sack
Kyle Vantrease 29-42-1 365 1 57 1
Totals: 29-42-1 365 1 57 1
BALL STATE
RECEIVING No. Yards YAC TD Long
Yo'Heinz Tyler 6 91 14 1 24
Antwan Davis 5 59 14 0 21
Justin Hall 5 45 44 1 25
Jalen McGaughy 1 56 19 1 56
IsaacJames-Gray 1 9 4 0 9
Cody Rudy 1 2 4 0 2
Dylan Koch 1 1 0 0 1
Totals: 20 263 99 3 56
Buffalo
RECEIVING No. Yards YAC TD Long
Antonio Nunn 13 182 93 0 54
Trevor Wilson 6 118 24 1 57
Zac Lefebvre 5 46 24 0 20
Jovany Ruiz 3 29 12 0 17
Kevin Marks 2 -10 1 0 0
Totals: 29 365 154 1 57
BALL STATE
PUNTING No. Yds Avg Long In20 TB
Nathan Snyder 6 271 45.2 54 0 2
Drew Plitt 1 43 43.0 43 1 0
Totals: 7 314 44.9 54 1 2
Buffalo
PUNTING No. Yds Avg Long In20 TB
Evan Finegan 2 98 49.0 51 1 0
Kyle Vantrease 1 42 42.0 42 1 0
Totals: 3 140 46.7 51 2 0
BALL STATE
RETURNS Punt Kickoff Intercept
No Yds Lg No Yds Lg No Yds Lg
Tye Evans 0 0 0 1 25 25 0 0 0
Justin Hall 0 0 0 1 16 16 0 0 0
Antonio Phillips 0 0 0 0 0 0 1 0 0
Totals: 0 0 0 2 41 25 1 0 0
Buffalo
RETURNS Punt Kickoff Intercept
No Yds Lg No Yds Lg No Yds Lg
Ron Cook 1 4 4 6 157 33 0 0 0
James Patters… 0 0 0 0 0 0 1 10 10
Totals: 1 4 4 6 157 33 1 10 10
BALL STATE
FIELD GOALS Qtr Time Dist Result
Jacob Lewis 3rd 09:10 21 GOOD
Buffalo
FIELD GOALS Qtr Time Dist Result
Alex McNulty 2nd 11:52 27 BLOCKED
BALL STATE DEFENSIVE STATS
# Player   UA  Assisted Total
7 Brandon Martin 4 9 13
3 Amechi Uzodinma 8 2 10
5 Bryce Cosby 3 6 9
6 Jaylin Thomas 2 6 8
27 Jimmy Daw 5 2 7
21 Antonio Phillips 5 1 6
32 Clayton Coll 3 3 6
94 Jack Sape 3 1 4