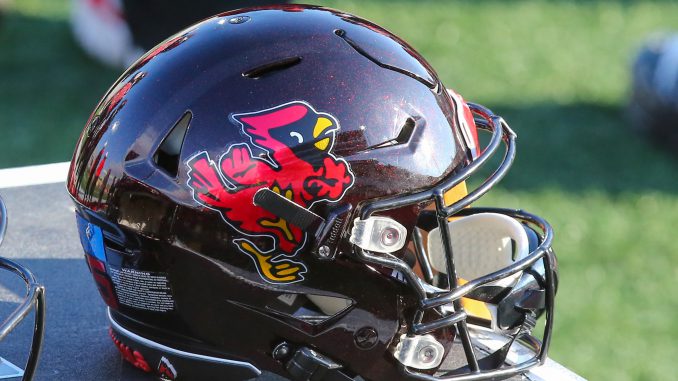 Ball State hands Kent State first home loss since 2019
Cardinals complete-team effort leads to big road win
Credit Source: Ball State University Athletics
KENT, Ohio – The opening night of the 2022 #MACtion season saw Ball State do something no team had been able to accomplish since 2019 – hand Kent State a loss at Dix Stadium.
Going for their 13th straight home win, the Golden Flashes (3-6, 2-3 Mid-American Conference) jumped out to a 13-0 lead in the opening quarter.
However, another double-digit comeback was in store for the Cardinals (5-4, 3-2 MAC) who rode a career-high 192 rushing yards from running back Carson Steele to earn a hard-fought 27-20 victory.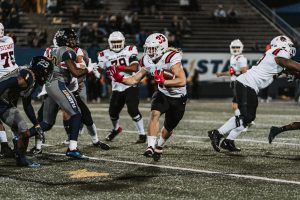 Steele, who raised his season rushing total to 1,082 yards, sparked a 20-0 scoring spree for the Cardinals with a 15-yard touchdown run early in the second quarter.
Ball State would use the momentum to pull ahead 17-13 at the half, highlighted by a 43-yard touchdown pass from John Paddock to Jayshon Jackson, and add a field goal early in the third by Ben VonGunten to take a 20-13 advantage.
After the Ball State defense held Kent State scoreless for nine straight possessions, the hosts were able to tie the score at 20-20 with 6:08 remaining in the game.
The Cardinals would counter, however, as a heavy dose of Steele gave BSU the ball at the Kent State 8-yard linet. The big play was a 37-yard scamper from Steele, his longest rush of the season.
That helped set up a Paddock eight-yard touchdown pass to tight end Tanner Koziol in the back of the end zone for what proved to be the game-winning score.
Ball State's defense would come up huge once again on the next Golden Flashes drive, forcing a fourth-and-three from the KSU 48-yard line. With the game on the line, Kent State's quarterback started his slide half-a-yard behind the line to gain, giving BSU the ball with 2:05 remaining.
BSU's offensive line and Steele would then ice it, with gains of three, four, and nine yards for a first down. Two kneel downs later, and Ball State claimed the victory, snapping Kent State's 12-game home winning streak.
"I'm just proud of our guys," head coach Mike Neu said. "The way the game started, to go down 13-0, the defense really played about two-and-a-half quarters of shutout football. When they tied it up towards the end of the game, I told the guys on the sideline and told the guys in the booth that we've got to go win the game. This is MACtion at its best.
"The offensive guys had a great look in their eye before they took the field in that final drive. It was awesome. To be able to finish the game, the defense did a great job getting a stop on downs. We took over and we knew that we're not leading that field without getting a first down. To be able to run the ball three straight plays when everybody in the stadium and everybody watching the game knew that was coming, the offensive line deserves credit for finishing that. And then, Carson Steele – what can you say? He finished with 192 yards, and to run the way that he does, he is a special player. It's a great team win for us."
Paddock completed 26-of-41 passes for 242 yards and two scores. Jackson recorded a team-high 10 catches for 102 yards, marking the third game of the season he's racked up at least 10 catches and 100 yards.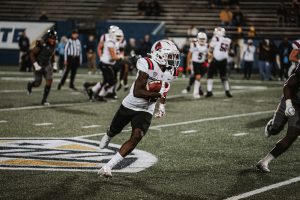 Koziol contributed six receptions for 68 yards, while fellow running mate Brady Hunt added five catches for 61 yards.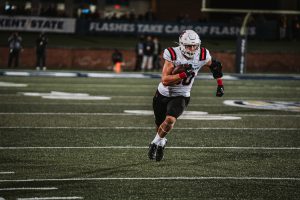 Defensively, the Cardinals were led by inside linebackers Clayton Coll and Cole Pearce, who combined for 25 tackles, 3.0 tackles-for-loss and a pass breakup. Jordan Riley also contributed 11 solo tackles on the night.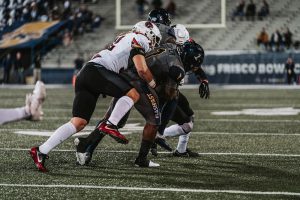 The Cardinals went 4-for-4 in the red zone, while limited the Golden Flashes to just 1-of-3 scoring inside the 20.
The following young men played a vital part in last evening's Ball State victory!
Starters:
LT – Corey Stewart, Sophomore, Nashville, Tennessee
LG – Damon Kaylor, Redshirt Freshman, Huntington, Indiana
C – Ethan Crowe, Sophomore, Bargersville, Indiana
RG – Jaylen Turner, Redshirt Junior, Indianapolis, Indiana
RT – Joseph Boggs, Redshirt Junior, Reynoldsburg, Ohio
Reserves who played:
Tommy Lorincz, Redshirt Freshman, Avon, Ohio
Brandon Malkow, Redshirt Junior, Beloit, Wisconsin
Kevin Meeder, Reshirt Freshman, Portersville, Pennsylvania
Seth Schmidt, Redshirt Sophomore, Wilmington, Ohio
Ball State returns to #MACtion next Tuesday when it travels to Toledo for a pivotal MAC West showdown at the Glass Bowl. The game will be broadcast to a nation-wide audience at 8 p.m. ET on ESPN and the Ball State Gainbridge Radio Network.