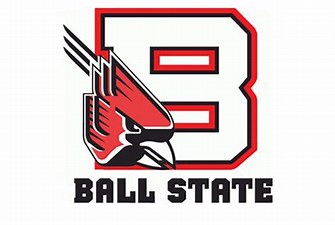 Credit Source: Ball State University Athletics
It may seem early for an important conference game, but the Ball State men's basketball team has a golden opportunity at Western Michigan Tuesday afternoon. A win would make the Cardinals 2-0 in the league with two road wins before the first of the new year. Western Michigan could also get out to a 2-0 league start. Tuesday's contest is the last of the calendar year for both teams.
Head coach James Whitford said he expects a tough, physical game and that the Cardinals need to go back to doing what they do well after a loss at Indiana State over the weekend.
"We have to match their physicality and contain Titus Wright and Greg Lee. Their frontcourt has real size and real physicality," the head coach said.
Whitford also talked about how each team has talented scorers in the backcourt. Ishmael El-Amin and K.J. Walton are combining for 36.2 points per game and their veteran presence have steadied the Cards early in the young season.
"Ish is very skilled. He's also being asked to play point guard, where he's having to be more of a playmaker and facilitator. That's really helping our team. And K.J. is an unbelievable athlete, literally one of the best athletes in all of college basketball. No matter how hard you try, it's hard to keep him away from the rim."
Western Michigan has B. Artis White at guard, who leads the team with 14.5 points per game. "B. Artis White is a really good player who has made a big jump this year in his efficiency," Whitford said.
Ball State fans need to remember Tuesday's game is a 2 p.m. tip and can be seen on ESPN3 and heard on the 96.7 and 104.9 FM.
The Starting 5  –  The Top 5 Storylines For This Game
1. A KEY CONFERENCE GAME … IN DECEMBER
It's not often teams have a conference game in December with the added importance that Tuesday's game will carry. Ball State can put itself in prime standings position and would be the only team in the league with a 2-0 record and two road wins. After the holidays, Ball State plays its next two games at home against Ohio and Western Michigan.  WMU is also shooting for a 2-0 start, but with two home wins.
2. AMONG THE TOP SCORING DUOS IN THE LEAGUE
It was clear coming into the season Ball State's strength would lie in its experienced backcourt – and that has been true. K.J. Walton and Ishmael El-Amin form the third-highest scoring duo in the conference with a combined 36.2 points per game. Akron's Loren Jackson and Enrique Freeman combine for 37.3 points per game but Akron has only played three games. Walton has scored double figures in every game this season and 18+ points four times. El-Amin scored 20 points a week ago vs. Illinois State and had 22 in the overtime win at Northern Illinois. Walton and El-Amin together account for 51.2% of BSU's scoring.
3. CARDS AND BRONCOS – THE SERIES
Ball State and Western Michigan have played each other in basketball since 1932, when Branch McCracken coached the Cardinals to a 35-31 win over Western Michigan. The all-time series is exactly even with 67 wins on each side. The Cardinals have won three of the last four and six of the last 10 against WMU. Ball State is 7-4 against Western Michigan dating back to 2016, including a MAC tourney win in 2017.
4. HIT THE HOLIDAYS ON A HIGH NOTE
Teams around the country always strive to win the last game before the holiday, assuming the team will have some sort of a break between games. The Cardinals won the last game before Christmas in 2016, 2017 and 2018. Last year, the Cardinals won a neutral-site game over Portland on Christmas Day as part of a four-game swing that saw the Cards go 2-2 and beat Georgia Tech. Following Tuesday's game, Ball State won't play again until January 2, a span of 11 days between games.
5. NOT PLAYING WITH A FULL DECK OF CARDS
Ball State has been bitten by the injury bug in the preseason. Notably, 2020 MAC Freshman of the Year Jarron Coleman is out after having foot surgery in October. Transfer Reggie Jones, who scored 723 career points at Western Michigan and Tulsa, is also out with a lower body injury. Additionally, many players have missed practice time for various reasons in a very disjointed offseason.