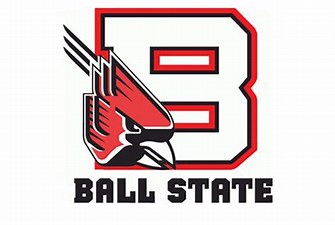 Credit Source: Ball State University Athletics
Huntley Runs Wild In BSU Win Over Eastern Michigan
Photo by: Rick McIntyre/Excel H Sports/McIntyre Imaging
MUNCIE, Ind. — Hand it to Huntley. That was the formula Wednesday night as Ball State racked up 326 yards on the ground and 536 of total offense in a 38-31 win over Eastern Michigan. Caleb Huntley finished with a career-high 204 yards on 34 carries and three touchdowns — including the game-winning score in the final seconds — to lift the Cardinals to a win in their home opener.
Photo by: Rick McIntyre/Excel H Sports/McIntyre Imaging
The win was nearly an exact opposite of last week's season opener, a 38-31 road loss at Miami where the winning touchdown was scored with 10 seconds left. The Cardinals (1-1, 1-1 MAC) bounced back from that to earn a key victory with the start of MAC West Division play.
"When the guys came in last Thursday, the focus was great. The energy was great. The attitude was great. I'm really proud to see their hard work pay off," head coach Mike Neu said. "It was a battle. The game ebbs and flows, and the one thing we make crystal clear here is, 'We've got your back.'"
The game-winning touchdown was scored with 6 seconds left when Huntley plunged in from 1 yard out. That capped an 11-play, 72-yard drive that came to life when Ball State converted a 3rd-and-19 pass play and then ran the ball to victory. Drew Plitt found Antwan Davis for 19 yards on the pivotal play, then Huntley ran three straight times for 31 yards into the red zone. After a 10-yard run by Will Jones, Huntley got the last eight yards as BSU managed the clock and churned yardage to seal the win.
Photo by: Rick McIntyre/Excel H Sports/McIntyre Imaging
Photo by: Rick McIntyre/Excel H Sports/McIntyre Imaging
"You see him on game nights pile up those yards, but the way he works in practice is special," Neu said. "He only knows one speed – and that's full speed. He comes to practice with a smile on this face. He loves hard work, he loves to play, and he loves his teammates. And his teammates love blocking for him. He's one of those guys who is a rare player."
"Every time I practice, I try to give my best effort so I can have performances to help my team win," Huntley said. "I try to push my teammates to do the best they can and we have determination to make it to Detroit."
Plitt finished the night 23-for-31 for 232 and a touchdown pass to Yo'Heinz Tyler that gave Ball State its first lead early in the fourth quarter. Justin Hall put up 241 all-purpose yards (70 rushing, 55 receiving, 116 return), making plays on offense and in the return game. Brandon Martin led the Cardinals with a career-high 15 tackles, and Jaylin Thomas made 10 stops.
Photo by: Rick McIntyre/Excel H Sports/McIntyre Imaging
Photo by: Rick McIntyre/Excel H Sports/McIntyre Imaging
"I know I feel very fortunate to have some great weapons and a very unselfish group of young men here," Neu said about the team effort. "It all starts on the ground. If we get the run established, it opens up a lot of things. A lot of guys made plays tonight, not just Caleb. We have some weapons, and to see our guys encourage each other is awesome."
Ball State fell behind 21-7 in the second quarter as dual threat quarterback Preston Hutchinson ran for two scores and threw a touchdown pass late in the first quarter. EMU (0-2, 0-2 MAC) led 24-13 early in the second half when BSU ran off 18 unanswered points over a 19-minute span. The comeback was spurred by the defense only allowing 10 points in the second half and the offense keeping Eastern Michigan off the field with long drives. The Cardinals ran 41 plays on offense in the second half and produced scoring drives of 13 plays and 11 plays.
The comeback started with EMU leading 24-13 when Huntley ran through and over defenders for a 13-yard touchdown with 4:34 left in the third quarter. Tyler caught a 2-point conversion from Plitt to make it a 24-21 game. The Cardinal defense then forced two stops before BSU took a 28-24 lead on a 33-yard score from Plitt to Tyler. The Cardinals extended the lead to 31-24 on a 33-yard field goal by Jack Knight, who made both of his attempts alongside a 51-yarder from Jacob Lewis.
Eastern Michigan tied the game at 31-all on a short run by Hutchinson that was set up by a 71-yard pass play. Huntley and the Cardinals went to work after that and drove for the winning score.
Photo by: Rick McIntyre/Excel H Sports/McIntyre Imaging
Ball State will play at home next Wednesday, Nov. 18 when Northern Illinois comes to Scheumann Stadium. Next week's game is a 7 p.m. kickoff that will be televised on ESPNU.
Individual Statistics (Final)
2020 Ball State Football
EMU vs Ball State (Nov 11, 2020 at Muncie, Ind.)
Eastern Michigan
Rushing No. Gain Loss Net TD Lg Avg
HUTCHINSON, P. 17 105 1 104 3 31 6.1
EVANS, Samson 14 63 0 63 0 13 4.5
BESS, Trey 7 59 7 52 0 27 7.4
GRISSOM, Jarius 1 7 0 7 0 7 7.0
SMITH, DJ 2 1 0 1 0 1 0.5
Totals 41 235 8 227 3 31 5.5
Ball State
Rushing No. Gain Loss Net TD Lg Avg
HUNTLEY, Caleb 34 204 0 204 3 21 6.0
HALL, Justin 4 70 0 70 0 34 17.5
JONES, Will 8 48 2 46 0 13 5.8
TEAM 1 2 0 2 0 0 2.0
DAVIS, Antwan 1 1 0 1 0 1 1.0
PLITT, Drew 4 1 20 -19 0 1 -4.8
Totals 52 326 22 304 3 34 5.8
Eastern Michigan
Passing C-A-I Yds TD Long Sack
HUTCHINSON, P. 17-29-0 250 1 71 0
Totals 17-29-0 250 1 71 0
Ball State
Passing C-A-I Yds TD Long Sack
PLITT, Drew 22-31-1 232 1 33 3
TEAM 0-1-0 0 0 0 0
Totals 22-32-1 232 1 33 3
Eastern Michigan
Receiving No. Yards TD Long
KNUE, Tanner 8 121 0 71
CANNON, Bryson 5 76 1 37
ODUKOYA, Thomas 2 28 0 20
EVANS, Samson 1 17 0 17
JACKSON, Aaron 1 8 0 8
Totals 17 250 1 71
Ball State
Receiving No. Yards TD Long
DAVIS, Antwan 7 69 0 19
HALL, Justin 7 55 0 16
TYLER, Yo'Heinz 4 64 1 33
RUDY, Cody 2 16 0 10
LITTLES, Hassan 1 15 0 15
HUNTLEY, Caleb 1 13 0 13
Totals 22 232 1 33
Eastern Michigan
Punting No. Yds Avg Long In20 TB
JULIEN, Jake 3 132 44.0 47 1 1
Totals 3 132 44.0 47 1 1
Punting No. Yds Avg Long In20 TB
SNYDER, Nathan 3 135 45.0 53 2 0
Totals 3 135 45.0 53 2 0
Punt Kickoff Intercept
Ball State
Returns No Yds Lg No Yds Lg No Yds Lg
HUBBARD, Jeff 1 11 11 0 0 0 0 0 0
LAFLEUR, Noski 0 0 0 0 0 0 1 54 54
LEE, Mark 0 0 0 0 -5 0 0 0 0
WILLIAMS, Quian 0 0 0 3 46 21 0 0 0
SMITH, DJ 0 0 0 1 -5 0 0 0 0
Totals 1 11 11 4 36 21 1 54 54