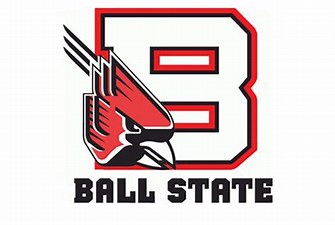 Cardinals Roll CMU, Will Play for MAC West Title Next Week
Credit Source: Ball State University Athletics
BSU gets another strong defensive effort plus five total TDs from Plitt
MOUNT PLEASANT, Mich. — "Detroit or Bust" has been the rallying cry for the Ball State football team since all the way back in winter workouts. Now the Cardinals are one win away.
Ball State maintained control of its own destiny Saturday with a 45-20 victory at Central Michigan. The Cardinals will host Western Michigan next week with the MAC West Division title and a spot in the league championship game on the line.
"It's coming on the road like this and playing our best football when it mattered," head coach Mike Neu said of his pride in the performance. "We knew what was at stake, to stay in the winners' bracket, and the credit goes to our players; the credit goes to the seniors."
Quarterback Drew Plitt threw for 366 yards and accounted for five total touchdowns on the day as the Cardinals (4-1, 4-1 MAC) ran their winning streak to four games. BSU has now won six of its past seven visits to Kelly/Shorts Stadium.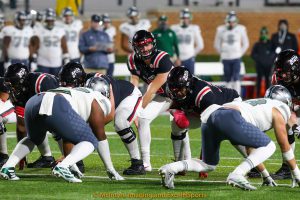 Photo by: Rick McIntyre, Excel H Sports/McIntyre Imaging
Ball bottled up the Central Michigan offense for most of the afternoon, limiting the Chippewas (3-2, 3-2 MAC) to 215 yards through three quarters while building a 38-14 lead. The Cardinals registered five sacks and four takeaways (two on special teams).
Offensively, the Cardinals displayed what is becoming an embarrassment of riches. Justin Hall and Antwan Davis were their normal selves, combining for 13 catches. And Yo'Heinz Tyler caught a touchdown pass for the fourth straight game.
On top of that, redshirt freshman Jalen McGaughy hauled in his first three career passes, two of them for long touchdowns, and tight end Dylan Koch scored his first career touchdown. McGaughy's three catches totaled 100 yards.
The Cardinals played without running back Caleb Huntley for the second straight game, with Will Jones and Tye Evans splitting the load in the backfield. Jones ran for a score, while Evans led the ground attack with 64 yards.
"There's a lot of credit to go around today, but I mean, I think Drew Plitt had his best overall game of the season,"  Neu said. "I mean, you have just seen his confidence grow, especially in the past two weeks."
On the heels of a quality defensive performance against Toledo, Ball State turned in another one Saturday. Of CMU's 215 yard through the first three quarters, 120 of them came on two plays – a 38 yards touchdown pass from Ty Brock to Kalil Pimpleton and an 82-yard Brock run.
The Cardinals led 24-7 at halftime and then pulled away after a CMU touchdown cut the lead to 10 early in the second half. J.T. Wahee and Brett Anderson had second-half interceptions.
"I'm an old quarterback, but defense wins championships every time," Neu said. "I've been on a team that won a championship because of the defense, and it does not bother me at all to say that. And so our guys know that you need championship-level defense. I thought last week and this week we showed some great some great championship defense when we needed it."
Ball State wore special tradition helmets Saturday featuring the "Dancin' Charlie" logo from the late 1980s. You can own a replica version of the helmet. Click here to learn how.
Next Saturday's Ball State-Western Michigan game will kick at noon from Scheumann Stadium on ESPN+ and the Ball State Radio Network at 104.1 WLBC. Click here to find out how you can be involved in a virtual version of the annual Social Sellout that day.