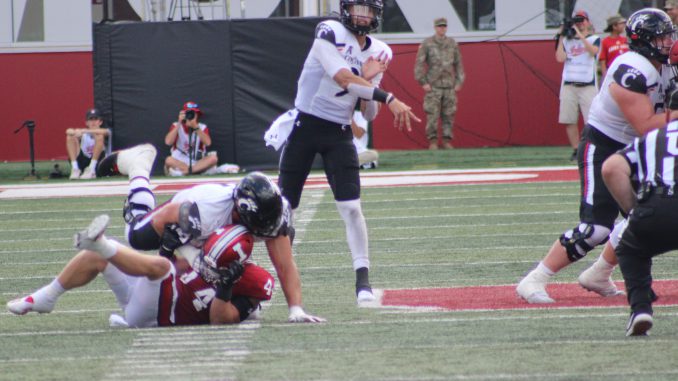 UC Outscores IU, 15 t0 0 In Fourth Quarter
by: Steven Stremming
On a hot, steamy Saturday noon kick-off game, Indiana University caught the 10th ranked Cincinnati Bearcats flat footed early in the game.
Indiana University scored early as Michael Penix, Jr., Tampa, Florida (Tampa Bay Tech)  redshirt quarterback completed a 16 yard touchdown pass to Peyton Hendershot, a redshirt Senior from North Salem, Indiana (Tri-West) to open up a lead of seven to nothing early in the first quarter over the Bearcats.
Photo by: Rex Crabtree/Excel H Sports
Indiana then escaped with a ill fated decision on fourth down as the Hoosiers tried to expand the lead, but were held in check.
Indiana did manage to take a 14 point lead though in the second quarter as Penix once again connected. This time with Southern California grad transfer Stephen Carr on a five yard completion to the end zone. This put the Hoosiers up by 14  near midway second quarter.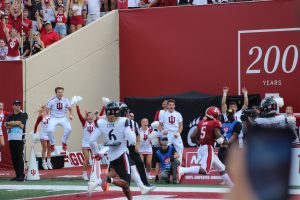 '
Photo by: Rex Crabtree/Excel H Sports
This where the game changed when Tampa, Florida (Plant) Senior Micah McFadden was tossed for un-sportsman like penalty which removed him from the contest.
Momentum changed at that point and Cincinnati went on the offensive scoring twice in the last one minute 50 seconds of the first half, as Jerome Ford, a Alabama transfer, scored from six yards out and a last second field goal from Middletown, Ohio, Senior, Cole Smith from 32 yards out to tighten the score to 14 to 10 Hoosiers favor.
The third quarter saw Indiana and Cincinnati put a combined 23 points.
Cincinnati scored with 5:47 to go in the third quarter as Ford once again scored giving the Bearcats their first lead of the game at 17 to 14 when he scampered three yards for the score.
The Hoosiers would re-take the lead within two minutes as D J Matthews rushed 14 yards to score. Matthews is a graduate transfer from Florida State.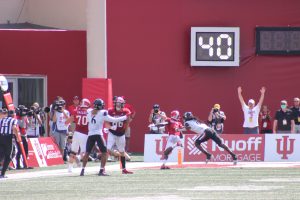 Photo by: Rex Crabtree/Excel H Sports
A mere fourteen seconds later, Akron, Ohio junior Tre Tucker would receive the kick-off and take it the house when he bolted for 99 yards and Cincinnati would regain the momentum.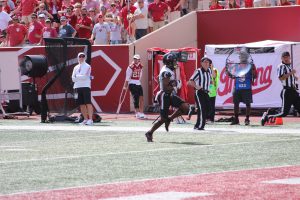 Photo by: Rex Crabtree/Excel H Sports
Indiana would receive the ball and secure a score after a nine play, fourty-four yard drive when Indiana's Charles Campbell, redshirt Junior from Jackson, Tennessee would connect from 49 yards out to give the Hoosiers a one point advantage 24 to 23.
From this point, the University of Cincinnati would take advantage of Penix's ill advised throws and regain possession of the ball with Louisville, Kentucky (St.Xavier) Senior quarterback Desmond Ridder scoring both fourth quarter touchdowns to ice the game and keep tenth-ranked Cincinnati unbeaten.
Cincinnati's vaunted defensive backs were a definite factor in the second half. They consist of Ahmad Gardner, Bryan Cook, Ja'von Hicks and Coby Bryant.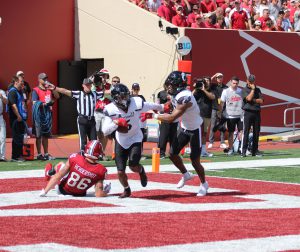 Photo by: Rex Crabtree/Excel H Sports
Ridder would throw a 19 yard strike to Glen Ellyn (Glenbard West) Alec Pierce, Senior, for one score and run another in from seven yards, plus a two point conversion to make the final tally, University of Cincinnati 38 Indiana University 24.
Next up for Cincinnati is a date with Notre Dame, October 2nd in South Bend while the Hoosiers travel to Bowling Green to meet up with Western Kentucky on September 25th at 8 p.m. carried by CBSSN.
Key stats for the game included Desmond Ridder, 20/36 for 210 yards, Jerome Ford, 20 rushes/66 yards, Ridder 10 rushes/45, Alec Pierce five receptions/86 yards, Michael Young, four for 35 yards. On defense, both Deshawn Pace and Darrian Beavers accounted for nine total tackles.
For Indiana, Michael Penix, Jr. 17 of 40 for 224 yards, three interceptions and two passing touchdowns, Stephen Carr 21 rushes/52 yards, Tim Baldwin, nine rushes/30 yards, D J Matthews, five receptions/120 yards, Peyton Hendershot, six receptions/60 yards. On defense both Raheem Layne and Ryder Anderson combined for eight total tackles.