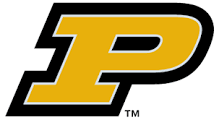 Swanigan Named B1G Player of the Week
WEST LAFAYETTE, Ind. – Purdue's Caleb Swanigan was named co-Big Ten Player of the Week after leading the 15th-ranked Boilermakers to the Cancun Challenge title last week. He shared the honor with Maryland junior Melo Trimble.
It marks the fourth weekly Big Ten honor for Swanigan, but first Player of the Week accolade. He won three Rookie of the Week citations a year ago.  Swanigan helped Purdue to a 3-0 record last week by averaging 17.0 points, 11.0 rebounds and 2.0 assists per game while shooting 15-of-23 (.652) from the field and 18-of-20 (.900) from 3-point range. He recorded a double-double in all three games and now has recorded a double-double in four straight contests, the first time a Purdue player has done that since Glenn "Big Dog" Robinson recorded four straight double-doubles in four straight outings during the 1993-94 season.  Swanigan had 15 points and 10 rebounds in the win over Utah State on Nov. 21, then tallied 14 points, 10 rebounds and two assists in the win over Auburn to earn Cancun Challenge MVP honors. He followed up that performance with 22 points, 13 rebounds and three assists in the win over NJIT last Saturday. He went 6-of-6 from the field and 10-of-10 from the free throw line to set a school record for most points scored on 100 percent efficiency shooting.  Swanigan is averaging 18.8 points, 12.0 rebounds and 3.2 assists per game while shooting 61.4 percent from the field and 74.5 percent from the free throw line. He is 1-of-2 players (Memphis' Dedric Lawson) nationally to average 18.0 points, 10.0 rebounds and 3.0 assists per game and is one of just three major-college players over the last 10 years to record at least 20 points, 20 rebounds and five assists in a game (Oklahoma's Blake Griffin, LSU's Ben Simmons) when he did so earlier this year against McNeese State (23 points, 20 rebounds, 6 assists).  Swanigan's five double-doubles rank second nationally.
Swanigan and the Boilermakers travel to No. 14-ranked Louisville on Wednesday night for the ACC / Big Ten Challenge. The contest will tip at 7:16 p.m. ET and be televised by ESPN.