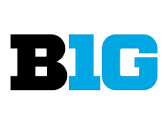 Gustafson Tabbed B1G Player of the Year
IOWA CITY, Iowa — University of Iowa senior Megan Gustafson has been named the Big Ten Conference Player of the Year, as voted on by the coaches and media, the conference office announced on BTN's Women's Sports Report on Monday.
Gustafson also earned unanimous first team All-Big Ten honors (coaches & media) and was named to the coach's All-Defensive team. Junior Kathleen Doyle earned first team All-Big Ten honors from the coaches and second team accolades from the media. Senior Tania Davis was named honorable mention All-Big Ten by the coaches and media, while senior Hannah Stewart was named Iowa's Sportsmanship Award honoree.
Gustafson, a native of Port Wing, Wisconsin, is just the fifth Hawkeye in program history to be named Big Ten Player of the Year and the first to earn the honor twice. She is now a three-time All-Big Ten honoree. The All-Defensive team honor is the first of her career.
In 18 conference contests this season, Gustafson averaged 28.4 points, 13.8 rebounds, and shot 68.7 percent from the field. She registered 20 or more points in 17 of Iowa's 18 games, including seven 30-point games. Gustafson grabbed 10 or more rebounds 17 times.
Gustafson ended the regular season ranked in the top-5 nationally in eight statistical categories. She leads the nation in field goal percentage (70.8), points per game (27.7), field goals made (332), and total points (802), ranks second in double-doubles (27) and defensive rebounds per game (10), third in total rebounds (385), and fourth in rebounds per game (13.3).
Doyle earns the second All-Big Ten honor of her career. In 18 conference games, Doyle averaged 12.9 points, a Big Ten-best 6.3 assists, 3.2 rebounds, and 2.3 steals. She has scored in double figures in 15 of Iowa's 18 conference contests, and dished out five or more assists 15 times.
The LaGrange Park, Illinois, native finished the regular season ranked 12th nationally in assists per game (6.0) and 33rd in assist/turnover ratio (2.36).
Davis earns the first All-Big Ten honors of her career. Davis averaged 10.4 points, 4.6 assists, and 3.6 rebounds in conference action this season. She netted double figures in 10 conference matchups this season, including a 21-point performance (8-for-10 FG) against Minnesota on Jan. 14.
The Flint, Michigan, native finished the regular season ranked 30th in assist/turnover ratio (2.4 and 60th in total assists (132).
The No. 10/11 Hawkeyes open the 2019 Big Ten Tournament on Friday at 5:30 p.m. (CT). Iowa faces the winner of Thursday's matchup between seventh-seeded Minnesota and 10th-seeded Indiana.
Purdue's Harris Repeats as B1G Defensive Player of the Year
The Purdue junior was one of three Boilermakers honored Monday
WEST LAFAYETTE, Ind. – Purdue junior Ae'Rianna Harris joined an elite historical group Monday, repeating as the 2019 Big Ten Defensive Player of the Year. She is the fourth player in conference history to earn top defensive honors in back-to-back seasons and the first-ever to accomplish the feat at Purdue. Joining in on the all-conference recognition was sophomore Karissa McLaughlin and junior Dominique Oden as McLaughlin earned First Team All-Big Ten recognition from both the coaches and media, Harris was second team all-conference and Oden was named honorable mention.
After becoming the third sophomore in Big Ten history to earn top defensive recognition in 2018, Harris joins Penn State's Tanisha Wright (2003-05), Ohio State's Shavelle Little (2008-09) and Northwestern's Ashley Deary (2016-17) as the only back-to-back winners of the award, which started in 2000. Harris leads the Big Ten and ranks second in the NCAA with 98 blocked shots and an average of 3.16 per game, good for third nationally. She also added 35 steals (1.1 per game) and 200 defensive boards (6.5 per game).
Harris also takes home Second Team All-Big Ten honors for the second straight season after posting career-high numbers in nearly every category. Her 13.2 points per game are 15th-best in the conference, while her 9.3 rebounds per game are No. 5 in the Big Ten and are sixth-best on the Boilermakers' single-season record list. Her 48.3 percent shooting percentage ranks eighth in the Big Ten as well.
McLaughlin is only the third sophomore in Purdue history to earn First Team All-Big Ten honors, joining Shereka Wright in 2002 and MaChelle Joseph in 1990. Recognized by both the coaches and media, McLaughlin is leading the Boilermakers with 15.1 points and 3.9 assists per game and has tied the No. 2 single-season 3-point mark in program history with 80 triples on the season. She's tied for second in the conference at 2.6 3's per game and her 38.3 percent from behind the arc is third in the Big Ten.
With 119 assists on the season, McLaughlin is the sixth Purdue player to ever exceed 100 helpers in each of her first two seasons, and her 1.8 assist/turnover ratio is tied for 10th in the Big Ten and eighth-best in a season all-time for the Boilermakers. She's also cashed in 89.3 percent at the free throw line (75-84), currently the No. 6 single-season free throw percentage in Purdue history.
Oden earns all-conference recognition for the second straight year after a second-team nod in 2018 and Preseason All-Big Ten plaudits to start 2018-19. She's second on the team at 14.5 points per game and her 43.1 percent shooting clip is the best in the Big Ten for a guard this season. She's continued to climb the Boilermakers' career scoring list, currently 18th with 1,317 points, and is the sixth player in program history to surpass 1,300 before the end of her third season. Oden is tied for second in the conference at the free throw line, converting 81.7 percent, and her 1.7 steals per game are a career best and seventh-best in the Big Ten.
Iowa and Maryland Earn Weekly Women's Basketball Awards
Hawkeyes' Megan Gustafson and Terps' Taylor Mikesell are this week's honorees
Player of the Week
Megan Gustafson, Iowa
F/C – Sr. – Port Wing, Wis. – South Shore – Majors: Marketing & Finance
• Averaged 31.5 points, shooting 75 percent, and 16 rebounds in a pair of wins in the final week of conference play against Nebraska and Northwestern to clinch the No. 2 seed in the Big Ten Women's Basketball Tournament
• Tallied a career-high 20 rebounds and a game-high 29 points going 13-for-19 (.824) from the field to record her 81st double-double
• Scored 34 points on Senior Day against Northwestern, noting a perfect 6-for-6 from the charity stripe
• Earns her 23rd career Big Ten Player of the Week award and 13th this season, extending her conference single-season and career records in both categories
• Last Iowa Player of the Week: Megan Gustafson (Feb. 18, 2019)
Big Ten Women's Basketball Weekly Honor Roll
Alex Wittinger, Sr., F, ILL: Scored 20 points and added 11 rebounds for the Illini against No. 8/9 Maryland on March 2
Destiny Pitts, So., G/F, MINN: Averaged 25.0 points, 3.5 rebounds and went 14-14 in free throw attempts against No. RV/RV Rutgers and No. NR/RV Michigan State last week
Arella Guirantes, So., G, RU: Helped No. RV/RV Rutgers go 3-0 last week to secure the No. 3 seed at the conference tournament with an average of 19.0 points, 5.3 rebounds and 15-16 from the line
Freshman of the Week
Taylor Mikesell, Maryland
G – Massillon, Ohio – Jackson – Major: Letters & Science Major
• Averaged 15.0 points and 4.0 rebounds last week as No. 8/9 Maryland won the 2018-19 Big Ten women's basketball title
• Tallied 20 points, four assists, and three rebounds knocking down four treys in the title-clinch game against Illinois on March 2
• Contributed 10 points, five rebounds and three assists in the Terps' victory against Purdue on February 25
• Collects her second Freshman of the Week award
• Last Maryland Freshman of the Week: Taylor Mikesell (Jan. 28, 2019)
2018-19 Big Ten Players of the Week
Nov. 12
P: Megan Gustafson, Sr., IOWA
F: Shakira Austin, MD
Nov. 19
P: Megan Gustafson, Sr., IOWA
F: Shakira Austin, MD
Nov. 26
P: Megan Gustafson, Sr., IOWA
F: Imani Lewis, WIS
Dec. 3
P: Megan Gustafson, Sr., IOWA
F: Dorka Juhász, OSU
Dec. 10
P: Jenna Allen, Sr., MSU
F: Naz Hillmon, MICH
Dec. 17
P: Megan Gustafson, Sr., IOWA
F: Shakira Austin, MD
F: Naz Hillmon, MICH
Dec. 24
P: Megan Gustafson, Sr., IOWA
F: Shakira Austin, MD
Dec. 31
P: Jenna Allen, Sr., MSU
F: Nia Clouden, MSU
Jan. 7
P: Megan Gustafson, Sr., IOWA
F: Leigha Brown, NEB
Jan. 14
P: Hallie Thome, Sr., MICH
F: Shakira Austin, MD
Jan. 21
P: Megan Gustafson, Sr., IOWA
F: Naz Hillmon, MICH
Jan. 28
P: Megan Gustafson, Sr., IOWA
F: Taylor Mikesell, MD
Feb. 4
P: Megan Gustafson, Sr., IOWA
F: Naz Hillmon, MICH
F: Sam Haiby, NEB
Feb. 11
P: Megan Gustafson, Sr., IOWA
F: Naz Hillmon, MICH
Feb. 18
P: Megan Gustafson, Sr., IOWA
F: Dorka Juhász, OSU
Feb. 25
P: Kaila Charles, Jr., MD
F: Naz Hillmon, MICH
March 4
P: Megan Gustafson, Sr., IOWA
F: Taylor Mikesell, MD