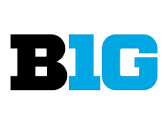 Maryland Tops Big Ten Women's Basketball Preseason Rankings
Iowa's Megan Gustafson named Big Ten Preseason Player of the Year
ROSEMONT, Ill. – Maryland was chosen as the 2018-19 preseason Big Ten women's basketball favorite by the conference's 14 head coaches and a select media panel, the conference office announced Monday. In addition, Iowa's Megan Gustafson earned 2018-19 Big Ten Preseason Player of the Year honors from both groups.
Illinois' Alex Wittinger, Iowa's Kathleen Doyle, Maryland's Kaila Charles, Michigan's Hallie Thome, Minnesota's Kenisha Bell, Nebraska's Hannah Whitish, Northwestern's Pallas Kunaiyi-Akpanah, Penn State's Teniya Page, and Purdue's Ae'Rianna Harris and Dominique Oden joined Gustafson in garnering Preseason All-Big Ten recognition from the coaches and the media. Gustafson and Charles were selected unanimously by both groups while Thome and Bell were chosen unanimously by the coaches. What's more, Michigan State's Shay Colley was voted to the coaches' preseason squad, while Minnesota's Destiny Pitts was selected to the media's preseason team.
Gustafson was a consensus All-America selection and Academic All-Big Ten honoree last year while earning Big Ten Player of the Year honors from the conference media. She led the nation in scoring (25.7 points per game) and field goal percentage (.671) last season, while ranking third in the country with 28 double-doubles and fifth in rebounding (12.8 per game). In addition, Gustafson became just the second NCAA Division I women's basketball student in the past decade to average more than 24 points and 12 rebounds per game for a single season, following Stanford's Chiney Ogwumike in 2014. Gustafson enters her senior season with 1,803 points and 979 rebounds, putting her in position to become the seventh Big Ten student to register 2,000 points and 1,000 rebounds in her career. A native of Port Wing, Wisconsin, Gustafson is a two-time first-team All-Big Ten selection, unanimously earning that status from both the coaches and media last year.
Maryland, which has won three Big Ten titles and three Big Ten Tournament championships since joining the conference in 2014-15, has four starters returning from last year's squad that went 26-8 and advanced to the second round of the NCAA Tournament. Along with Charles, who was an Academic All-Big Ten choice and a first-team All-Big Ten selection last year, Maryland also welcomes back senior forward Brianna Fraser, junior forward Stephanie Jones and sophomore point Channise Lewis, while regaining the services of junior guard Blair Watson, who was the Terrapins' second-leading scorer last season prior to being sidelined with a knee injury in early January.
Iowa was the No. 2 selection in the preseason balloting of the conference's head coaches and media panel. The Hawkeyes went 24-8 last year and reached the NCAA Tournament after advancing to the Big Ten Tournament semifinals. Led by Gustafson and Doyle, who averaged 11.1 points per game and led the Big Ten in assists during conference play (7.5 apg.), Iowa brings back six of its top seven scorers from a season ago. Junior guard Makenzie Meyer, senior guard Tania Davis, sophomore guard Alexis Sevillian and senior forward Hannah Stewart are also returning for the Hawkeyes.
Michigan was the No. 3 selection in the preseason coaches' voting after posting a 23-10 record and returning to the NCAA Tournament, where the Wolverines advanced to the second round. Michigan has three starters back in uniform this season, led by Thome, who is a two-time Academic All-Big Ten and two-time all-conference honoree.
Minnesota earned the No. 3 spot in the media's preseason balloting, as the Golden Gophers begin a new era in 2018-19 under the leadership of first-year head coach (and former Minnesota All-America guard) Lindsay Whalen. The Golden Gophers also reached the second round of last year's NCAA Tournament, compiling a 24-9 record and advancing to the Big Ten Tournament semifinals. Minnesota also has three starters returning this season, including Bell and Pitts, the latter being the reigning Big Ten Freshman of the Year.
The 2018-19 Preseason All-Big Ten Teams and rankings can be found below.
2018-19 COACHES BIG TEN PRESEASON RANKINGS
1. Maryland
2. Iowa
3. Michigan
2018-19 COACHES PRESEASON ALL-BIG TEN TEAM*
Alex Wittinger, Sr., F, Illinois
Kathleen Doyle, Jr., G, Iowa
MEGAN GUSTAFSON, Sr., F, Iowa
KAILA CHARLES, Jr., G, Maryland
HALLIE THOME, Sr., C, Michigan
Shay Colley, Jr., G, Michigan State
KENISHA BELL, Sr., G, Minnesota
Hannah Whitish, Jr., G, Nebraska
Pallas Kunaiyi-Akpanah, Sr., F, Northwestern
Teniya Page, Sr., G, Penn State
Ae'Rianna Harris, Jr., F, Purdue
Dominique Oden, Jr., G, Purdue
2018-19 COACHES BIG TEN PRESEASON PLAYER OF THE YEAR
Megan Gustafson, Sr., F, Iowa
2018-19 MEDIA BIG TEN PRESEASON RANKINGS
1. Maryland
2. Iowa
3. Minnesota
2018-19 MEDIA PRESEASON ALL-BIG TEN TEAM*
Alex Wittinger, Sr., F, Illinois
Kathleen Doyle, Jr., G, Iowa
MEGAN GUSTAFSON, Sr., F, Iowa
KAILA CHARLES, Jr., G, Maryland
Hallie Thome, Sr., C, Michigan
Kenisha Bell, Sr., G, Minnesota
Destiny Pitts, So., G/F, Minnesota
Hannah Whitish, Jr., G, Nebraska
Pallas Kunaiyi-Akpanah, Sr., F, Northwestern
Teniya Page, Sr., G, Penn State
Ae'Rianna Harris, Jr., F, Purdue
Dominique Oden, Jr., G, Purdue
2018-19 MEDIA BIG TEN PRESEASON PLAYER OF THE YEAR
Megan Gustafson, Sr., F, Iowa
Unanimous selections listed in ALL CAPS
* – additional honorees due to ties in voting