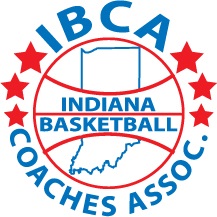 Six

boys

coaches

honored by

IBCA for 201

9

-2020 season
Davidson, Urban, Gooden, McCollough, Hawkins and Wildey

cited as

boy

s' District Coaches of the Year
Six
Indiana high school
boys
basketball coaches have been chosen as
2020
Bob King Coaches of the Year by their peers in the Indiana Basketball Coaches Association, it was announced
Tues
day (
March 24
).
        Marc Davidson of Fort Wayne Blackhawk Christian, Marc Urban of Chesterton, Al Gooden of Lawrence Central, David McCollough of Shenandoah, Nate Hawkins of Heritage Hills and Kendall Wildey of South Decatur have been selected as honorees
for the 2019-2020 season
through voting that occurred from late January through
early March
, IBC
A
executive director Steve Witty said.
        Honors are awarded according to IHSAA district boundaries, and two coaches from each district are recipients – Davidson and Urban in District 1; Gooden and McCollough in District 2; and Hawkins and Wildey in District 3.
        Here is information about the six boys' Coach of the Year honorees.
        >>
Davidson is cited after leading Fort Wayne Blackhawk Christian to a 23-3 season that included championships of the Noblesville Holiday Tournament and the Manchester Sectional. In seven seasons with the Braves, Davidson's teams have compiled a 146-47 record with six sectional titles, two regional crowns, one semi-state title and one state championship. In 14 seasons as a boys' varsity coach, he has a 231-117 ledger.
Davidson previously coached three seasons at Macomb Christian (Mich.), two seasons at Trinity International University in Illinois, one season at Aurora Christian (Ill.), two seasons at Dominican Christian (Va.) and two seasons at Lakewood Park Christian. Davidson is a 1991 graduate of Aurora Christian, a 1995 graduate of Trinity International University and played professional basketball in Europe from 1995 through 2006.
>> Urban is honored after directing Chesterton to a 23-3 season and the Duneland Conference championship at 7-0. In four seasons at Chesterton, Urban's teams have compiled a 79-23 record and won a sectional championship in 2019. Urban is a 2001 graduate of Lake Central High School, where he played basketball and football. He matriculated to Indiana State, where he served as a men's basketball manager for Royce Waltman and graduated in 2006. Urban began coaching as a boys' assistant at Lake Central. He then became the Lake Central girls' coach, guiding the team to an 80-17 record over four seasons with two DAC titles (2015, 2016) and two sectional titles (2013, 2015). He was voted an IBCA girls District 1 Coach of the Year in 2015.  
        >> Gooden is recognized after guiding Lawrence Central to a 22-3 campaign that included the championship of the Raymond James Hall of Fame Classic and a co-championship of the Metropolitan Interscholastic Conference. In 32 seasons as a boys' varsity coach, Gooden has a 492-273 record, including a 100-45 ledger in six seasons with the Bears. His resume includes a 17-24 mark in two years at Heritage (1987-89), a 321-206 mark in 21 seasons at Fort Wayne Harding (1989-2011) and a 54-14 mark in three seasons at New Haven (2011-14). Overall, his teams have won 12 sectionals, six regionals, five semi-states and the Class 2A state crown in 2001. Gooden is a 1977 graduate of Fort Wayne Wayne, where he played basketball and football. He went on to Ball State, where he earned his bachelor's degree in 1981, played basketball for four seasons and was part of the Cardinals' 1981 NCAA Tournament squad. Gooden was an Indiana All-Star assistant coach in 2005, an IBCA District 1 Coach of the Year in 2012 and Marion County Coach of the Year in 2019.
        >> McCollough is cited after directing Shenandoah to a 23-2 season that included championships of the Henry County Tournament, the Mid-Eastern Conference and the Hagerstown Sectional. McCollough is 111-17 in five seasons at Shenandoah, including four sectional titles and one regional crown. He is 576-250 in 36 seasons as a varsity coach with 12 sectional, two regional and 13 conference championships at three schools. McCollough's teams won 157 games and five sectionals in 11 seasons at North Judson (1983-94). His teams added 308 victories with three sectional titles and a regional crown in 20 seasons at Noblesville. McCollough, a Manchester and Indiana University graduate, has been an IBCA district Coach of the Year on three previous occasions (1997, 2007 and 2016). He also was head coach for the 2000 Indiana All-Star Team.
        >> Hawkins is recognized after leading Heritage Hills to a 22-3 season that included championships of the Pocket Athletic Conference and the Boonville Sectional. In eight seasons as a varsity coach, Hawkins' teams have posted a 143-44 record with five PAC championships, four sectional titles and two regional crowns in four seasons. That includes a 79-18 mark with three league titles and one sectional trophy at Heritage Hills. He also previously directed Forest Park to a 66-22 record with two conference titles, three sectional crowns and two regional titles from 2009-13. Hawkins is a 1998 graduate of Forest Park, where he played basketball and was the team's mental attitude award winner. He went on to the University of Southern Indiana, earning his bachelor's degree in 2004. Hawkins began his coaching career as an assistant at Forest Park. He previously was an IBCA District 3 Coach of the Year in 2011.

        >> Wildey is honored after guiding South Decatur to a 24-2 season that included championships in the Edinburgh Holiday Tournament, the Mid-Hoosier Conference and the North Decatur Sectional. Wildey is 35-39 in three seasons at South Decatur, and he has a 203-165 record in 16 seasons as a varsity basketball coach. That includes a 40-24 slate in three seasons at Waldron (1987-90), a 3-18 mark in one season at Rushville (1990-91) and a 125-84 ledger with five sectionals and one regional in nine seasons at Jennings County (1991-2000). WIldey is a 1980 graduate of Jennings County, where he played basketball, baseball and football. He went on to play basketball and baseball at Glen Oaks (Mich.) Community College as well as baseball at West Virginia University and Georgetown (Ky.) College. He earned his bachelor's degree from Georgetown College in 1985 and a master's degree from IU-Southeast in 1994. Wildey, previously executive director of the Hoosier Basketball Coaches Association and currently the superintendent of Columbus Christian School, was inducted into the Jennings County Alumni Hall of Fame in 2012 and into the HBCA Hall of Excellence in 2015.
        These six coaches will receive plaques as an IBCA District Coach of the Year during the 2020 IBCA Clinic, which now is to be held on dates to be determined. The clinic was to be April 24-25, but is has been postponed because of the COVID-19 pandemic. For more information about the IBCA Clinic, go to www.ibcacoaches.com.
        The Coach of the Year award is named for the late Bob King, the IBCA executive director from 1984-94. King was a Lebanon native who coached at Sacred Heart and Shortridge high schools in Indianapolis before serving as an assistant basketball coach at Purdue and later an assistant and associate athletic director at Purdue.