Edey Dominant/Furst Solid in Boilers 83-71 win
by: Steven Stremming, Excel H Sports/United States Basketball Writers Association
photos by: Tony Harper/Excel H Sports/Indiana Sports Network
videographer: Cainan Harper/Excel H Sports
#2 Excel H Sports ranked Purdue Boilermakers played a tough Xavier Musketeer team last night in a sold-out Mackey Arena.
Sean Miller's team didn't disappoint, as they tried to up-tempo the game early, trying to get back on the offensive side of the game before the Boilers could transition in defense.
 Painters' Boilers responded well and thwarted X's attempts throughout the game.
Zach Edey and Braden Smith played solid throughout the game, with each collecting over 33 minutes of floor time. In fact, Westfield's Smith scored 12 points but more importantly ran a solid point, while still dishing out seven (7) assists.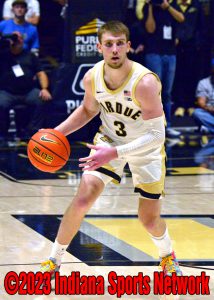 Edey was, yes that word again, dominant. Edey would finish with yet another double-double with a tireless effort while being man hard by Xavier. Edey would score 28 points, pull down eleven (11) boards and block four Musketeer shots for the night.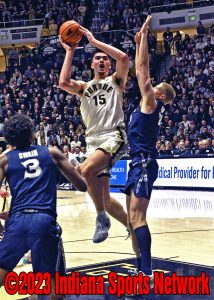 Purdue received a big effort from Caleb Furst, as he played his finest game of the year. Furst played nearly 13 minutes but scored five (5) points and collected four boards and set some impressive screens and picks for his Boiler teammates.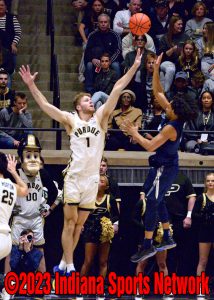 Lance Jones, transfer from Southern Illinois, didn't have a shooting eye but he contributed in many other ways with five assists and three steals in a touch under thirty minutes.
Also mentioned for the Boilers was a fine effort by freshman Myles Colvin, who buried a three pointer seconds before the half and would end the night with two more three pointers for a game ending nine points.
Camden Heide, a 6'7, redshirt freshman from Minnesota gave the Boiler faithful more reason to like him as he scored four points but hustled back on defense in his nearly ten minutes of floor time.
For Xavier, well, effort throughout, before the year is over they could be a team to be reckoned with in the Big East.
Sean Miller was led by the outstanding play of Shelbyville, Kentucky senior Davion McKnight. McKnight was solid as a point guard in over 32 minutes of action scored eight points, five assists, four steals and ZERO turnovers.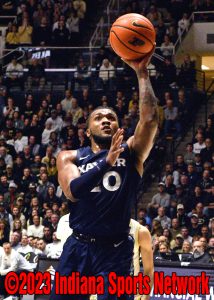 McKnight would sink baskets all game long to keep Boiler runs from happening.
Other Musketeers who flourished were New Haven, Connecticut, sophomore Desmond Claude who would lead the team in scoring with 15 points in thirty six minutes of floor time. Claude is just developing his game and will be an asset to the Musketeers.
Gylis Nemeiksa, Senior from Kaunas, Lithuania had a smooth shot and provided energy during the game. Nemeiksa would score ten points, grad seven rebounds and turned the ball over a single time in over 25 minutes of action.
Dailyn Swain, Columbus, Ohio freshman gave the Big East something to look at, as he scored 10 points in his 22 minutes of floor time.
The only other Xavier player to collect double figures was Charlotte, North Carolina's Trent Green, as he was good for ten.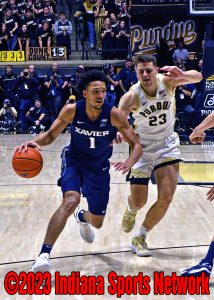 Purdue next stop will be against Gonzaga while Xavier will be the University of Washington.
This is the final year of the Gavitt games, where B1G plays the Big East, hopefully, for college basketball these games will survive in a different format.
(2) Xaiver's Sean Miller Post-Game Press Conference After Loss To Purdue in Final Year of Gavitt Games – YouTube
(2) Purdue MBB Players Post-Game Press Conference After Gavitt Games vs. Xaiver – YouTube
The following credit source goes to: Purdue Athletics
No. 2-ranked Purdue improved to 3-0 with an 83-71 win over Xavier in the 2023 Gavitt Games played at Mackey Arena.
The Boilermakers are now at least 3-0 for the third straight year, finishing the Gavitt Games with a 3-2 record (0-1 vs. Villanova; 2-1 vs. Marquette; 1-0 vs. Xavier).
The win was Purdue's 27th straight non-conference, regular-season victory, dating to Dec. 8, 2020. It was also Purdue's 17th straight win in the month of November and 22nd straight non-conference win at Mackey Arena.
The win snapped a five-game losing streak to Xavier, which had been the second-longest active losing streak to a single opponent (UCLA – 8). Purdue's last win over Xavier had been on Dec. 5, 2001.
The Boilermakers have scored 83 or more points in their first three games for the second time in three years (2021-22) and for the fourth time under Matt Painter (2023-24, 2021-22, 2018-19, 2017-18).
The Boilermaker have shot at least 50.9 percent from the field in all three games this year.
Purdue has shot at least 46 percent from 3-point range in two of the three games this year. A year ago, Purdue shot at least 46 percent from 3-point range just twice all season.
Purdue is 61-14 (.813) overall since the start of the 2021-22 season.
Purdue shot 50.9 percent from the field, 46.7 percent from 3-point range and 85.7 percent from the free throw line. Purdue has won 57 straight games when shooting at least 50-40-70 from the three levels.
Purdue has won 52 straight games when scoring at least 80 points and is 74-2 when scoring 80 points since the start of the 2017-18 season.
Zach Edey recorded his 41st career double-double with 28 points, 11 rebounds and four blocks. It was his 20th career 20-10 game, now third among all active players (Armando Bacot, Fardaws Aimaq).
Edey moved into a tie for 18th place on the school's career scoring list (1,595).
Through three games this year, Edey has 62 points, 30 rebounds and 11 blocks in just 77:25 of action. Per 40 minutes, Edey is averaging 32.0 points, 15.5 rebounds and 5.7 blocks. He has also drawn 27 fouls in those 77+ minutes.
Braden Smith tallied 12 points, seven assists and six rebounds and is now averaging 11.7 points, 8.3 assists and 6.0 rebounds per game.
Myles Colvin went 3-of-3 from long distance for a career-high nine points, and is now shooting 7-of-10 from long range this year.
Purdue's bench went 5-of-7 from long range. As a team for the season, Purdue is shooting 31-of-67 (.463) from 3-point range.