Boilers (#4 Excel H Sports) Beat Hofstra in Paint
photos by: Anthony Harper
The Purdue Boilermakers continued their winnings ways in a Sold-Out Mackey Arena, Wednesday night, December 7th, 2022.
The Boilers would post an 85 to 66 victory over Hofstra (6-4 CAA).
The Boilers starting five got the Boilers off on the right foot as they bolted out to a 24 to nine (9) lead early in the game. In fact, the Boilers would never relinquish the lead.
The Boilers started the game and would continue throughout the game to pound the ball into the hands of 7'4, Junior, Zach Edy (Toronto, Ontario), and Edey would respond.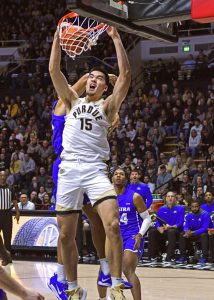 Photo by: Anthony Harper
Edey added yet another stellar performance by scoring 23 points, hauling in 18 rebounds, a staggering seven on the offensive end; and three (3) assists.
Edey would help the Boilers dominate the paint with a 40 to 24 scoring margin and another lopsided 19 to zero second chance points.
Adding depth to the victory was the outstanding guard play from 6′ freshman Braden Smith (Westfield) 13 points, five rebounds and two assists and fellow freshman, Fletcher Loyer, 6'4 freshman (Fort Wayne) 10 points, a team high five assists.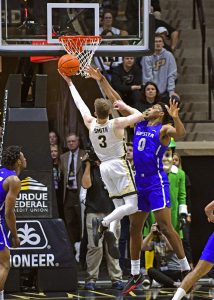 Photo by: Anthony Harper
Not to be overlooked was the play of Caleb Furst, 6'10, sophomore (Fort Wayne) who was incredibly active by scoring 12 points on a five for nine field goals, six rebounds and two assists.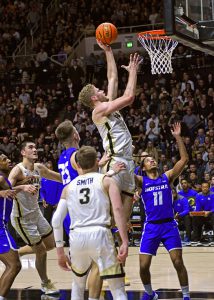 Photo by: Anthony Harper
Trey Kaufman-Renn, 6'8 redshirt freshman (Sellersburg, Indiana) added 13 points off the bench while hitting on five of his seven field goal attempts. Brandon Newman, 6'5 junior (Valparaiso) was just as active in his time as Brandon collected eight points and handing out four assists.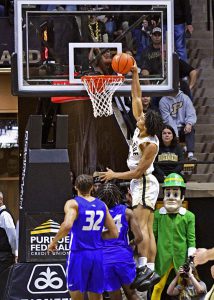 Photo by: Anthony Harper
Ethan Morton once again stayed steady and help ignite the Boilers to the early lead when the Boilers outscored Hofstra 11 to 0 in the first half.
Morton would end his night with six-point, four boards and two blocked shots.
Hofstra, coached by Speedy Claxton will be a factor in the CAA as they kept the margin in the game in the mid 20's.
Amar'e Marshall, 6'4 redshirt freshman (Montclair, New Jersey) was a force all game long as he led Hofstra with 24 points on ten of seventeen shots from the floor and added four assists.
Joining Marshall in double digit scoring were Darlinstone Dubar with fourteen points and Tyler Thomas with 10.
Purdue moves on to Lincoln, Nebraska while Hofstra returns home to Massachusetts.
Information below: Credit Source: Purdue University Athletics
Purdue improved to 9-0 with an 85-66 decision over Hofstra in front of Mackey Arena's 46th straight sellout crowd.
Purdue is now 9-0 for the first time since the 2015-16 squad started 11-0. It marks the third time in the Painter era that Purdue has started at least 9-0 (14-0 in 2009-10; 11-0 in 2015-16).
The win was Purdue's nation's-longest, 20th straight in non-conference, regular-season games. Purdue has gone two calendar years without losing a non-conference, regular-season game.
The victory was Purdue's 18th straight non-conference home win, the fifth-longest streak in facility history.
Purdue is 32-2 at Mackey Arena since the start of the 2020-21 season, winning its 13th straight home game with the win over Hofstra.
Purdue is now 66-2 since the start of the 2017-18 season when scoring 80 or more points, having won 44 straight games when reaching 80 points.
Purdue is 53-5 since the start of the 2017-18 season when making 10 or more 3-pointers in a game, including vs. Hofstra. The Boilermakers have won 23 straight games when reaching that mark.
Purdue had five players score in double-figures for the second straight game.
Purdue had 15 assists to one turnover in the first half, and finished with 20 assists against nine turnovers. Over the last two games, Purdue has 42 assists against 16 turnovers.
Matt Painter won his 393rd game at Purdue, now needing seven wins to become the fifth Big Ten coach in league history to win 400 games at a Big Ten school.
Zach Edey recorded his seventh double-double of the season with 23 points, 18 rebounds and 3 assists. Purdue is now 17-2 during his career when he records a double-double.
Edey notched a 20-point game for the eighth straight game, now tied with Andrew Bogut for the longest 20-point streak for a player that stands at least 7-feet tall in the last 25 years.
His eight-game, 20-point streak is the second-longest for a Purdue player in the last 50 years (Glenn Robinson – 19).
Over the last two games, Edey has 54 points and 40 rebounds in 61 minutes, averaging 35.4 points and 26.2 rebounds / 40 minutes in that span. He has the same number of rebounds (40) as opponents do (40) in the last two games.
Edey is now averaging 23.2 points and 13.3 rebounds per game.
Braden Smith had 13 points with five rebounds and two assists.
Caleb Furst had 12 points with six rebounds and two assists. Furst has 22 points, eight rebounds and three assists in 47 minutes over the last two games.
Trey Kaufman-Renn scored a career-high 13 points, while connecting on two 3-pointers.
Fletcher Loyer scored in double-figures for the fifth straight game with 10 points and five assists. Over the last three games, he is averaging 13.7 PPG and 5.7 APG, having 17 assists against one turnover.