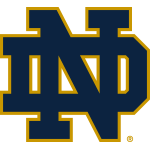 Credit Source: University of Notre Dame Athletics
Book Named to Davey O'Brien Great 8 List
NOTRE DAME, Indiana — Leading Notre Dame to a double-overtime win over then-No. 1 Clemson Saturday, graduate student quarterback Ian Book was named to the Davey O'Brien Award Great 8 List for Week 10. It marks the fifth time in Book's career that he has been named to the Great 8 list, and his second appearance in 2020.
Book was awarded the game ball for his performance, in which he completed 22 passes for 310 yards and a touchdown, with zero interceptions and 14 rushes for 67 yards.
His 310 passing yards came against the top-ranked passing defense in the ACC in Clemson (allows 191.8 avg./game), marking the eighth 300-yard game of his career. He now ranks third all-time in 300-yard passing games among all Irish quarterbacks, passing John and Bobbie Arlotta Offensive Coordinator Tommy Rees (7). His 310 yards ranked third among all ACC quarterbacks on the weekend.
Book went 5-for-5 to start the game, not throwing his first incompletion until 13:20 remained in the second quarter. Thirteen of Book's 22 completions were for gains of 10 yards or more, and four gained 28 yards or more. Six of Book's completions came on successful third-down conversions.
Book has totaled 168-consecutive passing attempts without an interception, the longest current streak in the ACC and fourth-longest among all FBS QBs. Only one Power 5 quarterback has a longer streak (Arizona State's Jayden Daniels, 157).
His 67 rushing yards alone outpaced the entire Clemson offense, which posted 34 rushing yards Saturday.
The Irish go back on the road this week to face Boston College. The game kicks off at 3:30 p.m. ET Saturday on ABC.