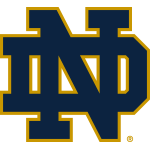 Book Named to O'Brien Great 8 List for Week 11
Credit Source: University of Notre Dame Athletics
NOTRE DAME, Indiana — Quarterbacking the Irish to a 45-31 win over ACC rival Boston College Saturday, graduate student quarterback Ian Book was named to the Davey O'Brien Award Great 8 List for Week 11. It marks the sixth time in Book's career that he has been named to the Great 8 list, and his third appearance in 2020 (also at Pitt, vs. Clemson).
In Notre Dame's eighth-consecutive win of 2020, and 14th-consecutive overall (the longest streak in the FBS), Book went 20-of-27 for 283 yards and three touchdowns, with zero interceptions and zero sacks for a 198.8 QB rating. He also added 10 rushes for 85 yards and a touchdown.
With a 74.1 completion percentage, Book led all ACC quarterbacks on the weekend. Book was also the only ACC quarterback not to take a sack this weekend (among eligible QBs), and his 10.48 yards/attempt were the second-most in the ACC for the week.
Book has now totaled 195-consecutive attempts without an interception, which is the second-longest active streak in college football, and the longest streak among all Power 5 players. It ranks second only to Brady Quinn's 226 in 2006 (Michigan State to Army) in Notre Dame records.
Book was the only ACC quarterback on the weekend to throw three touchdowns and zero interceptions, while also avoiding any sacks. Ranking tied for eighth nationally in touchdown passes on the weekend, of the seven quarterbacks who threw more, three of them threw interceptions, and only one of those seven was not sacked. Book's 198.8 passer rating Saturday ranked sixth on the weekend among all FBS quarterbacks.
Accounting for four touchdowns (three passing, one rushing), Book's game marked the first time a Notre Dame player has been responsible for four or more touchdowns in a single game since he did it at Stanford in 2019. Book has led the Irish to score 45 or more points in two-consecutive games for the first time since 1996 (vs. Pitt 60-6, vs. Rutgers 62-0).
Entering Saturday, Boston College's scoring defense ranked fourth in the ACC, allowing 24.6 points per game. Notre Dame surpassed that mark in the first half alone with 31 points in the first 30 minutes.
The Irish return to play Friday, November 27, when they travel to play North Carolina in Chapel Hill (3:30 p.m. ET on ABC).
—