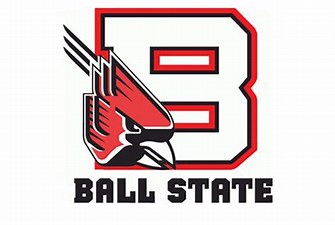 BSU's Hall, Thomas Claim MAC Honors; Hall Named to Hornung Honor Roll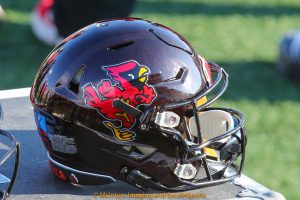 Photo by: Rick McIntyre/Excel H Sports/McIntyre Imaging
Duo helped Cardinals to fifth straight victory and spot in MAC Championship Game
MUNCIE, Ind. — For the third time this season, the Ball State football team has won both the MAC West Division offensive and defensive player of the week awards.
Wide receiver Justin Hall and inside linebacker Jaylin Thomas were honored for their performances in the Cardinals' 30-27 victory over Western Michigan to clinch the division title. Ball State, winner of five straight, will face undefeated No. 23 Buffalo in Friday's Rocket Mortgage MAC Championship Game.
Hall was also one of six receivers/return specialists nationally named to this week's Paul Hornung Award Honor Roll after racking up 213 all-purpose yards in Saturday's win. It is the second time this season he has earned a spot on the list.
Hall caught 10 passes for a career-high 175 yards and two touchdowns in Saturday's win. The senior from Douglasville, Georgia, became the Cardinals' all-time receptions leader, surpassing KeVonn Mabon's mark of 244 and finishing the day at 252. Hall caught touchdown passes of 32 and 55 yards on key drives to tie the game in the second and fourth quarters. It was the second two-touchdown game this season for college football's active leader in career receptions. Hall extended his FBS-leading active streak to 42 straight games with a catch.
Thomas led Ball State with a career-high 16 tackles, the second-highest total by a MAC player in a game this year. The redshirt senior from Lima, Ohio, spearheaded a defensive effort that held the nation's sixth-highest scoring team scoreless over the final 24 minutes, as BSU erased a 14-point deficit to win. Western Michigan's 27 points were 17 below their average. The MAC's active leader in tackles, Thomas raised his total to 277 for his career.
Ball State also swept the West Division offensive and defensive awards after the team's wins over Eastern Michigan (Caleb Huntley, Brandon Martin) and Toledo (Drew Plitt, Christian Albright). Plitt also earned the top honor after the win over Central Michigan.
The Cardinals are in the MAC Championship Game for the first time since 2008 as they seek their first league title since 1996. Friday's kickoff is set for 7:30 from Detroit's Ford Field on ESPN and the Ball State Radio Network at 104.1 WLBC. Ball State Championship Week is presented by Northwest Bank and Community Hospital of Anderson.