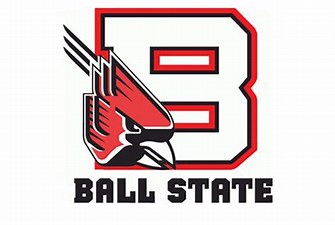 Buffalo Outlasts Cards With Big Second Half
Credit Source: Ball State University Athletics
Postgame Press Conference: Ishmael El-Amin and James Whitford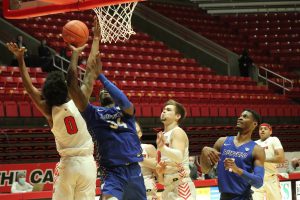 Photo by: Rex Crabtree/Excel H Sports
MUNCIE – Ishmael El-Amin scored a game-high 22 points but a big second half from visiting Buffalo led to a 78-58 loss for the Ball State men's basketball team Tuesday night at Worthen Arena. Buffalo (7-6, 5-4) led 33-32 at halftime but took control of the game right after the break. Ball State (6-9, 4-6) also got 11 points each from Jarron Coleman and Brachen Hazen.
Photo by: Rex Crabtree/Excel H Sports
Ball State led 17-10 midway through the first half, and the two teams traded buckets down the stretch. The Cardinals led 30-28 at the final media timeout of the half before a couple quick buckets put Buffalo up a point at halftime.
Buffalo got 22 points and 16 rebounds from Josh Mballa and Ronaldo Segu added 20 points and hit five 3-pointers.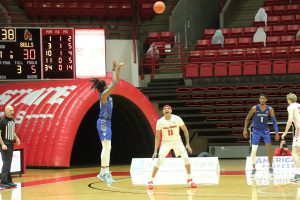 Photo by: Rex Crabtree/Excel H Sports
TURNING POINT: Buffalo scored the first 12 points after halftime to go up 45-32 and take command of the game. BSU cut it to 10 a couple times but Buffalo always answered. The final 20-point margin was the largest lead of the night for the Bulls, who won both meetings against the Cardinals this season.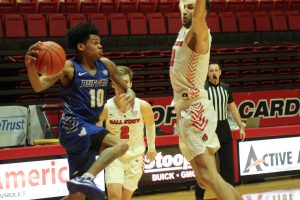 Photo by: Rex Crabtree/Excel H Sports
STRAIGHT FROM THE COACH: "Buffalo is a good team. I thought we did a lot of good things out there tonight, but made our share of mistakes, especially the turnovers," head coach James Whitford said. "We had a tough shooting night, that was part of the story. But we really worked together and got a lot of good shots. In my eyes, this was closer than the final score. We played well enough to be in there. They're so physical and that's not our strength. But we were connected defensively and we competed on the glass much better. We did some good things and we're trying to see those too."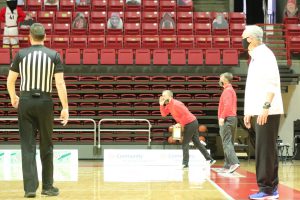 Photo by: Rex Crabtree/Excel H Sports
FINALLY AT HOME: Tuesday night was just the fifth home game of the season for BSU, which has had two home games postponed. The five homes games is the fewest in the conference.
UP NEXT: The Cards stay home home this weekend in a nationally-televised game this Saturday. Toledo, the league leader at 10-1, visits Worthen for a noon tip on CBS Sports Network.