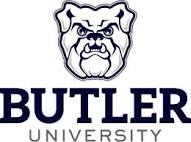 #18 @ButlerMBB Passes Road Test at Utah, 68-59
Butler's starting frontcourt combined for 44 points in the Bulldogs' 68-59 win over Utah Monday night in Salt Lake City. The Bulldogs remain perfect on the season at 7-0, as the Utes drop their first game of the 2016-17 campaign. The Bulldogs shot 53 percent in the win after being ranked No. 18 in both national polls earlier in the day.
Early in the second half, Tyler Lewis had seven points within a 9-0 run that turned a 37-33 lead into a 13-point advantage. The lead would swell to 17 before Utah trimmed the game to its final margin.
"It's been a long week for us, but a really good week," said coach Chris Holtmann. "We learned a lot about our team. We need to take a lot of good lessons from this game tonight. We need to play better in stretches, but we really made them work with our defense. We need to take care of the ball better and be better on the glass, but it's a road win in a tough place to play. And we'll take that."
Kelan Martin led Butler with 18 points. Tyler Wideman had 15 points on a perfect 6-of-6 night from the field. Andrew Chrabascz added 11, with seven of those coming in the second half.
Butler's defense limited Utah to just 37-percent shooting, including only 3-of-20 from behind the arc. Utah's offense relied heavily on second-chance points (22) and an 18-for-22 night at the free throw line.
Lewis added six assists for the Bulldogs to go along with his 10 points. Kamar Baldwin had a career-high four steals as Butler forced Utah into 18 turnovers. The Bulldogs converted those into 23 points.
The road win caps an impressive road trip for the Bulldogs, who won the Las Vegas Invitational with wins over Vanderbilt and Arizona. Utah lost only one game at home a season ago (to Oregon) and had beaten 32 consecutive non-conference opponents at the Huntsman Center until Butler broke the streak tonight.
Butler is now one of just 23 remaining unbeaten teams in the country.
The Bulldogs return home to Hinkle Fieldhouse for a Saturday match-up with Central Arkansas. The 4 p.m. tip will be broadcast nationally on FS2. Tickets are still available. There is also a Project 44 bone marrow registry drive in conjunction with Be The Match that day to honor the life of Andrew Smith.