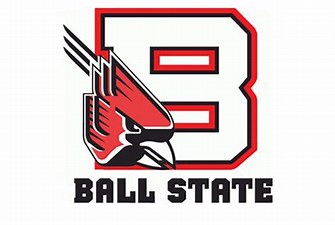 Credit Source: Ball State University
Ball State Stifles Toledo Rushing Attack, Holds off Rockets 27-24
Cardinals win third straight to keep pace in MAC West Division race
TOLEDO, Ohio — Ball State needed a big-time play to finish a road win, and Anthony Ekpe delivered. Ekpe's strip sack with less than a minute left in the game stopped a rally by host Toledo and allowed BSU to finish off a 27-24 win. The Cardinals have won three straight games and are now 3-1 on the year.
"I'm really proud of our guys; I'm proud of the effort, and I'm proud of the fight," head coach Mike Neu said. "More than anything else, what matters is we're leaving the Glass Bowl here 1-0 on the weekend. And we're not done. It'll be a great ride back home to Muncie, and we'll continue to work. It's on the next one."
Ball State (3-1, 3-1 MAC) dominated early and never trailed. The Cardinals led 17-0 early in the second quarter and extended that to 24-3 after Yo'Heinz Tyler caught his second touchdown of the day. The score was 24-9 after three quarters before Toledo began to rally at the end of the game.
UT (2-2, 2-2 MAC) scored 15 unanswered points in 2:57 of game time and then had a potential game-winning drive in the final minute. The Rockets, with their backup quarterback in the game, advanced into Ball State territory before Ekpe knocked the ball free from Carter Bradley. Bryce Cosby, who also had an interception, recovered the fumble to clinch the win.
"I was proud of the defense for delivering in a critical situation," Neu said. "Our defense was incredible."
Ekpe's play capped the best defensive effort for Ball State this season. The Cardinals had 12 tackles for loss, four sacks and two takeaways while holding Toledo to just 42 yards rushing. Neu called the effort "championship-level defense." Brandon Martin racked up 12 tackles, and Jaylin Thomas made 10 stops. Christian Albright made three tackles behind the line of scrimmage, including a sack, and he also forced a fumble.
Playing without star running back Caleb Huntley, the Cardinals ran up 447 yards of offense. Drew Plitt passed for 304 yards and two touchdowns and also ran for a score. The Cardinals went to Justin Hall through the air and on the ground for 151 yards from scrimmage. Hall caught nine passes for a career-high 127 yards and ran for 24 more. Tye Evans gained 101 yards on 25 carries while taking on the bigger role in the backfield.
"Caleb is a special player, but we have other guys on our team who are special players too," Neu said. "And when the opportunity presents itself, it's next man up. And it was great to see those guys deliver. It all starts up with the guys up front in the trenches."
The game looked like a rout early as Plitt ran in a short TD early in the game and then found Tyler for an 11-yard score eight minutes later. The Cardinals led 17-3 at halftime and then Tyler found the end zone again in the third quarter. Tyler has scored at least one touchdown in each of the last three games and has six touchdowns in the last five games dating back to last season.
Bryce Mitchell scored both of Toledo's fourth-quarter touchdowns, catching one from each UT quarterback. Eli Peters threw for 363 yards — most of them coming in the late rally when Ball State had a sizable lead — but was sacked three times.
With two games remaining in this shortened, six-game season, Ball State's "Detroit Or Bust" mentality is thriving and as Neu says, the Cardinals are staying in the "winners' bracket."
"We know how critical that is. With the shortened season, they all matter," Neu said. "The MAC West is very competitive from top to bottom. And that's all you can ask, is to be in a position to control your own destiny."
BSU's destiny next week is a trip to Central Michigan with prime division positioning at stake. The Cardinals and Chippewas are tied for second in the MAC West Division, one game behind Western Michigan (BSU will close the season with WMU).
The television designation and kickoff time for next Saturday's game at CMU has not yet been announced. It can be heard, as always, via the Ball State Radio Network on 104.1 WLBC.
Join Ball State Head Coach Mike Neu and key contributors from today's win
https://www.dropbox.com/s/znnxo3csxo9khz7/112820_BSU.mp4?dl=0
Ball State (3-1,3-1) vs. TOLEDO (2-2,2-2)
Date: Nov 28, 2020 • Site: Toledo, Ohio • Stadium: Glass Bowl
Score by Quarters 1 2 3 4 Total
Ball State 14 3 7 3 27
TOLEDO 0 3 6 15 24
Qtr Time Scoring Play V-H
1st 12:04 BALL – PLITT, Drew 2 yd run (KNIGHT, Jack kick), 9-75 2:56 7 – 0
04:31 BALL – TYLER, Yo'Heinz 11 yd pass from PLITT, Drew (KNIGHT, Jack kick), 9-75 3:20 14 – 0
2nd 12:33 BALL – KNIGHT, Jack 32 yd field goal, 11-65 4:37 17 – 0
00:32 TOLEDO – CLUCKEY,Thomas 37 yd field goal, 4–6 0:25 17 – 3
3rd 07:35 BALL – TYLER, Yo'Heinz 10 yd pass from PLITT, Drew (KNIGHT, Jack kick), 2-44 0:16 24 – 3
03:31 TOLEDO – WINSTEAD,Isaiah 10 yd pass from PETERS,Eli (PETERS,Eli pass failed), 8-84 3:55 24 – 9
4th 13:06 BALL – KNIGHT, Jack 31 yd field goal, 14-60 5:22 27 – 9
05:31 TOLEDO – MITCHELL,Bryce 28 yd pass from PETERS,Eli (MITCHELL,Bryce pass from PETERS,Eli), 3-68 0:56 27 – 17
02:34 TOLEDO – MITCHELL,Bryce 18 yd pass from BRADLEY,Carter (CLUCKEY,Thomas kick), 6-48 1:54 27 – 24
Kickoff time: 12:05 pm • End of Game: 3:43 pm • Total elapsed time: 3:38
Officials: Referee: Bryan Banks; Umpire: John Hanneke; Linesman: Jim Swider;
Line judge: G. Jagodzinski; Back judge: Rick Fahnestock; Field judge: Pat Dolphin;
Side judge: Arthur Lucky; Center judge: Kendall Grant;
Temperature: 41 deg. • Wind: W 9 mph • Weather: Sunny skies
Ball State
Rushing No. Gain Loss Net TD Lg Avg
EVANS, Tye 25 108 7 101 0 16 4.0
HALL, Justin 8 29 5 24 0 7 3.0
PLITT, Drew 12 30 13 17 1 8 1.4
MARCUS, Donny 2 5 0 5 0 3 2.5
TEAM 2 0 4 -4 0 0 -2.0
Totals 49 172 29 143 1 16 2.9
Toledo
Rushing No. Gain Loss Net TD Lg Avg
KOBACK,Bryant 13 46 13 33 0 13 2.5
PETERS,Eli 11 44 26 18 0 18 1.6
MADDOX,Devin 1 0 2 -2 0 0 -2.0
BRADLEY,Carter 1 0 3 -3 0 0 -3.0
KELLY,Micah 2 0 4 -4 0 0 -2.0
Totals 28 90 48 42 0 18 1.5
Ball State
Passing C-A-I Yds TD Long Sack
PLITT, Drew 26-35-1 304 2 34 2
Totals 26-35-1 304 2 34 2
Passing C-A-I Yds TD Long Sack
Toledo
PETERS,Eli 27-36-1 363 2 45 3
BRADLEY,Carter 3-4-0 44 1 18 1
Totals 30-40-1 407 3 45 4
Ball State
Receiving No. Yards TD Long
HALL, Justin 9 127 0 34
TYLER, Yo'Heinz 6 79 2 22
DAVIS, Antwan 5 41 0 17
RUDY, Cody 3 35 0 22
LITTLES, Hassan 1 9 0 9
KOCH, Dylan 1 8 0 8
EVANS, Tye 1 5 0 5
Totals 26 304 2 34
Toledo
Receiving No. Yards TD Long
KOBACK,Bryant 7 59 0 18
WINSTEAD,Isaiah 6 113 1 45
MITCHELL,Bryce 5 94 2 33
McKINLEY-LEWIS 5 57 0 12
MADDOX,Devin 2 45 0 40
BLACKMON,Ronnie 2 17 0 13
NEWTON,Jerjuan 2 15 0 11
ROSI,Drew 1 7 0 7
Totals 30 407 3 45
Ball State
Pos ## OFFENSE
LT 77 SLAVEN, Kaleb
LG 79 BOGGS, Joseph
C 72 TODD, Anthony
RG 53 TURNER, Jaylen
RT 62 BLACKWELL, C.
QB 9 PLITT, Drew
FB 8 RUDY, Cody
RB 30 EVANS, Tye
WR 6 TYLER, Yo'Heinz
WR 11 HALL, Justin
WR 1 DAVIS, Antwan
TOLEDO
Pos ## OFFENSE
LT 78 GURMAN,Vitaliy
LG 65 DOERGER,Luke
C 72 HARRIS,Bryce
RG 60 LONG,Tyler
RT 73 ROSI,Nick
TE 89 ROSI,Drew
QB 12 PETERS,Eli
RB 22 KOBACK,Bryant
TE 81 TURNER,Jamal
WR 14 WINSTEAD,Isaiah
WR 80 MITCHELL,Bryce
Ball State
Pos ## DEFENSE
DE 0D AGYEMANG, Chris
NT 67 RAMSEY, Justen
DE 27 DAW, Jimmy
SLB 31 EKPE, Anthony
MLB 7 MARTIN, Brandon
WLB 6D THOMAS, Jaylin
OLB 9D ALBRIGHT, C.
CB 17 JONES, Nic
SS 14 WAHEE, J.T.
FS 22 BLANCO, Jack
CB 15 POTTS, Tyler
Toledo
Pos ## DEFENSE
DE 91 HINES,Jamal
NT 96 HOOD,David
DT 92 ROGERS,Devan
DE 56 TAYLOR,Terrance
LB 31 BOLDEN,Daniel
LB 45 JOHNSON,Dyontae
DT 99 JOHNSON,Desjuan
CB 24 CLARK,Justin
SS 1 ANDERSON,Tycen
FS 20 HOLT,Saeed
CB 0 WOMACK,Samuel