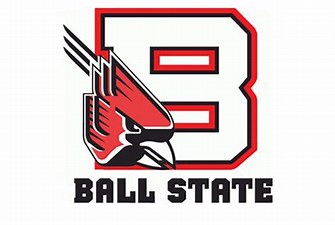 Coleman's Career Day Nearly Pushes BSU Past Top-Seeded Toledo
Download Link For Photos (credit Ball State University)
Credit Source: Ball State University Athletics
CLEVELAND, Ohio — The matchup said No. 1 seed versus No. 8, but anyone who has followed these programs in recent years had to expect this one would be tight.
Ball State pushed MAC regular season champion Toledo to the brink in Thursday's MAC Tournament opener. The Cardinals never led in regulation, went up by as many as five in overtime, and got a hand on a last-second tip-in attempt that would have forced another extra period.
But when the final horn sounded at Rocket Mortgage Fieldhouse, Toledo was moving on with a 91-89 victory.
Jarron Coleman scored a career-high 33 points, the most for BSU (10-13) in a MAC Tournament game in 15 years, and sent the game to overtime with a buzzer-beating layup. K.J. Walton had 23 points before fouling out in the final seconds of regulation.
MAC Player of the Year Marreon Jackson led Toledo (21-7) with 29 points, hurting Ball State by consistently getting to the foul line, while MAC Freshman of the Year Ryan Rollins scored 14 points and came up huge in overtime.
TURNING POINT: After Coleman's reverse lay-in extended the game, Ball State scored the first five points in overtime. But a Setric Millner 3-point play on the other end sparked a 10-2 run that took the Rockets from down five to up five with just under a minute to play. Rollins had the go-ahead 3-pointer and another clutch jumper in that stretch.
The Cardinals pulled to within three and had the ball in the closing seconds, but 3-pointers from Luke Bumbalough and Ishmael El-Amin were off the mark. After an offensive rebound, Toledo foul and Miryne Thomas free throw, BSU's last gasp came with an intentional miss with .8 seconds left. Brachen Hazen's tip hit the rim but caromed away as time expired.
STRAIGHT FROM THE COACH: "I thought it was a great game," head coach James Whitford said. "It reminds me of a lot of the battles Toledo and us have had over the last five years. It was a barn burner. It could have gone either direction. I thought our guys really competed. It's never ever easy to lose these games so close, but that's the nature of sports. We were right there. I thought we really battled, but congratulations to Toledo on the win."
THE RUBBER MATCH: Friday's quarterfinal game was the third matchup of the season between Toledo and Ball State. Each won by double digits on their home floor, including a Rockets victory just six days ago in Toledo. The two programs have consistently been on top of what used to be the MAC West Division for the past half decade.
BOGGIE BUCKETS: Coleman did his damage despite sitting the last 7-plus minutes of the first half with three fouls. The sophomore point guard finished the day 12-of-19 from the floor and 4-of-9 from deep while turning it over only once. His 33 points were the fifth-most ever by a Ball State player in a MAC Tournament game and the most since Skip Mills' BSU tournament-record 38 against Buffalo in 2006.
IF ONLY: Ball State played its best basketball down the stretch this year when it finally had its full allotment of players. Coleman missed the first half of the season with a broken bone in his foot. Walton and others missed significant time due to COVID  protocols. The Cardinals were peaking at the right time and were left wondering what could have been if luck had been a little different.
"I've been doing this 25 years and never once had a season in the same stratosphere as the one we just had," Whitford said. "We dealt with a tremendous amount of adversity. We stayed with it all year. The whole goal was to be one of the best teams in the conference when we got to this stage of the season, and I don't have any question that we are.
"I think it would have been a whole lot different had we had this team together for three months. I'm disappointed that we didn't have a chance to get into the next round because we felt we were good enough to win it, as Toledo also is."