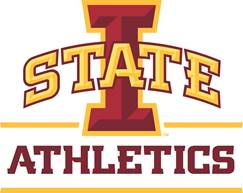 Cyclones Breeze to 85-68 Win Over No. 18 West Virginia
Credit Source: Iowa State University Athletics
AMES, Iowa – Iowa State (15-9, 11-6 Big 12) breezed to an 85-68 victory over No. 18 West Virginia (17-4, 11-4 Big 12) Wednesday night in Hilton Coliseum.
The Cyclones opened up a close game with a strong flurry in the third period, connecting on four treys and eventually forging ahead by 22 points early in the fourth quarter. The visitors never threatened the rest of the game, as the Cyclones picked up their second win over a top-25 team this season.
Iowa State was once again sharp from long distance, hitting 13-of-27 shots from beyond the arc, including four from Lexi Donarski, who had 18 points in the contest, and three from Kristin Scott, who ended the game with 18 points.
Three other Cyclones were in double figures in Ashley Joens (20), Kylie Feuerbach (10) and Emily Ryan (13). It was Joens' 18th 20-point game of the season and Ryan led the team with nine assists.
Iowa State was 14-of-14 from the charity stripe.
Points were aplenty in the first quarter with both teams shooting over 56 percent from the field. Iowa State led 26-24 at the end of the first period after being down by seven points early. WVU started the game by making 7-of-8 shots, but the Cyclones rallied with a 10-0 run to take the lead. Scott had nine points in the first period.
The game was tied at 30-30 until Scott made two-straight 3-point plays – one conventional and another from long range – to push the Cyclones out in front, 36-30 midway through the second period.
Iowa State maintained its lead and went into the break up 46-38.
The Cyclones kept the foot on the gas in the third period, leading by as many as 19 points and holding a 66-50 advantage heading into the final stanza. A key 11-0 run was the difference, as the Cyclones buried a trio of 3-pointers from Madison Wise, Feuerbach and Donarski to seize control.
UP NEXT
Iowa State plays host to Kansas on Wednesday (March 3).