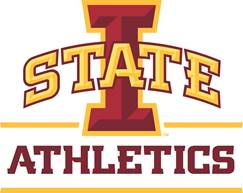 Cyclones Travel To Iowa City To Take On Hawkeyes
Credit Source: Iowa State University Athletics
Where: Iowa City, Iowa
When: Wednesday, Dec. 9 at 6:30 p.m.
Projected Starting Lineup: Kristin Scott, Ashley Joens, Kylie Feuerbach, Emily Ryan, Lexi Donarski
Radio: Cyclone Radio Network/Learfield
Talent: Noah Wolf, Chris Williams
TV: BTN+
The Lead
The Iowa State women's basketball team travels to Iowa City to take on the Iowa Hawkeyes on Wednesday on BTN+ at 6:30 p.m. Iowa leads the all-time series 28-22, and have claimed the last four-straight against ISU. The Cyclones are looking to snap the streak and grab their first win in Iowa City since an 80-74 win on Nov. 30, 2006.
Key Storylines
Junior Ashley Joens is leading th nation in scoring, averaging 31.5 points a game. Joens has notched three-consecutive 30-point games, dropping 36 points at SDSU, 33 at TCU and 32 points against South Carolina.
The Cyclones have three freshmen currently in the starting lineup, and are one of just two power-5 teams to start three freshmen, joining California.
Senior Kristin Scott earned preseason recognition of her own as she was named to the Lisa Leslie Award Watch List for the second-straight season. Scott was also an honorable mention selection for the Preseason All-Big 12 Team. Scott also suprassed 1,00 points in her career in Iowa State's last game against South Carolina.
Freshman Lexi Donarski has tallied double figures in two of her last three games, totaling 13 points against both South Dakota State and TCU. She is averaging 8.8 points on the year.
Emily Ryan leads the Big 12 in assists per game wth 5.8 per contest. She has 23 dimes on the year.
Joens Among NCAA's Top Active Career Leaders
Junior guard Ashley Joens is flying up the NCAA's active career leader rankings after a monster start to her junior year.
Joens is currently 10th in the NCAA in active career scoring average, netting 16.6 points per contest.
She ranks third in active career scoring among juniors in the NCAA, with 1,128 career points.
Joens is also tied at 19th in career double-doubles with 20.
Joens is swiftly climbing the NCAA's career free-throws made category, with 276 made in her career, which ranks 21st.
1,000-Point Club
Both Ashley Joens and Kristin Scott have reached 1,000 points in their careers.
Last season, Ashley Joens became the first sophomore in school history to reach 1,000 points. Joens accomplished the feat in 64 career games, just three shy of the record of 61, held by Stacy Frese.
Joens is 25th in school history with 1,128 points and is just 30 away from 24th (Colleen Peterson – 1,158).
Scott recently joined the 1,000-point club against South Carolina. She has 1,004 points in her career, ranking 31st in school history.