Czinano Dominates Paint/Hawkeyes Claim  BiG Ten Championship Title
by: Shawn Martin
photos by: Tony Harper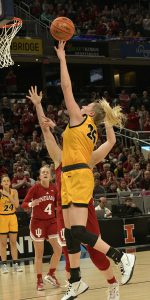 Photo by: Tony Harper/Excel H Sports/Indiana Sports Network
Iowa used the dominating inside presence of 6-3 post Monika Czinano to defeat Indiana 74-67 in the Women's B1G Tournament Championship game. They also were Co-Champions this season in the regular season.
 The senior from Watertown, Minnesota poured in 30 points to keep the inspired Hoosiers at bay for most of the game. In back-to-back games in February (19th and 21st) she had 22 and 31 points against Indiana.
The First Team All B1G selection averages 21 points and 6 rebounds a game, and the Hoosiers without 6-3 Makenzie Holmes at full strength, had no answer for Czinano in all three games – all Iowa wins.
Indiana did a good job limiting the nation's leading scorer Caitlin Clark to nearly nine points below her 27.7 per game average.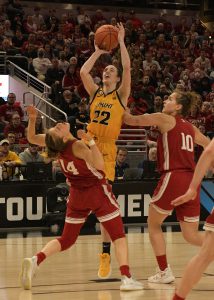 Photo by: Tony Harper/Excel H Sports/Indiana Sports Network
The Hoosiers have played 12 games now in the last 28 days, including four in last four days. Their tired legs showed as they shot a cold 37% for the game. Iowa struggled from 3-point range (2-14), but led by Czinano, they shot 61% from two-point range.
Indiana guard Nicole Cardano-Hillary opened the scoring with a layup off a nifty pass from Ali Patberg at the 9:16 mark of the first quarter. Czinano answered with her first basket, then Carano-Hillary scored again to put the Hoosiers up 4-2 just 1:15 into the contest.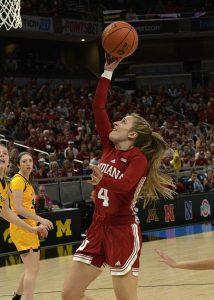 Photo by: Tony Harper/Excel H Sports/Indiana Sports Network
Clark announced her presence with a three and Czinano scored again a half minute later to put the Hawkeyes up 7-4 with 7:38 left.
Cardano-Hillary and Grace Berger had a combined 8-0 run to give the Hoosiers their largest lead of the afternoon at 12-7. The game was a fight until the end as Iowa's biggest lead was seven.
Photo by: Tony Harper/Excel H Sports/Indiana Sports Network
After the opening ten minutes Iowa led 18-16, with Czinano leading with eight. Cardano-Hillary also tallied eight and Berger added six for Indiana. Iowa also led by two at halftime (35-33) and by three after 3 (51-48).
The Hawkeyes (23-7) went 7-9 from the line in the fourth quarter to keep the Hoosiers at arm's length and captured their fourth B1G Tournament Championship – first since 2019.
Czinano had ten fourth quarter points to close out the tournament championship for her team. She added 10 rebounds and was named to the All-Tournament Team. All-American Clark had 18 points and seven boards. She is also the nation's top assist provider too (8.1 per game), but the Hoosiers pressured her, and she only had two in this game. She had 41 points last night against Nebraska and was named the MVP of the tournament.
Kate Martin had 14 points and eight assists for the victorious Hawks, in yet another, display of over-all play which to be truthfully, was the key to the Hawkeyes victory.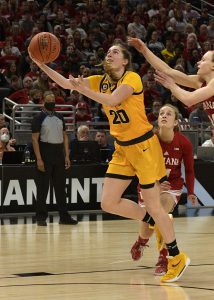 Photo by: Tony Harper/Excel H Sports/Indiana Sports Network
Berger led the Hoosiers with 20 points while Cardano-Hillary added 19. They both made the All-Tournament team along with Ohio State's Jacy Sheldon.
Aleksa Gulbe and Holmes each had 11 for Indiana (22-8).
Photo by: Tony Harper/Excel H Sports/Indiana Sports Network
Championship game day attendance: 8709
Game Notes: 
Credit Source: University of Iowa Athletics
The No. 2 Iowa Hawkeyes defeated the No. 5 Indiana Hoosiers, 74-67, inside Gainbridge Fieldhouse in Indianapolis, Indiana, winning the Big Ten Tournament Championship and marking the first time the Hawkeyes have won both the Big Ten regular season and tournament titles in the same season. It is the 13th time that a team has won both.
Coach Bluder broke Sharon Versyp's (Indiana, Purdue) record for most career-tournament wins with 26 in her career.
Senior Monika Czinano registered her third season and fourth career double-double, registering 30 points and 10 rebounds. Czinano recorded her third 30-point game of the season.
Sophomore Caitlin Clark and redshirt junior Kate Martin each tallied double-figure scoring with 18 and 14, respectively.
Czinano and Clark both rank on the Iowa Top-10 scoring list with 1,718 (9th) and 1,620 points (10th).
Martin assisted a season-high eight assists.
Both teams now await Selection Sunday next Sunday where both should host first and second round games as top 16 teams.
Iowa Post Game Press Conference
https://nam04.safelinks.protection.outlook.com/?url=https%3A%2F%2Fprotect-us.mimecast.com%2Fs%2Fmt_PCpYlgBiPoVjuPMSht%3Fdomain%3Dwe.tl&data=04%7C01%7Czgroen%40bigten.org%7C5139cbca401f42f0673f08d9ffd031c2%7C5c35f07cce5e4fa582baa44898424550%7C1%7C0%7C637822091912352598%7CUnknown%7CTWFpbGZsb3d8eyJWIjoiMC4wLjAwMDAiLCJQIjoiV2luMzIiLCJBTiI6Ik1haWwiLCJXVCI6Mn0%3D%7C3000&sdata=i8TkwDcWfm4RCPBeSzRHnFdL%2Bo4pX7XuBDXNi0muRto%3D&reserved=0
Indiana Post Game Press Conference
https://we.tl/t-JUh5U6CSiw
Excel H Sports All-BiG Ten Women's Basketball Tournament Team
MOP   Monica Czinano, Iowa
Caitlin Clark, Iowa
Grace Berger, Indiana
Nicole Cardona-Hillary, Indiana
Kate Martin, Iowa
Jacy Sheldon, Ohio State
Jaz Shelley, Nebraska
Naz Hillmon, Michigan
Laila Pheila, Michigan
Vernoica Burton, Northwestern