The Drumbeat
Purdue Basketball
Shawn Martin
ExcelHSports
Purdue sophomore sensation Jaden Ivey and Wisconsin sophomore Johnny Davis were teammates last Summer (along with Purdue freshman Caleb Furst) on USA Basketball's Under 19 team that won a Gold Medal at the U19 World Cup in Riga Latvia in July.  Ivey was a key component on the team and their second leading scorer. Davis though was a complimentary player.
Davis put on a show Monday night in Wisconsin's come from behind 74-69 win in Mackey Arena over 3rd ranked Purdue (12-2 overall and 1-2 in B1G), much to the dismay of the Black and Gold clad sellout crowd. He missed his first two shots, and then scored on a rebound tip of his second miss with 16:39 left in the first half.  He would add eight more points before the teams headed to the locker rooms at halftime.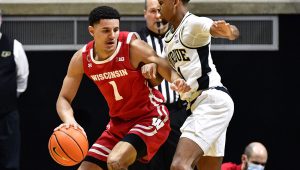 Photo courtesy of University of Wisconsin Athletics
Conversely, Ivey finished the opening 20 minutes with one point on one of two from the free throw line and missing both of his first half field goal attempts – both three-pointers. The Badgers took a 29-24 lead into halftime over the stagnant Boilers.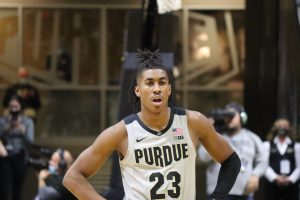 Photo by: Rex Crabtree/Excel H Sports
Purdue – and specifically Ivey – came out on fire to open the second stanza and quickly erased the five-point deficit. After Trevion Williams opened the second half scoring with a jumper, Ivey nailed a three to tie the game up at 29 with just 45 seconds expired of the second half clock. Shortly, Ivey made two from the charity stripe to give Purdue the lead.  Davis then hit a free throw and a bucket before Ivey electrified the crowd with another three to put the Boilers up 34-32 with 17:09 left in the game.
The two B1G rivals went back and forth for a couple of minutes, and Purdue led 39-38 when Sasha Stefanovic hit a three with 14:33 left. Zach Edey sandwiched his next four points around the Badgers Davis two freebies, and the Boilers were rolling 46-40 with 13 minutes left to play.  Ivey would give Purdue their largest lead of the game – 49-42 – when he made a layup with 11:16 left.
The 23rd ranked Badgers (11-2, 2-1) quickly scored five straight of their own, and ten of the next 11 points, and took a 52-50 lead when Davis hit a three-pointer with 9:06 remaining.  With the score tied at 62, Wisconsin guard Brad Davison hit a three with 3:21 on the clock – Purdue would never catch up the rest of the game.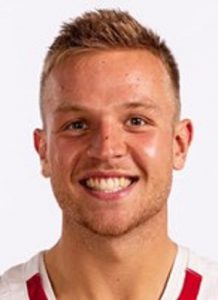 Photo courtesy of University of Wisconsin Athletics
In addition to his career high 37 points, Davis added 14 rebounds, 3 assists, 2 steals and 2 blocks.  He also sat out two minutes – that may have been Badger Coach Greg Gard's lone mistake of the night. He was 13-24 from the field, 2-5 from long range, and hit nine of his twelve free throws. He claimed he didn't eat breakfast this morning – guessing he won't be eating before Noon again for a while.  Davison hit several key shots at critical times during the game. He finished with 15 points.
Edey proved to be nearly unstoppable for the Boilermakers. Three Wisconsin Bigs took a seat late in the game after trying to matchup with the 7-foot-four Canadian (who also played in the same World Cup tournament last Summer as Davis, Ivey, and Furst did, but for Canada). Edey drew most of the 15 combined fouls those three players had leading to their disqualification from the game.  Edey finished with 24 points and ten rebounds. Ivey finished with 14 – but eight of them came in the quick flurry to start the second half. Other than that, he was largely contained by the Wisconsin defense.  Williams added 9 points and Mason Gillis kept the Boilers in the game during the opening half, hitting all three of his shot attempts for nine points.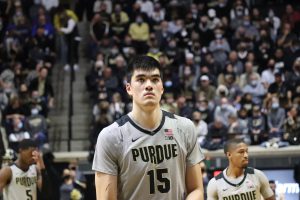 Photo by: Rex Crabtree/Excel H Sports
Almost no one in Boilermaker country thought the Boilers would lose a game at home this season.  This is a talented, deep, and experienced team. What is "wrong" with them many are asking today.  The Boilers sit at 1-2 in conference play – they were (are) expected to contend for both the regular season and tournament titles this season.  Not only did they lose at home, but their other conference loss was to Rutgers, a team that is expected to finish in the middle of the fourteen-team league.
This is not one of Matt Painter's best defensive teams. They aren't "bad" defensively, but they cannot seem to string together stops for an extended period of time like Purdue fans – and the head coach – are accustomed to seeing their team do. Offensively, there is a lot of standing and watching to see what Ivey, Edey, or Williams can do. The ball does to tend to go to one of those three players – all exceptional players – and then it stops.  Not all the time, but enough to affect the offensive flow that is usually also a trademark of Painter coached teams.
Purdue struggled shooting the basketball Monday night – while they were very near their season average from three-point range (40% to 41.1%), they were way below on both their field goal and free throw season percentages against the Badgers.  For the season, Purdue shoots 51% from the field and 73% from the free throw line. Monday night they misfired at 41% and 62%.  Purdue got very little offensive production from their point guard position. Isaiah Thompson and Eric Hunter Jr aren't necessarily expected to score a lot, but they combined for two points, four rebounds, and four assists in 40 minutes.  Yes, they do a lot of other intangibles that are important, but they are going to have to be able to step up and knock down open shots and be more prominent offensively or teams just won't guard them and help out on Ivey, Williams, and Edey.
Is the sky falling? Is this suddenly not a good team able to dream big? Not at all.
This is a team that is surprisingly, still trying to find itself – find its identity.
"Who are you when you miss free throws? Who are you when don't have a great field goal percentage?" Painter said afterwards.  "Can you still figure out things – can you still win those games?"
"Mental toughness is just doing simple things, over and over and over again" the Purdue coach reflected.  "That's what mental toughness is. When something applies in the game of basketball – this is what I'm supposed to do – I do my job every time. That is what mental toughness is."