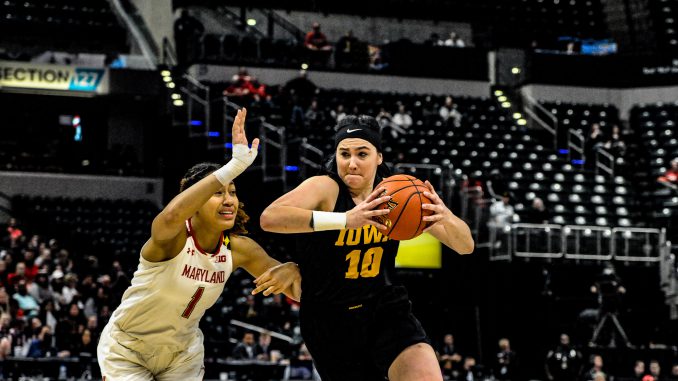 Iowa Battles Maryland For Title
by Steven Stremming
Maryland returned to the BiG Ten 2019 Women's Conference Championship for the fifth straight year to face Iowa, who hadn't been here in five years, at Banker's Life Fieldhouse, Sunday night March 10th, 2019.
Maryland opened the contest with five straight points, all of them by one of the two best players in the conference Glenn Dale, Maryland's  Junior Kaila Charles.
Photo by Steven Underwood, Excel High School Sports
Iowa then responded by charging out to a 17 to 7 lead behind LaGrange, Illinois Junior Kathleen Doyle's three pointer and a two point field goal before the other best player Port Wing, Wisconsin Sophomore Megan Gustafson just took over and expanded the Hawkeye lead to five at the 9:26 mark.
Photo by Steven Underwood, Excel High School Sports
Gustafson ended up with 26 points and five boards in the first half while Maryland's Kaila Charles' 22 points and six for six from the line topped the Terps.
Iowa expands the lead after three to nine as they outscored Maryland 18 to 15.
After three Gustafson has 38 points and eight boards for Iowa while Charles has 28 points and six boards for the Terps.
On to the final quarter we go.
The final quarter is in the books and the Lisa Bluder led Iowa Hawkeyes claim their first title since 2001 when they downed Maryland 90 to 76 behind Sophomore Megan Gustafson's 45 points, most ever in a championship game and 13 rebounds.
Supporting the Hawks cause were Tania Davis' 14 points and Kathleen Doyle's 13.
Kaila Charles simply was terrific as she poured in 36 points to go along with nine rebounds for the Terrapins. Charles was 15 of 30 from the field.
Miami, Florida Sophomore Channise Lewis handed out eleven assists.
The BiG Ten Women's Conference Championship team included MVP: Megan Gustafson, Iowa, Kaila Charles, Maryland, Hannah Stewart, Iowa, Stasha Curry, Rutgers and Ali Patberg, Indiana.