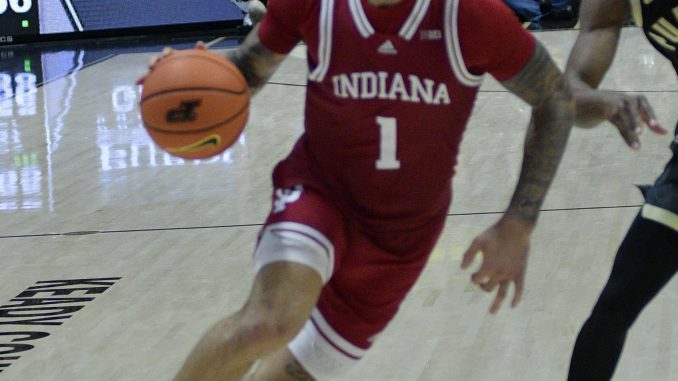 Hood-Schifino Shines in Hoosiers win at Mackey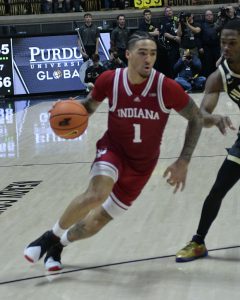 by: Steven Stremming
photos by: Anthony Harper/ Excel H Sports
Indiana hadn't claimed a win at Mackey Arena against the homestanding Boilers since, well a decade ago. February 25th, 2023, saw that streak snapped.
And the main reason it snapped was a game plan, or developed into a game plan where Pittsburgh, Pennsylvania freshman Jalen Hood-Schifino would/could/did about anything he wanted in styming Purdue.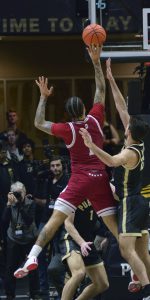 photos by: Anthony Harper/ Excel H Sports/Indiana Sports Network
Unlike his game at Michigan State earlier in the week, he was game ready from the tipoff, and today he looked ready for the next level after pouring in 35 points and playing a solid defense for the Hoosiers.
While Hood-Schifino was driving down the lane and shooting pull up jumper, after pull up jumper, Trayce Jackson Davis had his game going in a different direction.
Photo by: Anthony Harper/Excel H Sports/Indiana Sports Network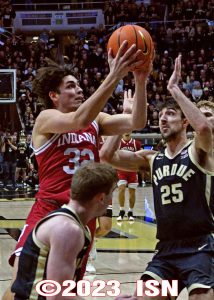 Photo by: Anthony Harper/Excel H Sports/Indiana Sports Network
Jackson-Davis was being double teamed and time after time he would take the ball and send out to a wing where either Houston, Texas senior Miller Kopp or Culver, Indiana's junior guard Trey Galloway were in a shooting position and fired away, successful attempt after another.
In fact, Indiana shot 46.7% percent from behind the arc for the night.
Meanwhile, the Hoosiers double and sometimes triple teamed, player of the year candidate, Toronto, Ontario's Zach Edey and gave pressure to Purdue freshmen guards Braden Smith and Fletcher Loyer.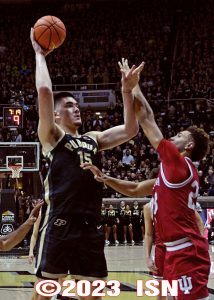 Photo by: Anthony Harper/Excel H Sports/Indiana Sports Network
Edey would end his night with 26 points and 16 rebounds.
The only other Boilermaker to reach double figures was Loyer, who tallied 14 to go along with his five rebounds.
Fort Wayne sophomore Caleb Furst played a strong first half of the game and ended with eight points for the contest.
Indiana was led by Hood Schifino's 35 points, seven rebounds, two assists in fourty minutes of floor time. Kopp and Galloway ended their nights with thirteen points and Jackson Davis scored ten points.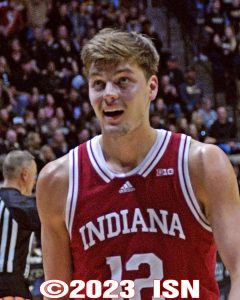 Photo by: Anthony Harper/Excel H Sports/Indiana Sports Network
Purdue continues to lead the B1G Ten conference with a 13 and five mark while Indiana settles in at 11 and seven.
UPDATE:
Purdue Clinches Share of Big Ten Men's Basketball Title
ROSEMONT, Ill. (Feb. 26, 2023) – The Purdue University men's basketball team clinched a share of the 2022-23 Big Ten Conference men's basketball championship today with Maryland's win over No. 21 Northwestern. Despite falling to 13-5 in the Big Ten after Saturday's loss to No. 17 Indiana, the Boilermakers own a two-game lead over four teams who sit at 11-7 in the league with two games to play.
This is Purdue's 25th Big Ten men's basketball title, three more than Indiana for the most in conference history, and its first since sharing the 2019 crown with Michigan State.
Purdue will travel to Wisconsin on Thursday, before closing its regular season on March 5, as it welcomes Illinois to Mackey Arena.
Indiana, Maryland, Northwestern and Michigan closed this weekend's action tied at 11-7 in the conference standings with two games to play.
The Hoosiers will host Iowa on Tuesday before closing the season on Sunday with a home date against Michigan. Maryland will face a pair of road contests, visiting Ohio State on Wednesday and Penn State on Sunday. Northwestern will host the Nittany Lions on Wednesday and visit Rutgers on Sunday, while Michigan will visit Illinois on Thursday before meeting Indiana on Sunday.
The 2023 Big Ten Men's Basketball Tournament will be held March 8-12 at United Center in Chicago.
Fans are encouraged to visit the official Big Ten Men's Basketball Tournament web site (bigten.org/MBBT) and follow Big Ten Men's Basketball on Twitter (@B1GMBBall) throughout the 2022-23 season for more information.