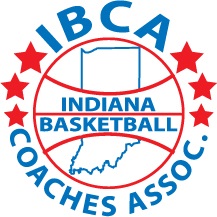 To: All IBCA Members
From: Steve Witty, IBCA Executive Director
Re: 2020 IBCA Clinic Schedule
See Below and you will find the IBCA Clinic Schedule for April 24 and 25, 2020 at Lawrence North High School.
It is hoped that the coronavirus crisis will be over by this clinic date, but obviously there is a great deal of uncertainty.
If moving forward, clinic schedule changes need to be made, you will be notified. If worst case scenario,   the clinic would have to be canceled, all registration fees will be refunded.
Your organization is planning as though things will be back to normal soon. Register for the clinic online as usual. I am looking forward to seeing everyone on April 24 and 25.
Best wishes
Steve Witty
IBCA executive Director.
IBCA Clinic Schedule
Friday April 24 and 25, 2020
MAIN GYM                                  Friday April 24, 2020
10:00-10:55 A.M.      Round Table Discussion: Moderator Bob Lovell
                                    Coaches: Dave Nicholson, Virgil Sweet, Charles Mair
11:00-11:30am                      Welcome, IBCA issues and answers
11:35-12:10 p.m.       Al Gooden, Lawrence Central  "Team Defense"
12:15-12:50 p.m.       Lauren Votaw, Fishers "Players led culture"
12:55-1:30 pm           Marc Urban. Chesterton "Game Carryover"
1:30-2:15pm             Sandwich-vendor break
2:20-2:55 p.m.           Adam Yoder, Northwood "Secondary Break Options/Offense Quick
                                                                               Hitters"
3:00-3:35 p.m.                       Nate Hawkins. Heritage Hills           "Dribble Drive Breakdown Drills"
3:40-4:15 p.m.          Chris Giffin, Lawrence North  "Skill Development for Guards and
  Wings"
4:20-5:15 p.m.                       Marianne Stanley, Fever Coach TBD
5:20-5:55 pm             Marc Davidson, Ft Wayne Blackhawk TBD
MAIN GYM
6:00-6:40 p.m.                                             Awards, Introductions, Special Recognition
State Champion & Runner up Coaches
Virgil Sweet Awards
Coaching Century Awards
Roy Gardner/Mildred Ball Awards
Administrators of the Year
PGC Awards
Introductions of College Coaches in Attendance
6:40-6:50 p.m.                       Break/Door prize giveaways and cash giveaways
6:50-7:45 p.m.                       Travis Steele, Xavier University TBD
Saturday April 25, 2020
8:00-8:30 a.m.           Donuts & Coffee
8:30-9:00 a.m.           Kendall Wildey, South Decatur, "Up Tempo Pressure, Offensively and
                                                                                        Defensively"
9:05-9:35 am             Brian Smith, Logootee TBD
9:40-10:10 am            Jerry Hickey, Salem TBD
10:15-10:45 a.m.       Brandon Appleton, Angola "Match-up Full Court Press"
10:50-11:20 am         David McCollough, Shenandoah "TBD
11:25-12:20 a.m.       Jack Owens, Miami of Ohio, "Building Team Defense"