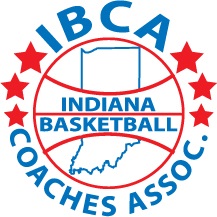 The IBCA (Indiana Basketball Coaches Association) has a brand new primary sponsor for the Player of the Week Program, and we are excited to announce our work with Franciscan Health as the title sponsor.
Franciscan Health, formerly Franciscan Alliance, is a healthcare system serving Indiana and parts of Illinois. It operates 14 hospitals and employs over 18,000 full- and part-time employees.
Just over 100 high school boys and girls will have the opportunity to earn IBCA/Franciscan Health Player of the Week recognition during the 2020-2021 season. This is now the 13th season of the IBCA Player of the Week awards. Initiated in 2008-2009, thanks to the support of the Indiana Pacers and the Indiana Fever, these awards were given to deserving boys and girls who had outstanding weekly performances.
Franciscan Health is beginning its first season as the award's presenting partner. Last season, 109 players (50 boys in a shortened season, and 59 girls) were cited for their standout play. For the 2020-2021 season, plans are again for at least one boy and one girl from each of the three IHSAA districts to be honored each week, so long as there are nominees for the awards. The IBCA would prefer that nominations come from Head Coaches or from media in those specific areas of the state.
 Head Coaches DO need to be current IBCA members in order to have their players nominated. If you are not up-to-date with your 2020-2021 membership, you may go to our website to get that taken care of. You can pay online with a credit card, or you are welcome to fill out the online form and mail in your payment (or have your Athletic Director mail in your payment for you). Media members, please encourage your local coaches to renew their memberships, because even if you as a media member nominates players, their coaches still must be current members.