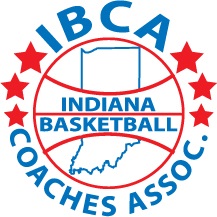 A Record-Setting Performance Kicks Off the Season; IBCA/Franciscan Health Players of the Week Selected
Last week marked the start of the 2022-2023 season for girls' basketball in the Hoosier State, as most teams laced them up for the first time. There were quite a few strong performances throughout the week, but three ladies stood out as the first recipients for the IBCA/Franciscan Health Player of the Week award, one from each of the IBCA's three districts.
Mishawaka Marian Senior Nevaeh Foster, Twin Lakes Junior Olivia Nickerson, and Shelbyville Senior Kylee Edwards have been selected as honorees for Oct. 31-Nov. 5 in the recognition program coordinated by the Indiana Basketball Coaches Association. Foster is the recipient for District-1, Nickerson is the winner in District-2, and Edwards takes home honors in District-3.
Lady Knight Nevaeh Foster has Mishawaka Marian off to a 2-0 start this season, following a pair of strong games last week. The Knights opened their year at conference rival Bremen on Tuesday, winning by a comfortable 53-36 margin. In that contest, the 5-9 guard buried six 3-pointers and knocked down eight shots from the charity stripe, on her way to 36 points for the game. She added an impressive 14 rebounds, three assists, eight steals, and she even blocked a shot in victory.
Two nights later, in their home opener, Marian took care of nearby Mishawaka, knocking off the Cavemen by a 56-27 tally. Foster was once again in rhythm, scoring 30 points on 14-22 shooting from the field. Committed to Western Kentucky University, the Senior guard again helped in a variety of ways, posting six rebounds, three assists, seven steals, and one blocked shot. Foster entered the season just over 1500 career points, and she's off to a fast start, as she seeks to reach 2000 before season's end.
In District-2, Twin Lakes' Olivia Nickerson crashed the Senior party of Week-1 winners, as the Junior opened her season by scoring her 1000th point in a lopsided win over Boone Grove. In their opening contest, Nickerson was incredibly accurate, knocking down 14-17 shots from the field, including 8-10 from beyond the arc. She finished with 36 points, plus she contributed seven rebounds, a pair of assists, and four steals to the effort.
Nickerson and the Lady Indians returned to the court Saturday, winning a nail-biter against a tough Northwestern team, 56-50. In the success, the 5-7 guard was limited to just eight shot attempts, but all eight were from 3-point range, and overall, she knocked down 5-8 from range for 15 points. Nickerson collected five more caroms, dished out three assists, and picked off two steals in the big win for Twin Lakes.
As for records being set, Shelbyville Senior Kylee Edwards eclipsed a mark that had stood its place for 28 years. The 5-7 guard had an offensive outburst, erupting for 45 points in the Golden Bears' season opener Tuesday night. The previous record of 43 points was set by Misty (Smith) Albrecht. In the 73-53 win against Brown County, Edwards knocked down 16-27 shots from the field, along with a near perfect 10-11 shots from the free throw line. She also found time to add seven rebounds, five assists, three steals, and two blocked shots next to her name on the stat sheet. While talented on the hardwood, Edwards is a top national prospect in softball, where she has committed to Mississippi State University.
This is the 15th season for the Indiana Basketball Coaches Association Player of the Week program, but just the third season it is being presented by Franciscan Health, a corporate sponsor of the Indiana Basketball Coaches Association.
Player of the Week winners are chosen each week from each of the IHSAA's three districts. Girls winners will be chosen from now through the Monday following the IHSAA Girls State Finals. Boys winners will be chosen starting in three weeks and through the Monday following the IHSAA Boys State Finals.
2022-23 Weekly Winners
Oct. 31-Nov. 5: District-1 girls: Nevaeh Foster, Mishawaka Marian. District-2 girls: Olivia Nickerson, Twin Lakes. District–3 girls: Kylee Edwards, Shelbyville.