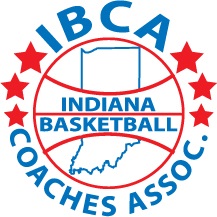 IBCA releases Indiana basketball lists of 1,000-point career scorers
3,387 players on boys' list started in 1980; 2,180 players on girls' list compiled this year
    The attached files are lists of Indiana high school basketball 1,000-point career scorers, as compiled by the Indiana Basketball Coaches Association. There are two lists attached, one for boys and one for girls.
    The boys' list contains 3,387 players with players listed as far back as Don Shelton, a 1919 Crawfordsville graduate, with 1005 points.
    Other early members of the boys' 1,000-Point Club include Fuzzy Vandivier (Franklin Community 1922) with 1,597 points; Lloyd Wampler (Vincennes Lincoln 1922) with 1,205 points; Clement Crowe (Lafayette Jeff 1922) with 1,048 points; Bernie Devol (Lebanon 1923) with 1,165 points; Wilbur Cummins (Frankfort 1925) with 1,130 points; Karl "Knobby" Dickerson (Crawfordsville 1925) with 1,020 points; and Lloyd Williams (Goshen 1929) with 1,174 points.
    The IBCA began compiling a boys' list of 1,000-point scorers at the end of the 1979-80 season. Junior Mannies started an Indiana high school record book at that time, and his initial list of 1,000-point scorers included 357 players. Mannies compiled the list for two more years until passing away in 1983.
    Gene Milner took over the compilation of the boys' 1,000-point scorers list in 1982-83. Milner, currently the IBCA's annual record book editor and website coordinator, has overseen the boys' 1,000-Point Club listing for the past 39 years.
    The IBCA decided to compile a statewide girls' 1,000-point scorers list earlier this year when there was an inquiry for both boys' and girls' lists and no such list was available for girls. Thus, from late January to now, Pat McKee has been in communication with literally hundreds of people to compile the first IBCA girls' 1,000-point scorers list.
    The girls' list contains 2,180 players with three 1976 graduates as the inaugural members — Rochelle "Shelly" Newell of Rochester (1,250 points), Judi Warren of Warsaw (1,232 points) and Pam Jones of Scottsburg (1,095 points). Other early members of the girls' list include seven 1977 graduates — Jennifer Voreis of North Judson (1,247 points), Teri Rosinski of Norwell (1,210 points), Dru Cox of Plainfield (1,175 points), Sharon Schreyer of Lewis Cass (1,163 points), Cindy Piet of Scottsburg (1,135 points), Rhonda Martin of Southwood (1,028 points) and Janice McCracken of Vincennes Lincoln (1,012 points).
    As mentioned above, literally hundreds of people have been contributors to this new list of girls' 1,000-point scorers. Among the contributors to this list are Bob Adams and Noah Stuckey, who each attempted to compile a girls' list in the past and both helped get this new list started.
    Others who helped with research for multiple schools for the girls' list included coaches (or former coaches) Kyle Amor, Linda Barnett, Curt Benge, Brandon Bradley, Brad Burden, Amanda Carmichael, Tyler Choate, Rod Fisher, Angie Hinton, Kirsti Holloway, Ron Howell, Joe Johnson, Wayne Kreiger, Jeff Liddick, Darlene Mathew, Rush McColley, Julie Meeks, Kevin Merriweather, Tracie Mezera-Juarez, Marty Niehaus, Mark Redding, Rich Schelsky, Kyle Shipp, Matt Stone, Donna Sullivan, Missy Voyles, James Wade and Deak Weaver; media members Andy Amey, David Campbell, Bryan Gaskins, Larry Goffinet, B.J. Hargis, Keith Nuest, Earl Mishler, Tom Pellegrene, Susan Scholl, Blake Sebring, Justin Sokeland, Rick Teverbaugh, Rich Torres, Dan Vance and Beau Wicker; and basketball followers Sean Bell, Bill Boone, Terry Downham, Tim Grove, Cliff Johnson, Tony Oilar, Martha Randel, Roger Robison and D.L. White.
    The IBCA is releasing these lists so each may be used a resource by the Indiana High School Athletic Association, the Indiana Basketball Hall of Fame, the Indiana High School Basketball Historical Society, media members from across the state, all IHSAA-member schools and conference, county or other groups that may be interested in them.
    Milner and McKee understand that the respective 1,000-point scorers lists may need corrections or updates with players not listed. If anyone has additional boys' information, please contact Gene Milner at gmilner@tds.net. If anyone has corrections or updates to the girls' list, please contact Pat McKee at patmckee77@aol.com.
    These lists will be updated as appropriate, if corrections from past seasons are found. The lists, of course, will be updated at least one time annually at the end of each season with the new players who reach the 1,000-point milestone in the given season.