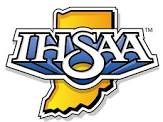 Final Scores from today's 42nd annual IHSAA Girl's State Class Basketball Finals:
Oakland City Wood Memorial 68 Union City 43 Class A
photo by Rick McIntyre, Excel High School Sports/McIntyre Imaging
Wood Memorial Chops Union City In Class 1A Finale
Jeff Robison
Flyer Correspondent
INDIANAPOLIS-A heavy dose of Brenna Maikranz and dominance in the paint proved decisive in the IHSAA Class 1A state championship game as the top-ranked Oakland City Wood Memorial Trojans separated themselves from eighth-ranked Union City 68-43 Saturday at Bankers Life Fieldhouse.
Maikranz delivered on 8-of-9 first half shots as she paced everyone with 17 points before the break. The Trojans also made a second quarter run off steals as their lead ballooned from two to ten points late in the first half.
Union City point guard Justiss Cantu (18 points) tried to keep the Indians close, but the first-time finalist team found their final step too high to tower.
Defense and rebounding also played roles, as the trio of Lexi Lashbrook (12), Chloe Bartley (10), and Sydney Day (8) all bested Union City's top individual Baylee Hartman (7) on the glass, as the Trojans doubled up their opponents 46-23. Meanwhile, the usually potent inside scoring from the Indians yielded just nine points for the game.
Both Wood coach Johnnie Bartley and UC coach Sarah Black focused on those discrepancies.
"The keys for us were rebounding and playing defense," Bartley said. "Our defense really set a tone for us. We did a good job blocking out, and Lexi (Lashbrook) protected the basket, which makes us a better basketball team."
"(Wood Memorial) had twice as many rebounds," Black said. "We did not crash the boards and rebound as well as we can, which hurt us, especially at the end of the game."
The Indians were unable to cut into the difference going forward, a situation further complicated by fouls. Ellie Kerns and Kora Kerns both fouled out in the fourth quarter, while center Courtney Wise also had her minutes reduced for foul trouble in the third quarter.
The Indians wilted down the stretch as Wood Memorial outlasted Union City 22-7 in the final quarter to sprint to the win.
Maikranz led all scorers with 26 points for Wood Memorial, while Carsen Robinson scored 16, and Sydney Day added 10 more. Cantu had the only double digit offensive number for the Indians. Kelsey Zimmers and Ellie Kerns were next or Union City with 8 points apiece.
Maikranz was later named recipient of the Patricia Roy Mental Attitude Award given by the IHSAA.
BOX SCORE
WOOD MEMORIAL (68)-Brenna Maikranz 26, Sydney Day 10, Lexi Lashbrook 7, Chloe Bartley 8, Carsen Robinson 16, Katie Thacker 0, Morgan Loveless 0, Chloe Mowery 1, Sydney Lamar 0, Makayla Stocker 0, Kennedy Wilkerson 0, Jenna McGowan 0
UNION CITY (43)-Justiss Cantu 18, Courtney Wise 7, Baylee Hartman 2, Kelsey Zimmers 8, Kora Kerns 0, Ellie Kerns 8, Mackenzie Green 0, Reagan Hoggatt 0, Kahlee Dowler 0, Luzy Corona 0, Kelsie Burton 0, Sophia Spence 0
Officials: Eric Coburn, Zachary Sliwa, Dennis Espenlaub
Eastern Pekin 42 Oak Hill 31 Class AA
photo by Rick McIntyre, Excel High School Sports/McIntyre Imaging
Eastern Shoots Up First State Championship In Class 2A
Jeff Robison
Flyer Correspondent
INDIANAPOLIS-For a small high school, there may be fewer things more special that making a first time trip to Indianapolis for an IHSAA team state championship event. And, it may be the best ever to win that first title attempt—so it was on Saturday as the Eastern (Pekin) Musketeers claimed their first-ever IHSAA team championship via a 42-31 victory over the Oak Hill Golden Eagles
The Musketeers parlayed advantages in defense, turnovers, and three point shooting into the difference needed to capture the win. Defensively, Eastern restricted Oak Hill to 31 total points, matching a previous Class 2A finals low point that Oak Hill had against Heritage Christian in 2008.
Eastern coach Mike McBride took pride in being the first Washington County school to claim a state championship.
"We used ball pressure, and did a good job preventing the ball from getting into the post," McBride said. "Defense is really where start from everything. We like to keep it simple and stick with our man-to-man, which worked for us. Along the tournament, we have been a little bit lucky, but we will celebrate and enjoy this (title) as long as possible."
Oak Hill was limited to just 14 points in the first half, but appeared to come to life in the third quarter with a run that tied the score at 22-22. But, Eastern rallied with answers to that run with some timely baskets and steals. Rachel Stewart made a steal and free throw to stem the tide. As a result, the Golden Eagles never gained the lead, and were unable to change offensive momentum.
Particularly frustrating for Oak Hill was the inability to pierce Eastern's defense and get the ball inside to top scorer freshman Taylor Westgate, who tallied just six points for this game.
"We had a solid third quarter, but give Eastern a lot of credit for stepping up and hitting some timely shots," Oak Hill coach Todd Law said. "Stewart affected a lot of our shots with her blocks, and we could not get shots to go down. We only got Taylor (Westgate) four attempts and struggled to get the ball to her. But, the entire tournament experience will do nothing but help us over the next few years."
Eastern proved to have the best player on the floor with junior guard Stewart, who led all players with 20 points, five steals, and four blocked shots. Senior leader Taylor Drury was good for nine points in her final contest.
The Musketeers also got bonus scoring as freshmen guards Isabell Claywell and Caylee Graves contributed four treys, with Claywell hitting all three of her attempts. Sophomore guard Jenessa Hasty led Oak Hill (27-2) with 13 points.
Doubling up a special day for the Musketeers was Drury, who was awarded the Patricia Roy IHSAA Mental Attitude Award for Class 2A.
BOX SCORE
EASTERN (42)-Rachel Stewart 20, Taylor Drury 9, Isabell Claywell 9, Holly Purlee 0, Caylee Graves 4, Veronica Judson 0, Savannah Emmert 0, Kolbi Sponcel 0, Brooklyn Casey 0, Erin Feller 0, Olivia Fleenor 0, Olivia Pickerill 0
OAK HILL (31)-Kristin Dubois 0, Jenessa Hasty 13, Kaela Robey 6, Adrianna Trexler 6, Taylor Westgate 6, Brittany McCorkle 0, Auja Smith 0, Andrea Wilk 0, Marissa Wilk 0, Lexi Carmichael 0, Brooke Law 0, Sarah Wood 0
Officials: Scott Arthur, Nick Wininger, Kevin Lewis
South Bend St. Joseph 57 North Harrison 49 Class AAA
photo by Rick McIntyre, Excel High School Sports/McIntyre Imaging
Team Effort lead Indians Claim 3A Title
Steven Stremming
Excel High School Sports
(Indianapolis) Saturday was a date with history for both programs, North Harrison was looking for their first state championship after last season's trip to the IHSAA State Finals that ended up with a runners-up finish while St. Joseph was trying to win their first state championship since 2005 when now coach, Sydney Smallbone was a key player on that team.
Both teams opened up the game getting familiar with Banker's Life Field House as North Harrison took a one point lead at the end of one quarter, 11-10.
Three minutes into the 2nd quarter St. Joseph opened up a lead when Nicole Konieczny buried two free throws to open the lead to 20-16, the Indians followed that with a three point shot by Konieczny at the 3:46, Cali Nolot responded with a lay-up for North Harrison to narrow the gap to 23-18, at the 2:36 mark Gracie Quinn made a lay-up making it 25-18. Indian Gracie Quinn would close out the 1st half scoring with a field goal and one to make the halftime mark at 28-18 St. Joseph.
The third quarter was a balancing act as North Harrison outscored St.Joseph 10 to seven.
Going into the last quarter St. Joseph was in a promising 35 to 28 lead.
The last quarter was a scoring fest as St. Joseph put up 22 points and North Harrison adding 21 to their score.
The damage had already been inflicted though and South Bend St. Joseph walked away with their first title since Mike Megyesi led them to the 2005 championship with a 57-49 win.
Big efforts were given by several Indians including Gracie Quinn's five points in nine minutes and the line of Abby O'Connor, eight points, eight rebounds, five assists, two steals and five blocked shots.
Killian Mountford was named the recipient of the Patricia L Roy Mental Attitude award winner.
Sydney Smallbone becomes the first player in Indiana history to have won a state championship as a player and as the Head Coach.
South Bend St. Joseph (57)-Daly Sullivan 21, Abby O'Connor 8, Keegan Sullivan 7, Killian Mountford 7, Nicole Konieczny 9, Savannah Scott 0, Grace Quinn 5.
North Harrison (49)-Taylor Rennirt 6, Lilly Hatton 11, Hallie Hinton 3, Cali Nolot 27, Stevi Burns, 0, Shelby Kondovski 0, Savana Rhodes 0, Emma Nokes 0, Jessicka Chiquito 2.
Officials: Mark Hooper, Kevin Keen and Scott DeMoss.
Homestead 61 Pike 54
photo by Rick McIntyre, Excel High School Sports/McIntyre Imaging
McLaughlin, Role Players Lead Spartans
Steven Stremming
Excel High School Sports
(Indianapolis) Karissa McLaughlin showed Saturday evening why she is a D-1 recruit (Florida) as she willed her way on game play from start to finish. McLaughlin's line was 8-18, 2-5, 11-14, 29 points, four rebounds, six assists and only four turnovers in 32 minutes of action.
Basketball is a team sport and McLaughlin's teammates didn't disappoint as Madisen Parker added 17, Jazymyne Geist 8, Haley Swing 5 and Graber added two on the way to to the 4A championship.
The game was played with intensity throughout as Pike came to not only compete but to claim victory.
Pike has come along way since last year's debacle against Ben Davis when nearly every Pike player entered the melee.
This year the program has came a long way. It started when Pike brought back former Head Coach Bob Anglea and the student/athletes rededicating their efforts, so much they went into the Class 4A State championship with a 13 straight wins.
Pike saw great effort out of Michaela White, 12 points, nine rebounds in 32 minutes of action.
The Red Devils also got the best effort, perhaps in her young career, that of sophomore Jada Roberson who tallied 18 points, five rebounds and six steals in her 32 minutes of work.
Homestead (61)-Madisen Parker 17, Teryn Kline 0, Karissa McLaughlin 29, Haley Swing 5, Jazmyne Geist 8, Kara Gealy 0, Sydney Graber 2.
Pike (54)-Jada Roberson 18, LaRae Roscoe 8, Angel Baker 14, Michaela White 12, Kinnidy Garrard 2, Mariah Brown 0, Desa Geisler 0.
Officials: Andy Simpson, Jason Ferguson and Mike Ward.
Attendance:
8,058 AM
7,689 PM
15,747 Total
Highest total since 2009 at Lucas Oil Stadium