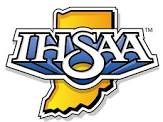 Marquette Catholic Makes 1A Repeat No-No Problem
by: Jeff Robison
Photo by Steven Underwood, Excel High School Sports
Having a rematch between top-ranked Marquette Catholic and second-seeded Vincennes Rivet for the Class 1A title was not unexpected. But, the Blazers' dominant twin towers of Sophia and Emma Nolan ensured no doubt in the outcome as Marquette Catholic rolled to a 57-36 victory in the opening contest of IHSAA Girls Championship Saturday.
Sophia Nolan sparkled all day as she blistered the nets for 24 points and corralled 15 rebounds. Nolan shot 10-of-13 from the field, and hit on all four three-point attempts. Nolan also was defensive menace, making four blocks and three steals as the Blazers contained Rivet's offense to just 28 percent shooting for the day.
Photo by: Steven Underwood, Excel High School Sports
Marquette Catholic established itself from the onset, as each Nolan sister scored on high-low set play baskets, assisted by their fellow twin, giving the Blazers an initial 4-0 lead—a good omen for the team per winning coach Katie Collignon.
"We wanted to play Marquette basketball," Collignon said. "We got the two high-low plays right away, and that got things rolling. Our defensive pressure came out and gave (Rivet) trouble, taking them out of the paint. I was really proud of our effort."
Marquette Catholic held a 27-13 advantage by halftime, and never really looked back.
Meanwhile, Rivet, which shot below 20 percent in the 2018 title game meeting, continued to struggle putting the ball in the Bankers Life Fieldhouse nets. The Patriots were only marginally better in their second trip to Indianapolis, with just six first-half field goals, and 15-0f-54 (27.8 percent) at the finish.
Rivet coach Rick Marshall admitted there was no perfect preparation for facing the strength and athleticism of the 6-foot-2-inch Nolan's offered.
"You cannot simulate (the Nolan's) in practice, with that kind of physicality and quickness," Marshall said. "Our game is drive and dish, and it was tough to get the ball in the middle. I wish we had a little better performance today, but we had a great tournament run.
Emma Nolan added 12 points to the cause, as the sisters combined to match their foes' offensive total. Junior Caroline Herman paced Rivet with 11 points, while Rivet's 22-point scorer Grace Waggoner was limited to nine points.
Photo by: Steven Underwood, Excel High School Sports
Waggoner had some comfort in the loss, however, as she was awarded the Patricia Roy Mental Attitude Award for Class 1A during postgame festivities.
Photo by: Steven Underwood, Excel High School Sports
Eagles Finally Atop Class 2A Title Hill
by: Jeff Robison
Photo by: Steven Underwood, Excel High School Sports
In their first three visits to the IHSAA Class 2A title game, the Oak Hill Eagles had always been the bridesmaid as state runner up. But, the Eagles and coach Todd Law finally put their past behind them with second half rally to a 54-42 win over the Winchester Golden Falcons in Saturday's second game of Girls Championship Saturday.
The Eagles overcame shooting just 20 percent (6-of-30) from the field in the first half, with a 15-of-23 second half performance as point guard Brittany McCorkle changed Oak Hill's fortunes with a 14-point third quarter, while wing Kaela Robey paced a 7-of-9 fourth quarter effort.
Photo by: Steven Underwood, Excel High School Sports
Oak Hill, still down 32-23 with 3:38 left in the third quarter, was able to make a 21-point scoreboard swing the rest of the way
"We had a challenge conversation at halftime, and the kids came out a lot more aggressive," Law said. "Everything starts with defense for us, and we did not block out very well. And, we were not moving the ball. We ran some of our base zone offense, and that was successful in getting more movement. It worked, and created us some chances at the basket."
Winchester coach Holly Gutierrez thought her team was on the right path, with its triangle-and-two defense helping limit Oak Hill's top scorers Taylor Westgate and Adriana Trexler to seven points in the first half. But, Winchester was not able to sustain its energy the full game, allowing the turnaround.
"It was our offense that killed us," Gutierrez said. "We had turnovers and missed shots (in the second half). Oak Hill was only giving us shots on the outside, and we tried to adjust to them. But, our kids got tired, and fatigue really hurt us. It was a blessing to experience (a state title game) twice."
Photo by: Steven Underwood, Excel High School Sports
Junior standout Maddie Lawrence was the key to Winchester taking the game to Oak Hill in the first half. Lawrence found some room to score in the lane, with 13 of her game-high sharing 20 points. Oak Hill got more physical on the defensive end, slowing Lawrence down and forcing the Golden Falcons to look for more points on the perimeter.
Robey shared game-high honors with 20, to lead Oak Hill, while McCorkle tallied 18. Lawrence topped the rebounding with 10, and Westgate had nine for Oak Hill.
Oak Hill senior guard Jenessa Hasty made it a clean sweep for Oak Hill as she claimed the Patricia Roy Mental Attitude award for Class 2A.
Photo by: Steven Underwood, Excel High School Sports
First session attendance: 5995
Officials in first session: Ronald Day, Gregory Hayes, Justin Faw, Marcus Debro, Greg Hammond and James Payne
Northwestern Wins Back to Back 3A Titles
by: Steven Stremming, Excel High School Sports
Sometimes in life, let alone sports, you just run into that immovable object.
On Saturday, the Bison of Benton Central had that dubious position, as they faced what some consider the best team in  any level of Indiana Girl's basketball, Northwestern from Howard County.
Head Coach Kathie Layden's team came in as the defending Class 3A champion and with what many people consider the 2nd best player in the state,
and Michigan State verbal, Kendall Bostic and  her own daughter considered the third best player in the state in Madison Layden  and a Purdue verbal.
Bostic and Layden did not disappoint as Bostic went for 25 points and 15 boards, that included five offensive boards and Layden hit 10 of 12 charity tosses to go along with her four field goals in a 61 to 39 victory and a move to 4A basketball in 2019/2020 season.
Photo by: Steven Underwood, Excel High School Sports
No other Tiger showed up in double figures.
Head Coach Dave Baxter's Bison were led by their own inside/outside tandem of Audrey Strawsma's 11 and Emma Fisher's seven points.
Freshman Tressa Senesac continued her fine post season run with nine points.
Photo by: Steven Underwood, Excel High School Sports
Allison Miller, Northwestern claimed the Patricia L Roy Mental Attitude award.
HSE Claims Big School Title
by: Steven Stremming, Excel High School Sports
Photo by: Steven Underwood, Excel High School Sports
Many times in State Finals games the most competitive ones are the small schools.
This year, the script was flipped as both Southeastern and Lawrence North put on a show for those in attendance.
Five lead changes and three times added to the excitement as Hamilton Southeastern powered out on top in the first stanza up 12 to eight
after one quarter behind Junior Sydney Parrish, whom most consider the number one player in the class of 2020. Parrish scored three points with five rebounds.
Teammate Senior Amaya Hamilton scored five points with two assists.
Photo by: Steven Underwood, Excel High School Sports
Lawrence North's sophomore Jayla Smith collected six of the Wildcats eight quarter points.
The second stanza saw LN pull ahead of HSE with their 14 to eight run for a 22 to 20 advantage.
LN still led after three by one at 35 to 34.
The fourth quarter saw the game winning explosion of the Royals 21 to nine to claim the 4A title with a 55 to 44 win.
The fourth quarter also belonged to Sydney Parrish as she scored 11 points with two boards and a steal to expand HSE's lead to five at a critical point.
HSE was led by Sydney Parrish's 30 points (one behind the all time 4A mark of Ali Patberg, Chrissy Steffen and Reicina Russell's 31 points); Jackie Young is the all time leader with 36 points. No other Royal saw double digit scoring.
Photo by: Steven Underwood, Excel High School Sports
LN was led by Junior Katie Davidson's and Sophomore Jayla Smith's fifteen.
Second session attendance: 9083
Officials in second session: David Pillar, Jeff Rhody, David Snyder, P J Pitts, Mike Stoffers and Michael Fuqua.