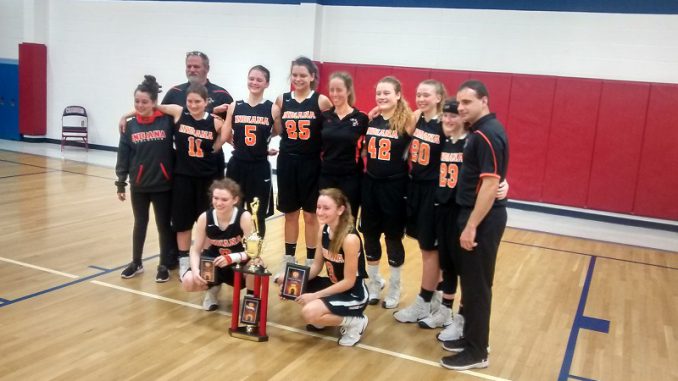 Day 2 of the Allie Jean Hale Tournament is completed.
Good crowds all day long.
In the first game Indianapolis Washington downed Indianapolis John Marshall 33-8 for 7th place.
Game 2 saw Crosspointe Christian down Irvington Preparatory Academy 43-27 for 5th place.
Game 3 saw Greenwood Christian Academy 56 Southside Christian 34 for 3rd place.
GCA was led by Junior Sarah Mangan and Katie Cruse.
Game 4 was the Championship of the Tournament where Indiana School for the Deaf (18-3) beat a game Central Christian Academy 67-48.
ISD was led by MVP Demi Bignham's 24 points while getting support from Senior Isabella Paulone with 17 and Kalena Bumbala's 10.
Others who scored were Kate Lorenzo, Anya Pothorski and Ariel Senics.
For Central Christian Aleyiana Blakely led the way with 22 while Madison Shearer added 21.
The Allie Jean Hale All-Tournament team featured MVP-Demi Bingham, ISD, Hannah Puent, ISD, 1st Team, Madison Shearer, Central Christian Academy, 1st Team, Sarah Mangan, GCA, 1st Team and Southside Christian's Mariah Petty, 1st Team.
2nd Team All-Tournament selections were: Isabella Paulone, ISD, Katie Cruse, GCA, Aleyiana Blakely, Central Christian along with Shyonna Floyd, Crosspointe Christian, Adjah Mickens, Irvington Prep and D J Anderson, Indianapolis George Washington.